Announcements
1inch x Trust Wallet: $25,000 Swap Competition
Published on: Oct 26, 2023
In Brief
1inch and Trust Wallet are joining forces once more to launch an exciting new swap competition.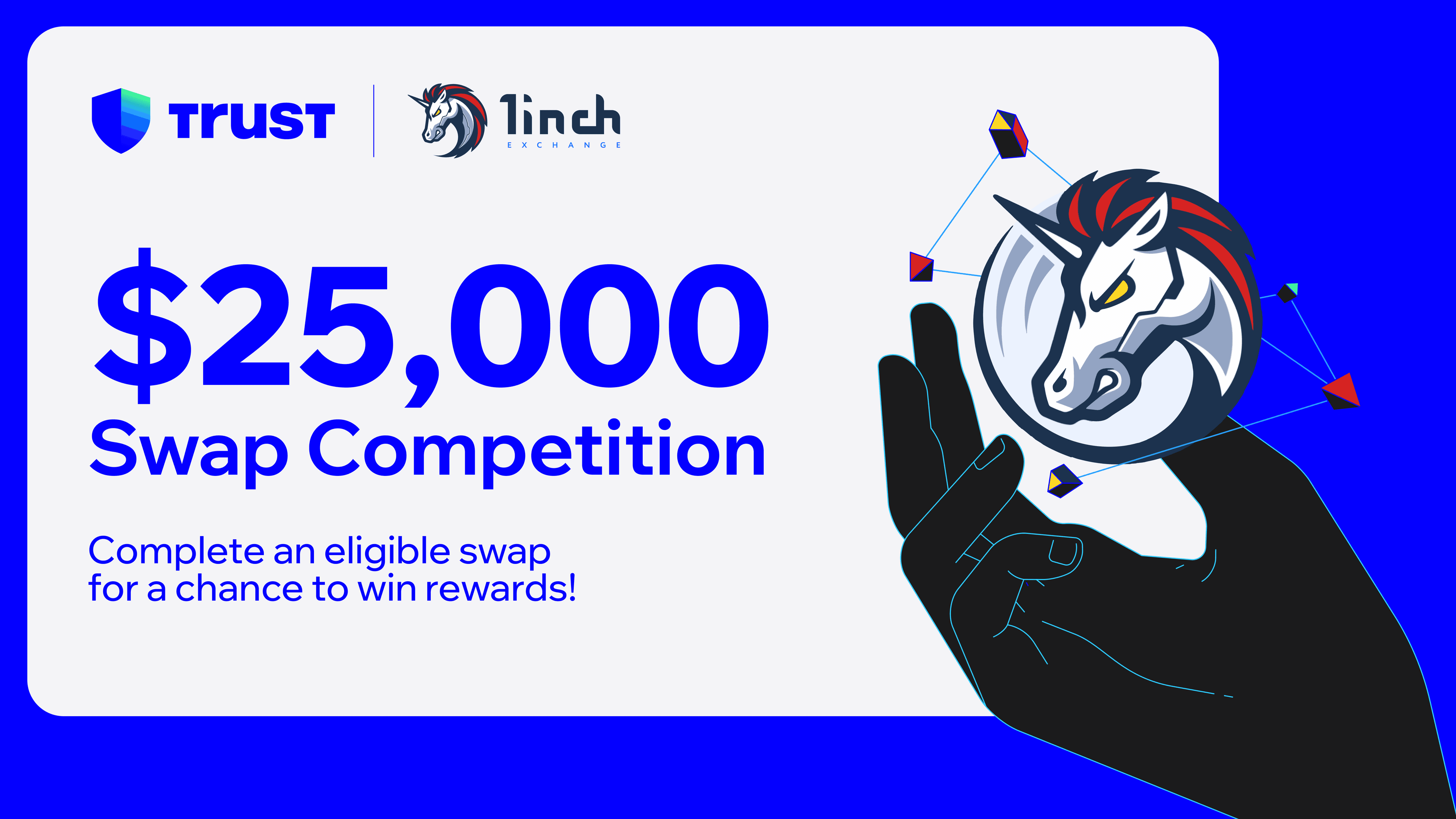 Join the excitement with our upcoming swap competition! In collaboration with 1inch, we are offering a prize pool of 25,000 USDC in rewards.
There's more than 150 chances to win and three ways to participate! Read on to find how you can enter.
Before you begin: First, make sure you complete a few simple steps!
Step 1: Download Trust Wallet
Step 2: Check out our how-to guide on how to swap your tokens using Trust Wallet.
Promotion Period: October 26, 2023, 15:00 (UTC) to November 4, 2023, 15:00 (UTC)
Entry 1: Execute a qualifying EVM swap in Trust Wallet for a shot at sharing 22,500 USDC!
Participate in our promotion for a chance to share 22,500 USDC by completing ANY EVM swaps using 1inch within the Trust Wallet app or the browser extension. There are multiple reward tiers, offering the opportunity to win up to 22,500 USDC.
Winners in USDC
2,500 USDC: 1 winner

1,250 USDC: 4 winners

500 USDC: 20 winners

100 USDC : 25 winners

50 USDC : 50 winners
Selection Criteria and Rules
Swaps must be completed on Trust Wallet's native swap function

Users must be on the most recent version of the Trust Wallet app or browser extension.

Qualifying swaps must be an amount of 50 USDC or greater

Swaps can consist of any EVM swap pairs

Swaps must be completed within the qualifying period

One entry per user per wallet address meeting the above criteria

Swaps larger than the qualifying amount that result in a refund due to slippage tolerance still count towards the promotion

Winners will be determined by the largest volume swapped during the promotion period
Entry 2: Repost our announcement for a chance to share 1,000 USDC
Repost our promotion announcements below for a chance to share 1000 USDC in rewards. Repost Trust Wallet's and 1inch's announcements to increase your chances of winning.
Announcement: https://twitter.com/TrustWallet/status/1717561927189311945
Selection Criteria and Rules Selected participants who reposted the announcement posts will be randomly chosen to receive the following rewards:
10 random reposters of both Trust Wallet's and 1inch's announcement - $100 in USDC
Entry 3: Join the CMC Live session for a chance to share 1,500 USDC
Attendees of the CMC Live session will be chosen to receive the following rewards:
15 of the best pre-submitted audience questions from CMC Live session - 100 USDC
Keep an eye out on our social for our AMA announcement!
Terms & Conditions:
The Promotion will end on 4th of November 2023, 15:00 (UTC)

You must use Trust Wallet to be eligible for rewards, as wallet addresses will be cross-verified; using a different wallet may lead to disqualification.

To qualify for rewards, users must complete all steps outlined in the announcement.

Swap winners will automatically receive the reward in their wallet by November 18th.

Winners from the social media promotion will be notified after the Promotion ends. Prizes will be sent to their wallets by November 18th.

The prize distribution will be in USDC at its USD market value at the end of the promotional period

Each wallet address is eligible for a maximum of one reward only.

In the event that a participant becomes eligible for multiple rewards, they shall be entitled to receive only the highest-valued reward amongst the applicable rewards.

Illegally bulk registered accounts or sub-accounts are not eligible to participate or receive any rewards.

Selection of the winners of Entry 2 & Entry 3 will be at the discretion of Trust Wallet.

Trust Wallet reserves the right to disqualify any participants showing signs of fraudulent behavior immediately.

Trust Wallet reserves the right at any time in its sole and absolute discretion to determine and/or amend or vary these Promotion Terms without prior notice, including but not limited to canceling, extending, terminating or suspending this Promotion, its eligibility terms and criteria, the selection and number of winners, and the timing of any act to be done, and all users shall be bound by these amendments.