MEME Coins
5 Trending Meme Coins
Published on: Aug 3, 2023
In Brief
Discover five trending meme coins, including DOGE, SHIB, PEPE, and more. Learn about what makes them popular and how you can get them using Trust Wallet.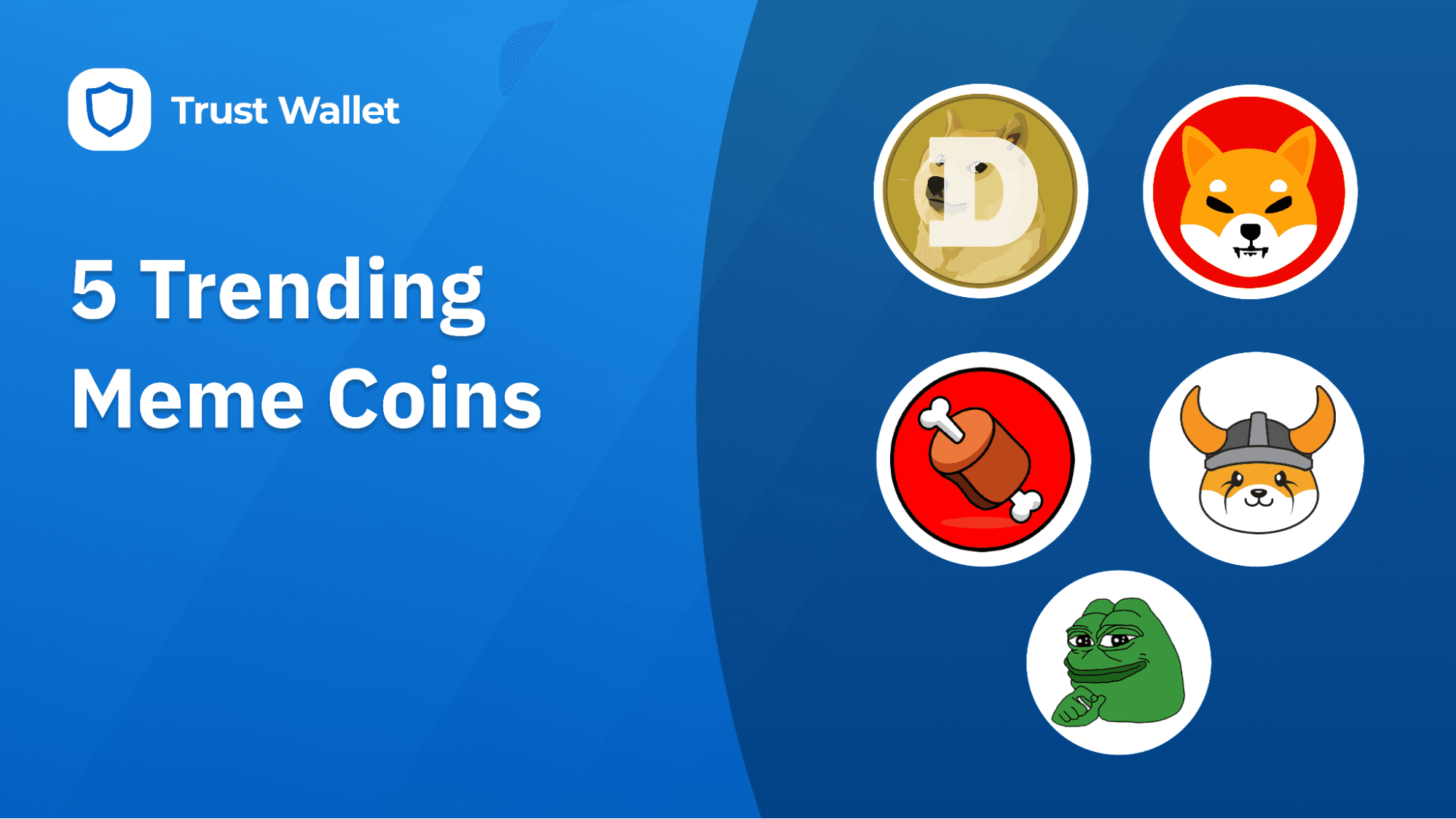 Meme coins are cryptocurrencies that feature a humorous character or originate from a popular internet meme. They have become a popular part of crypto culture.
Today, the meme coin market has a market capitalization of several billion dollars and boasts over 300 coins. However, only a handful are liquid and actively traded in large volumes. Dogecoin, Shiba Inu, Pepe, Bone ShibaSwap, and Floki are the top five trending meme coins, boasting the largest market capitalizations at the time of writing.
In this guide, we'll discuss what meme coins are, their impact on the crypto market, and highlight the five trending meme coins. Remember, you can check out the top five trending meme coins in the 'Discover' section of your Trust Wallet mobile app!

What are Meme Coins?
Meme coins, also known as meme tokens, are a type of cryptocurrency inspired by internet memes designed to attract the attention of meme-loving crypto traders and speculators. Usually, meme coins are portrayed with animated or comical memes and have an avid community of followers and traders.
Although meme coins have been around for nearly a decade, they are quite volatile in pricing. Moreover, they also have little to no inherent value and are purely used for speculation. However, this hasn't stopped meme coin lovers from investing in them.
Dogecoin was the first meme coin to be created in 2013, roughly five years after Bitcoin was launched. However, it didn't go mainstream until 2021. In 2021, the meme coin market witnessed tremendous growth following the spike in the price of Dogecoin. Part of its success is attributed to celebrities like Elon Musk and Mark Cuban, who openly promoted Dogecoin using their social channels. This contributed to Dogecoin's price surge, which set it up for success.
To date, Dogecoin has retained the top position and is the leading meme coin by market capitalization. Its price surge also increased investor attention to meme coins, paving the way for the creation of newer meme tokens like Floki, Shiba Inu, and Pepe. Since then, meme coins have continued to grow in popularity. But that wasn't the only reason. Following the price surge, meme coin enthusiasts began purchasing meme tokens hoping to become overnight millionaires. This sparked yet another meme token rally coupled with the fact that they cost only a few cents meaning that investors didn't need much money to start investing.
With the emergence of web3, meme coins have also continued to thrive as they are now part of the 'new internet'.
The 'Memeingful' Impact of Meme Coins on the Crypto Market
Meme coins are created as a homage to a particular meme. A meme is a funny idea or representation of a situation captured in a video, photo, or an alternative type of media.
These coins are primarily community-driven since they lack any fundamental business or economic use case. However, their value and prices are heavily influenced by online sentiment and social media. As a result of the hype, meme coins have a lot of financial risk and fear of missing out (FOMO), making them highly volatile, more volatile than mainstream digital currencies such as BTC or ETH.
Considering they rely on online sentiments, their prices can fluctuate greatly. While some traders may 'win' in such a frenzy, others lose money on their meme coin investments as there generally isn't much utility or real-world use cases for these types of cryptocurrencies.
So detrimental are some meme coins that the Thailand Securities and Exchange Commission banned them back in 2021. Therefore, remember to always do your research before investing in meme coins or cryptocurrencies in general.
However, meme coins aren't all bad. Because of the attention meme coins receive, they also tend to attract new investors into the crypto market who don't want to miss out. Thus, meme coin FOMO (like we've seen with Dogecoin in 2021) can contribute to attracting new faces to the crypto sector.
Now that we know what meme coins are and their impact on the crypto market, let's look at the top five trending meme coins by market capitalization.
5 Trending Meme Coins
This list of trending meme coins is based on each coin's market capitalization at the time of writing.
Dogecoin (DOGE)
Dogecoin is an open-source, peer-to-peer (P2P) digital currency created by Billy Markus and Jackson Palmer using Litecoin's open-source code. Dogecoin was launched in 2013 and trades with the ticker DOGE on major crypto exchanges.
The meme coin portrays the character of a meme known as 'doge' that features a photo of a smiling Shiba Inu dog that is part of a group of hunting dogs from Japan. Dogecoin was created as a humorous alternative to Bitcoin that didn't take itself too seriously.
What started as a joke went on to attract a large following which four years later, saw it witness high investor demand. This helped to increase its value further. And that wasn't all. Dogecoin further paved the way for creating newer meme coins such as SHIB and PEPE, among others.
DOGE runs on its own blockchain which also allows it to be operated on the Ethereum blockchain. Its blockchain utilizes a proof-of-work (PoW) consensus mechanism. The PoW mechanism lets people mine Dogecoin and get rewarded with DOGE. DOGE itself can be used to process instant transactions and make payments.
Its mining algorithm allows miners to mine DOGE using a graphics processing unit (GPU). This means that people can mine DOGE at their homes and adds to one of the many reasons why the meme coin is popular. Moreover, dogecoin is the biggest meme coin by market capitalization at the time of writing.
Like other meme coins, DOGE has an unlimited supply. Currently, the meme coin has a circulating supply of over 140 billion DOGE tokens, according to data on CoinMarketCap. It also features a vibrant online community that supports its adoption and use.
Shiba Inu (SHIB)
Shiba Inu is the second-largest meme coin by market capitalization. It's also an Ethereum-based meme token similar to DOGE and is characterized by the Shiba Inu dog. In fact, following its launch, SHIB was lauded as the 'Dogecoin killer' by its online community of followers known as the SHIBArmy. SHIB was launched in 2020, seven years after DOGE.
Its creator (s) remain anonymous and are only known as Ryoshi. This is one of the similarities that SHIB shares with BTC in that the creator of Bitcoin remains unknown to date.
Unlike DOGE, which was created to mock Bitcoin, SHIB was created to answer 'What would happen if a cryptocurrency project was 100% run by its community?'. This is, of course, according to its white paper known as the 'Woof Paper'. Its whitepaper also notes that SHIB was created as an experiment geared toward allowing decentralized communities to build.
In terms of pricing, SHIB wasn't left behind after the spike in DOGE's price in 2021. At the time, SHIB's price significantly spiked exceeding Dogecoin's. However, it didn't last long before DOGE took back its spot.
Unlike most meme coins, SHIB's tokenomics is very different as it relies on three other tokens, SHIB, Leash (LEASH), and Bone (BONE). All three tokens work hand-in-hand to ensure a seamless experience in the Shiba Inu ecosystem.
SHIB, the primary token, has 1,000 trillion tokens, followed by LEASH, which has a total supply of 107,646, and finally, BONE, with a total supply of 250 million tokens. LEASH was created as a rebase token, while BONE acts as an in-between token for LEASH and SHIB in terms of circulating supply and is also a governance token.
Like DOGE, SHIB has an unlimited supply. Currently, it has a circulating supply of more than 589 trillion. It also has an attractive price point which makes it appealing to many newcomers in the crypto space.
Pepe (PEPE)
Pepe, which trades with the ticker symbol PEPE, is a much newer meme coin, having launched in April 2023. However, since its launch, it has surpassed other reputable meme coins that have been around for longer. Like SHIB, PEPE's founders are unknown.
The coin's inspiration is an internet frog meme that got popularized in the 2000s. Pepe is a cartoon character Matt Furie created that later became an internet meme. It's important to note that PEPE, the crypto meme token, has no connection with Matt Furie. Still, its homage to the frog differentiates it from alternative meme tokens.
PEPE's price soared after its launch, getting it listed on multiple crypto exchanges. At the time of writing, PEPE ranked as the third-largest meme coin by market capitalization. It has a total supply of slightly over 420 trillion PEPE tokens.
Bone ShibaSwap (BONE)
Fourth on our list of the top trending meme coins is Bone ShibaSwap. Bone ShibaSwap trades with the ticker symbol BONE and, like other meme tokens, is Ethereum-based. BONE is part of the three tokens in the Shiba Inu ecosystem and is also a governance token.
BONE holders can vote on new proposals affiliated with the Shiba Inu ecosystem, especially on the newer trading pairs. The more BONE tokens you have, the more leverage you have when it comes to voting. BONE has a total supply of 250 million tokens. While its tokenomics match that of SHIB, BONE is more scarce.
The meme token has a current circulating supply of nearly 230 million tokens. BONE, which is minted, had its minting process start in 2021. The 20 million BONE tokens that haven't been minted have been set aside as rewards for the Shibarium validators. Shibarium is a soon-to-launch layer-2 blockchain that will be part of the existing Shiba Inu ecosystem.
Floki (FLOKI)
Floki was launched in 2021 and trades with the ticker symbol FLOKI. As 'the people's cryptocurrency', which is how the meme token refers to itself, FLOKI was created as a DOGE replica and runs on Ethereum and the Binance Smart Chain (BSC). It's also the utility token of the Floki ecosystem.
Floki is a decentralized project run by its community. It was created and launched by an anonymous developer who later shelved the project after its launch. Floki's community then took over the project growing its base to over 400K owners in its first year. Its current team is made up of pseudonymous personalities known as B, MrBrwn Whale, and Sabre.
As a copycat of the DOGE meme coin, FLOKI's founders believed the token would surpass both SHIB and DOGE. However, this is yet to occur. FLOKI is also linked to Elon Musk. In 2021, Musk tweeted that he'd name his Shiba Inu pet Floki. FLOKI's founders then named their meme coin Floki Inu. However, the project experienced such massive growth that it was renamed Floki. And although it began as a meme coin, it began moving away from the meme token narrative.
Today, Floki's growth includes becoming a full-blown Web3 project that cuts across non-fungible tokens (NFTs), decentralized finance (DeFi), and the Metaverse. Moreover, it also wants to develop its blockchain and establish various projects that will include using FLOKI coin to purchase physical goods. It also has very ambitious plans of building a modern school in every underdeveloped country on every continent.
FLOKI has no maximum supply. Currently, there are over nine trillion FLOKI tokens in supply.
Keep Your Meme Coins Safe
You can securely buy, manage, store, swap, and transfer your meme coin holdings using Trust Wallet. Besides meme coins, you can also store, manage, and trade over 10M+ digital assets risk-free thanks to the Trust Wallet Security Scanner.
The Trust Wallet Security Scanner is an in-built feature that detects possible risks when people make crypto transactions from within Trust Wallet. Each transaction within the app is allocated a risk level. The app automatically alerts you as the trader via a warning message when a transaction's risk level is met.
Trust Wallet's Security Scanner feature helps to protect traders and crypto owners from carrying out risky trades, thus enhancing their overall Web3 and crypto experience.
So if you want to trade your meme coin holdings such as DOGE SHIB, PEPE, or any other meme coin, consider using the Trust Wallet app for safety purposes.
The Bottom Line
DOGE, SHIB, PEPE, BONE, and FLOKI are currently the top five meme coins by market capitalization, respectively. Although four out of five meme coins discussed in our guide have been around for more than two years, PEPE making the list proves that meme coins derive their value from online sentiment and a strong community that rallies behind them.
Although each meme coin has its unique features, they were all designed for virality and humor. Moreover, they also help to introduce newbies to the crypto field in a friendly and fun way.
Meme coins are also evolving. We've already seen the likes of FLOKI, which started as a meme coin looking to shift away from purely being meme coins and achieve other forms of utility. While not all meme coins will take this trajectory, it'll be good to watch how the meme coin space evolves in the near future.
Either way, remember to always do your own research (DYOR) before investing in any form of cryptocurrencies, such as meme coins, and only invest what you can afford to lose. Also, you can share your thoughts and experiences with meme coins with us in the comment section below or via our social media channels.
Download Trust Wallet to safely buy, sell and store your all your favorite meme coins.
Join the Trust Wallet community on Telegram Follow us on Twitter Instagram Facebook Reddit
Note: Any cited numbers, figures, or illustrations are reported at the time of writing, and are subject to change.