Guides
A Beginner's Guide to SOL
Published on: Nov 13, 2023
In Brief
Discover Solana's SOL: A beginner's guide covering its utility, staking processes, and seamless integration with Trust Wallet for secure transactions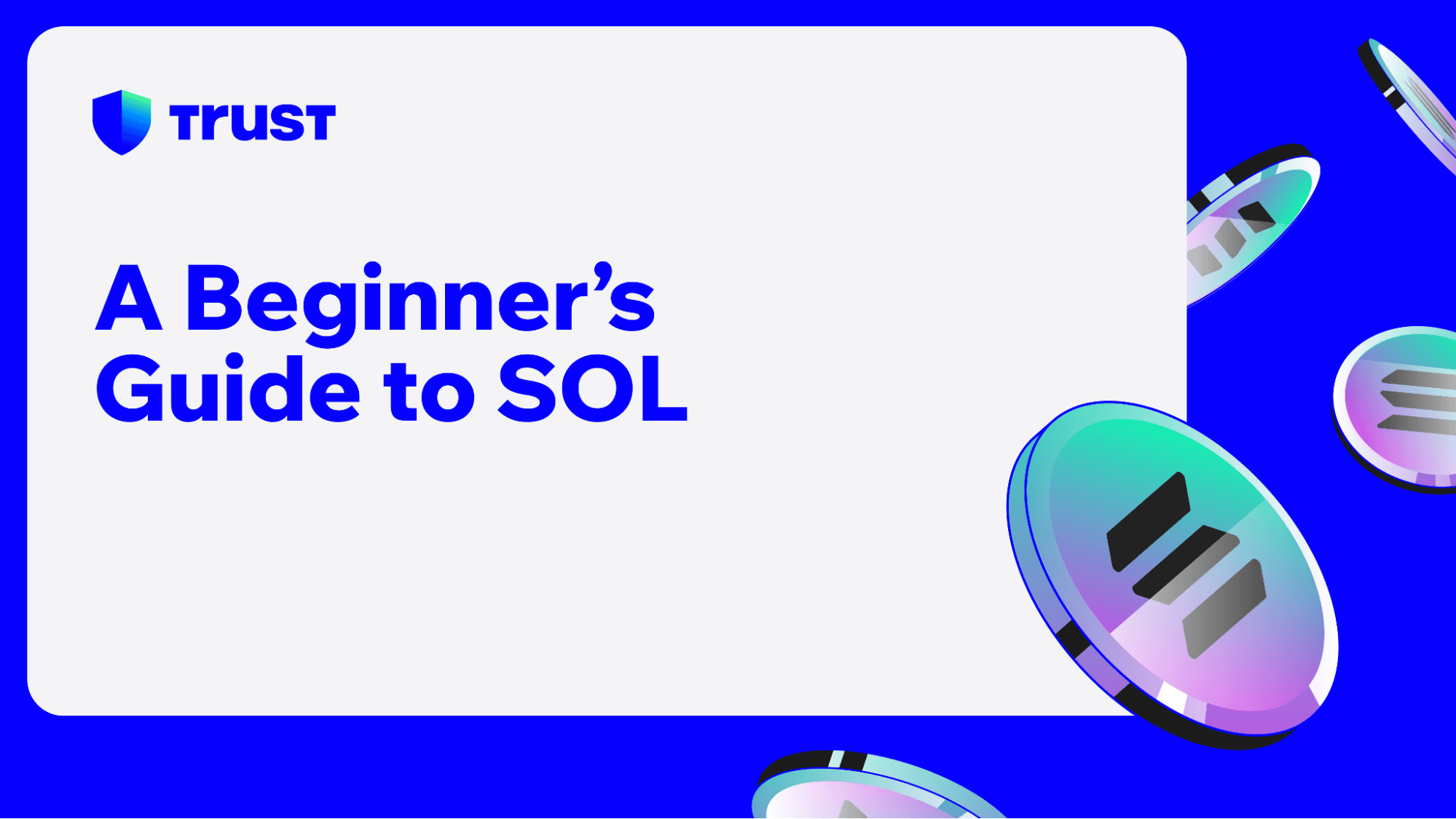 SOL is the native coin of the Solana blockchain, playing a critical role in helping the Solana blockchain achieve high throughput without forgoing decentralization. The cryptocurrency is used for staking as part of Solana's Proof of History (PoH) consensus protocol and for paying transaction fees.
Solana has an unlimited supply of coins with a current total supply of over 560 million SOL coins as of the time of writing. Since its launch, the SOL cryptocurrency has grown to rank among the top ten cryptocurrencies by market capitalization.
Before You Get Started
Like other digital currencies, the SOL cryptocurrency can be stored and managed in a secure crypto wallet like Trust Wallet. Before we take a closer look at Solana's coin, remember that you can buy, sell, manage, and stake SOL using Trust Wallet.
Trust Wallet can be downloaded as a mobile app, or you can install the Trust Wallet Extension for your desktop browser. For this guide, we'll focus on creating a new wallet using the Trust Wallet mobile app.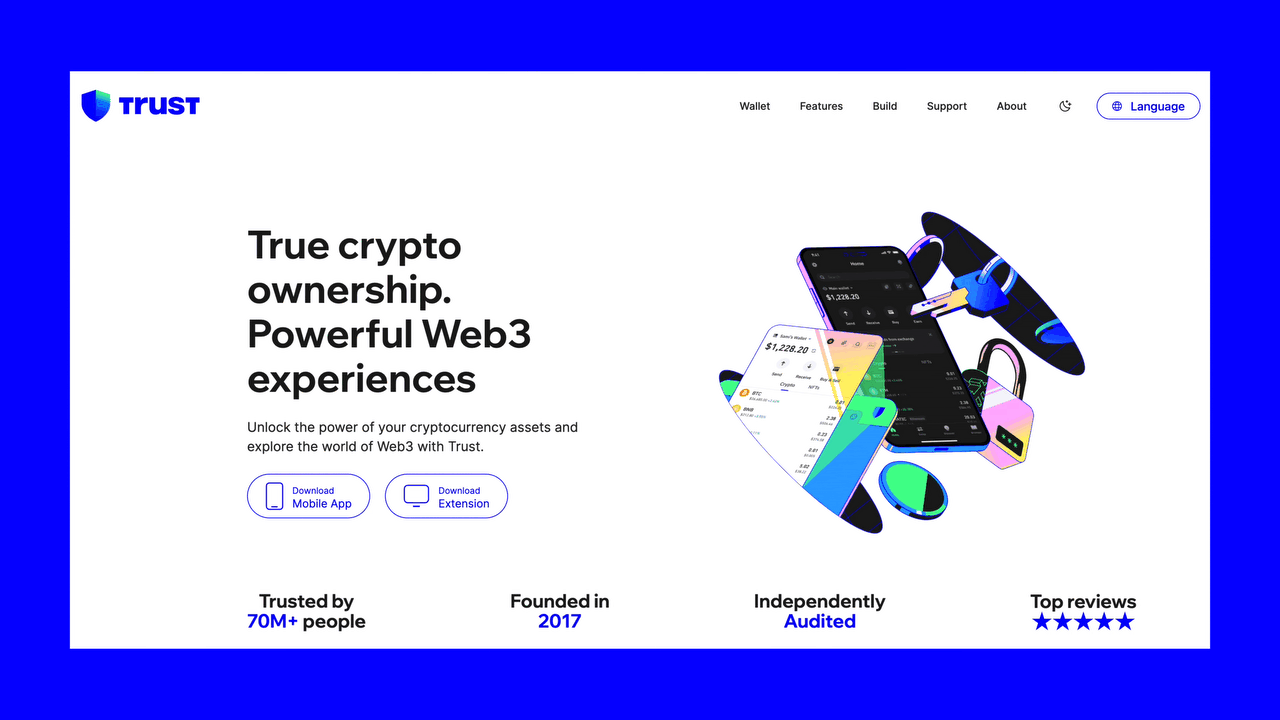 Get the most updated version of Trust Wallet
Below you'll see the steps to create a new wallet, but you could just as easily import an existing Web3 wallet to Trust Wallet, if that's your preference.

To create a new wallet:
Download, install and then open Trust Wallet

Choose "Create a new wallet".

Choose your backup option, or you can optionally postpone the backup process by choosing "Skip".

Start using Trust Wallet.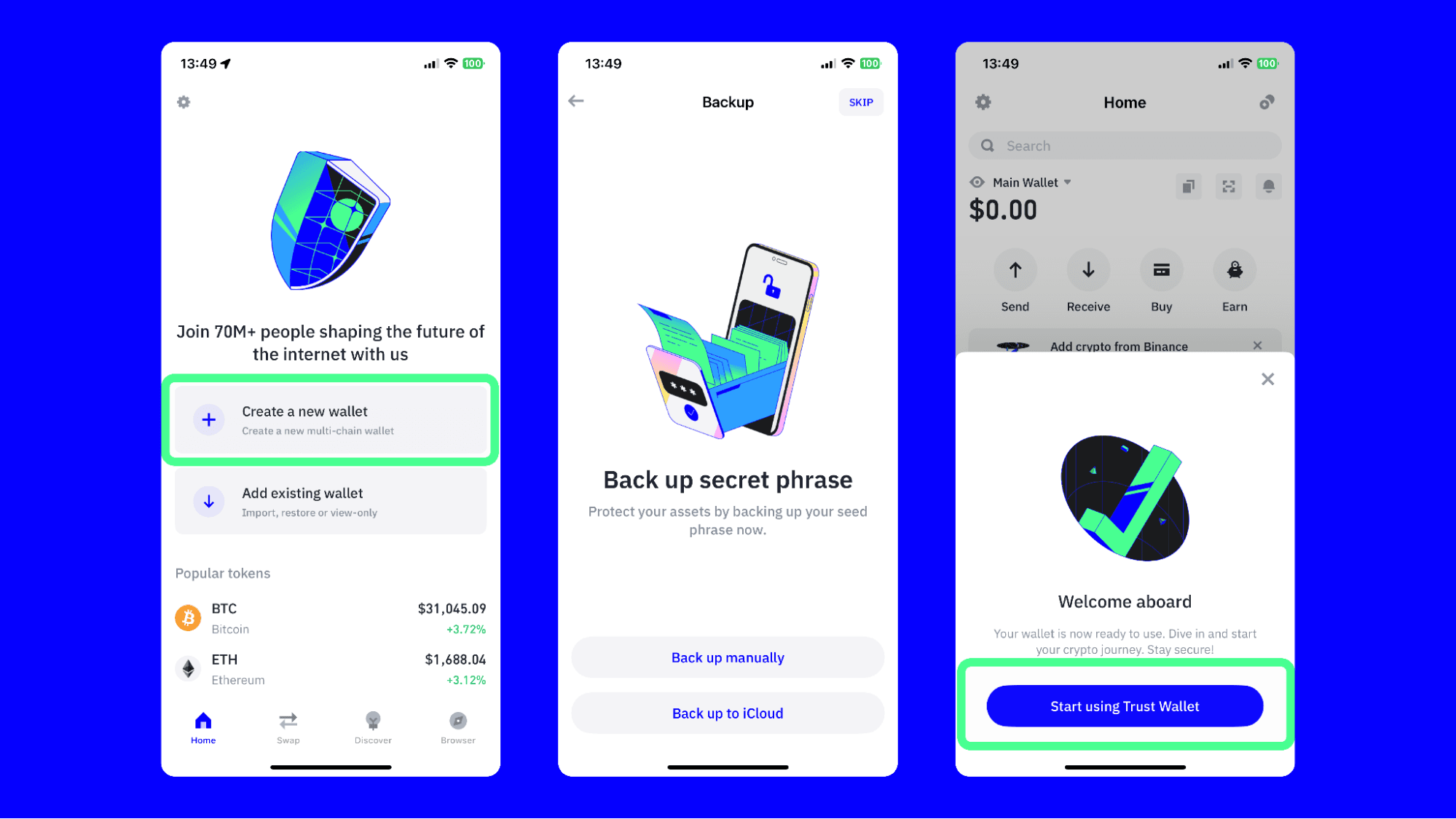 How to Buy Solana (SOL) with Trust Wallet
Search for "SOL" or "Solana" from the search bar on the wallet's Home screen.

Select SOL.

Select "Buy".

Enter the amount of SOL you want to purchase.

Select the third party provider & payment method you'd like to use.

Select "Buy SOL", and then follow the steps to complete the purchase.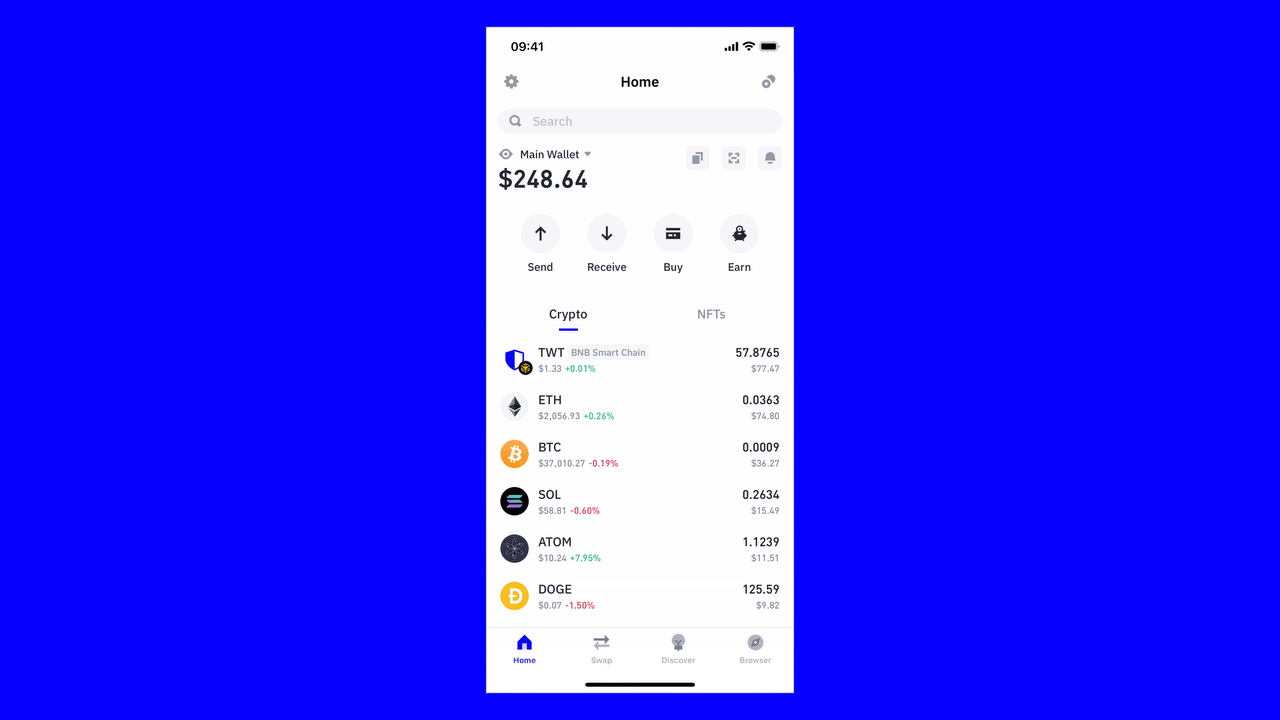 Solana's Technological Innovation
The Solana blockchain was launched in 2017 to host scalable decentralized applications (dApps). The next-generation blockchain uses a hybrid consensus mechanism that utilizes a delegated Proof-of-Stake (dPoS) algorithm and Proof-of-History (PoH) protocol.
The Proof-of-History protocol uses hashed timestamps to confirm when transactions occur on the Solana blockchain. Published in November 2017 in a white paper by Solana's Co-Founder, Anatoly Yakovenko, the PoH consensus mechanism is a proof for validating the order and passage of time between different events.
In the case of Solana, it's used to encode the trustless passage of time into the Solana blockchain. For the longest time, two protocols were used to verify transactions, the Proof-of-Work (PoW) and PoS mechanisms. None of the two protocols relied on time, which created a loophole.
Node operators lacked a trusted source of time, which meant that when a timestamp message was used to reject or accept a message, there was zero guarantee that the other participants in the network would make a similar choice. However, the PoH consensus mechanism gets past this issue as every node in the network can rely on the registered passage of time on a trustless basis in the ledger, which is key to the functioning of a blockchain network.
In addition, the use of the PoH protocol adds an extra layer of security to the Solana blockchain with the transaction timestamps. By using the PoH and dPoS mechanisms, Solana solves two out of three issues facing the Ethereum blockchain trilemma of decentralization, scalability, and security.
The Solana blockchain addresses the scalability and security issues facing Ethereum. The utilization of the PoH in SOL's transactions offers unique security for the Solana blockchain, while the high throughput speed enables increased scalability. The Solana coin is also staked to support the network's security.
Moreover, Solana's speed allows it to process over 60,000 transactions per second, which is higher than its closest competitors, Cardano and Ethereum, at a fraction of the cost.
The SOL cryptocurrency is also used to pay for transaction fees and power smart contract operations that are utilized by dApps hosted on the Solana blockchain.
The Utility of SOL in the Solana Network
The Solana blockchain is home to over 400 dApps. Decentralized applications rely on smart contracts to automate multiple processes that can include general governance functions. Smart contracts are digital agreements that automatically self-execute once pre established conditions are met.
For smart contracts to execute on the Solana blockchain, a gas or transaction fee needs to be paid.
This is where SOL comes in.
Being the native cryptocurrency for the Solana blockchain, the SOL cryptocurrency is used to pay transaction fees, supporting the functionalities of Solana dApps.
The Solana coin is also used to secure the Solana blockchain via a process known as staking. Staking is a method used to support a PoS or a delegated dPoS blockchain network.
Holders can stake their SOL coins to help secure the Solana network and earn rewards. As a SOL holder, you can stake your SOL by delegating a certain amount of your crypto to validators who run the network and process transactions. You can start staking SOL by moving your Solana coins to a crypto wallet that supports staking.
Solana is actively pursuing partnerships to enhance its market presence and the adoption and value of the SOL coin. So far, Solana's two most notable partnerships have been with Visa and Mastercard, aiming to build a bridge between traditional payment rails and blockchain.
Deep Dive: Solana's Ecosystem Growth
Since its launch in March 2020, the Solana ecosystem has experienced significant growth. The Solana blockchain currently boasts a total value locked (TVL) of over $470 million, according to data on DefiLlama.
Solana's low fees and high throughput make it an excellent fit for cross-chain applications, decentralized finance (DeFi) protocols, and NFTs.
The Solana blockchain has a burgeoning and thriving DeFi ecosystem thanks to an active community of builders. Moreover, it allows developers to build products that they would otherwise not be able to build on Ethereum.
The Solana ecosystem also possesses a thriving NFT market that allows users to easily access and explore digital collectibles from different collections that they can then buy and sell.
Besides NFTs and DeFi platforms, the Solana ecosystem also comprises cross-chain applications. The Solana blockchain utilizes the IBC protocol to facilitate cross-chain interoperability. This means that people can transfer various assets between different blockchain protocols, allowing them to access and explore a wider variety of dApps and services.
Given its efficiency, the Solana network is home to several blockchain projects that utilize the SOL cryptocurrency, such as Raydium and Audius.
Raydium is an automated market maker (AMM) that offers four different services such as trade, yield, pool, and AcceleRaytor. Audius is a Web3 music platform that allows musicians to retain ownership of their songs without the limitations of centralized music streaming companies.
Frequently Asked Questions
What is SOL and its role in the Solana blockchain?
SOL is the native cryptocurrency of the Solana network, used for transaction fees, staking, and securing the network's high-throughput capabilities.
How can I check the Solana (SOL) Price?
Open Trust Wallet and type "SOL" or "Solana" in the search bar, located on the home screen

Select SOL and tap on the "Current SOL price" section to reveal its current price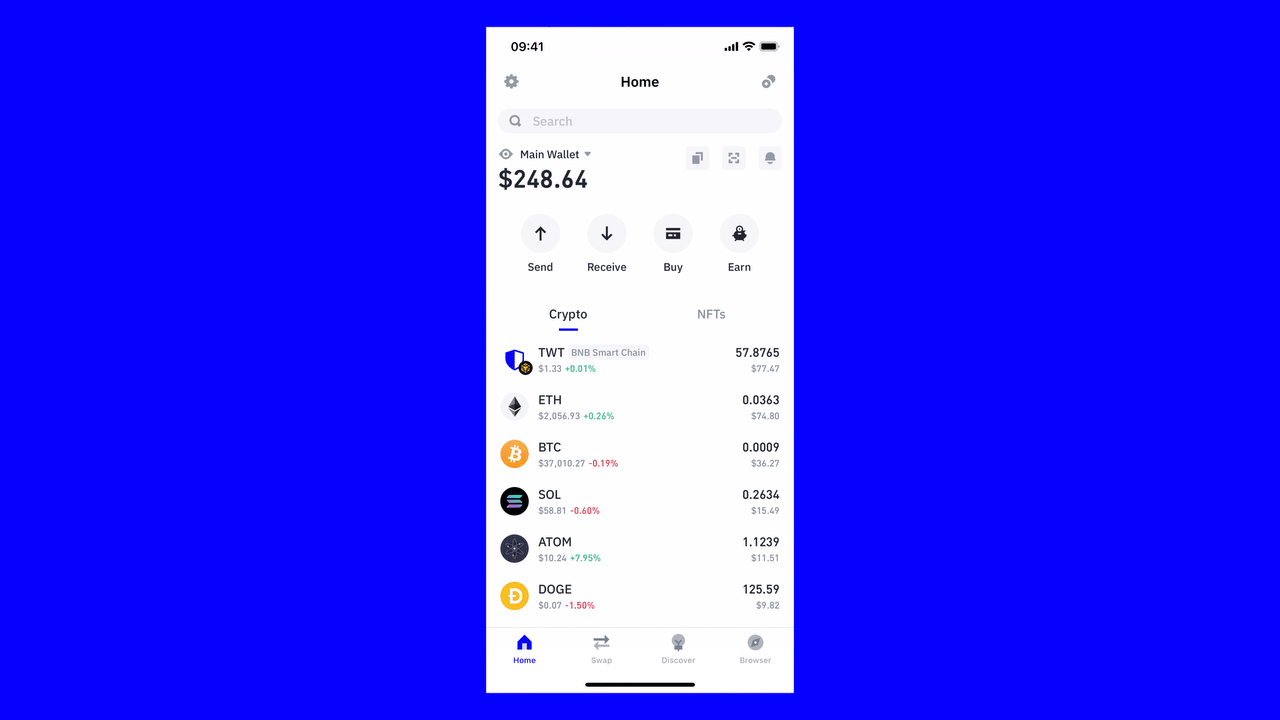 What makes Solana unique in terms of technology and innovation?
Solana's unique blend of Proof of History and delegated Proof of Stake protocols offers unparalleled security and scalability in processing transactions.
How does SOL support Solana's ecosystem and its dApps?
SOL is used to pay for transaction fees on Solana, enabling the running of over 400 dApps with efficient smart contract operations and staking mechanisms.
What are the benefits of staking SOL?
Staking SOL helps secure the Solana network, allowing holders to contribute to network integrity and earn rewards for their participation.
Conclusion
The SOL cryptocurrency plays a significant role in the Solana network as it enables the blockchain to deliver efficiency at a low cost without compromising on security. Moreover, users can stake the SOL coin to secure the Solana blockchain or use it to pay gas fees.
Besides ranking amongst the top ten cryptocurrencies by market capitalization, the SOL coin also allows developers to build various dApps that could end up spearheading interoperability between different blockchains. Remember, you can buy, manage, sell, and stake your SOL along with over 10+ million digital assets in Trust Wallet. With Trust Wallet, you can explore and experience dApps in the Web3 ecosystem securely thanks to the Trust Wallet Security Scanner.
Download the Trust Wallet Chrome Extension today to manage your crypto assets, including SOL.
Join the Trust Wallet community on Telegram Follow us on X (formerly Twitter) Instagram Facebook Reddit
Note: Any cited numbers, figures, or illustrations are reported at the time of writing, and are subject to change.