Guides
A Beginner's Guide to the Sei Protocol: Revolutionizing Decentralized Asset Trading
Published on: Aug 18, 2023
Updated on: Nov 30, 2023
In Brief
Explore Sei Protocol – a Layer 1 blockchain for decentralized asset trading. Also learn how to manage SEI tokens safely with Trust Wallet.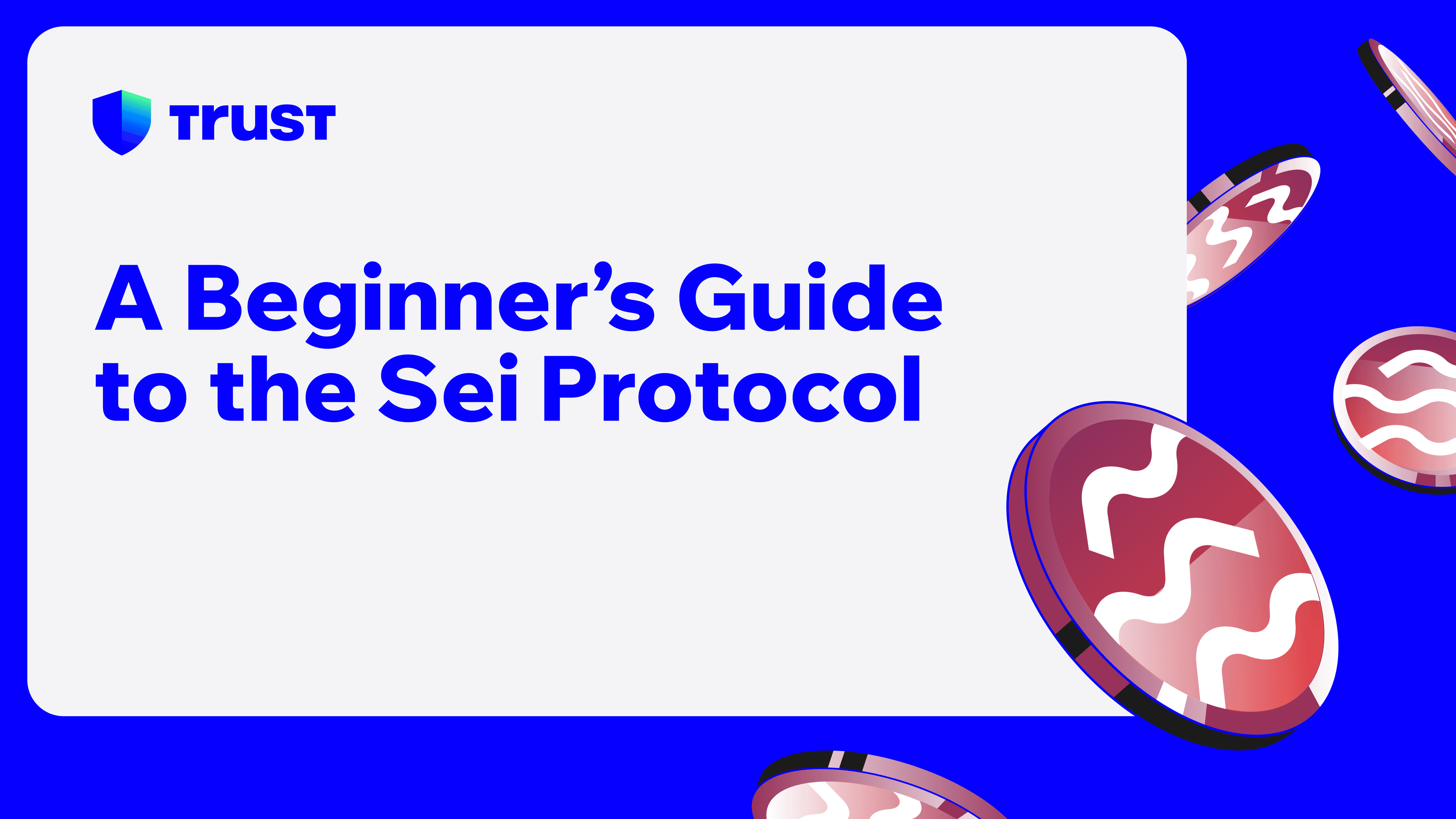 Introduction
In an era where the cryptocurrency market has reached unprecedented heights, a new protocol is making waves in the decentralized exchange (DEX) ecosystem. Sei, a Cosmos based layer-1 blockchain, is transforming digital asset trading by marrying the speed and ease of centralized exchanges with the robust security of decentralization. What's even more exciting is that you can manage Sei tokens within Trust Wallet, a feature we'll delve into later.

What is Sei?
Sei is on a mission to redefine the world of decentralized asset trading. By addressing the 'Exchange Trilemma,' it aims to revolutionize the existing layer-1 and layer-2 infrastructures that have been unable to meet the explosive demand in the crypto space.
Dubbed the 'Decentralized NASDAQ,' Sei offers access to thousands of tokens across various blockchain applications, including DeFi, NFTs, and GameFi ecosystems.
How does Sei work?
Sei's unique approach consists of several key components:
Twin Turbo Consensus Mechanism: Leveraging Cosmos SDK and Tendermint Core, it provides decentralized trading apps with speed, security, capital efficiency, and decentralization.

Lightning Speed Transactions: Sei claims to offer 500 milliseconds in transaction finality, making it highly scalable.

Addressing Front-running and MEV: Sei tackles issues like front-running and maximal extractable value (MEV) using the Tendermint Core mechanism.

Parallelization: This divides the work into smaller chunks, processing them simultaneously to prevent front-running.

Centralized Limit Order Book (CLOB): A unique ordering system to place and execute orders in one step, saving gas costs.
What value does Sei bring to Web3?
Some of Sei's important contributions to Web3 include the following:
A Scalable Template for Trading: Focused on providing a specific infrastructure for trading, including dApps and DEX platforms.

Performance-Centric Approach: With a transaction finality score of 500ms, it rivals centralized exchanges in speed.

Enhanced Security: Utilizes frequent batch auctioning systems to tackle MEV and front-running issues.

Interoperability: Enables efficient communication and transfer of liquidity among various protocols.
The Sei Token
The Sei blockchain is powered by a native token called SEI. This digital asset plays several vital roles in the ecosystem:
Payment Mechanism: SEI token is used for transaction fees within the Sei blockchain.

Staking Mechanism: As a PoS consensus mechanism, SEI is staked to secure the network.
With 1.8 billion SEI tokens in open circulation (at time of writing), it has been listed on renowned exchanges and experienced a remarkable surge.
Who's the team behind Sei?
The brains behind Sei include Jeffrey Feng, Dan Edlebeck, and Jayendra Jog, along with other co-founders and team members who held prestigious positions in traditional tech and finance landscapes. Sei's innovative approach has attracted major investors, who have infused $30 million and an additional $50 million into the blockchain.
How to deposit SEI tokens in Trust Wallet
You send, receive, and hold SEI tokens in your Trust Wallet. Before you get started with that, you'll of course need the latest version of the app. Here's how to get started.
Step 1: Download the latest version of Trust Wallet.

Step 2: Set up your wallet
Open the Trust Wallet app, and select the option to create a new wallet.

Choose an option to back up your wallet.

Follow the instructions to complete your wallet setup.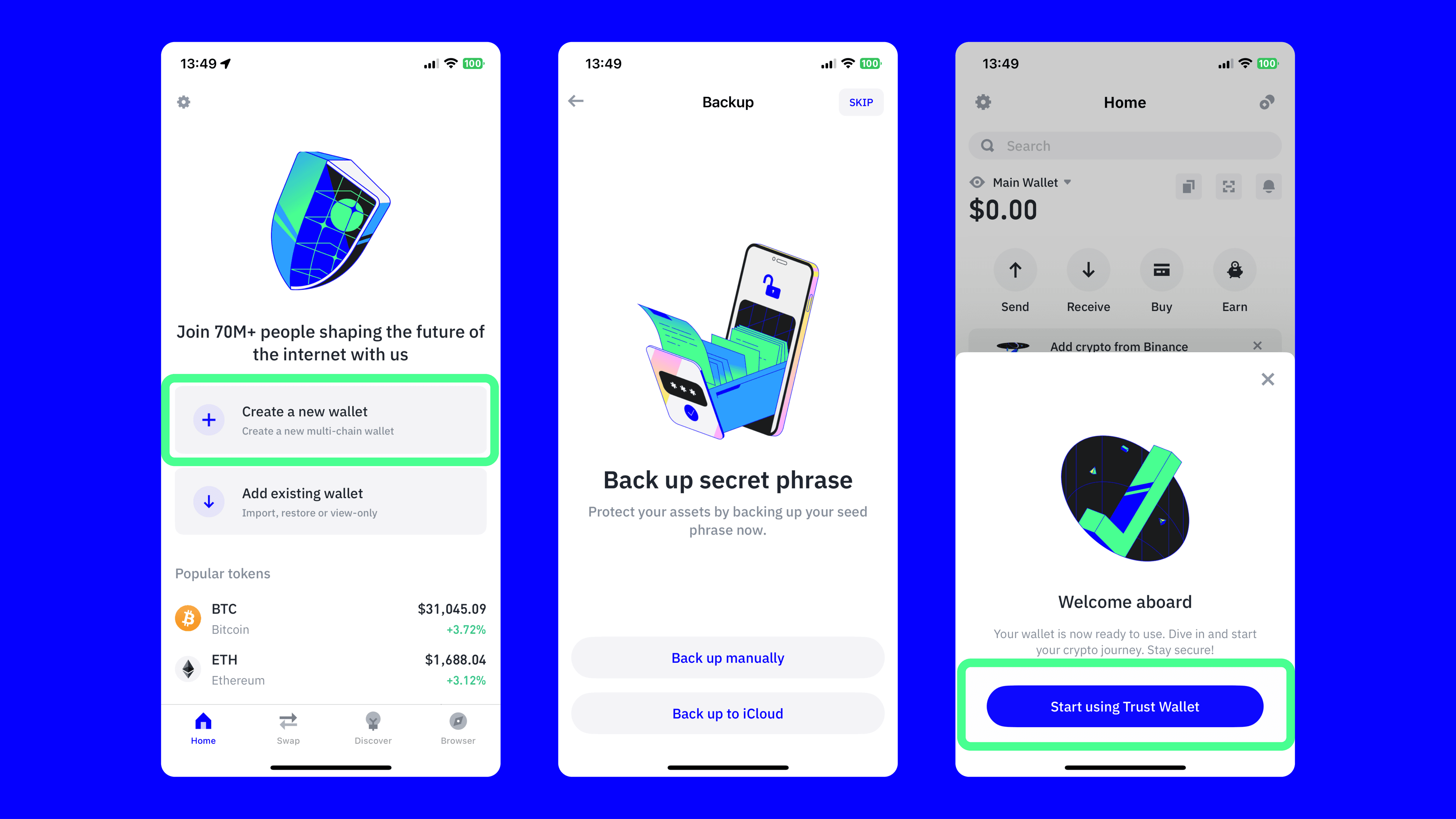 Tip: If you already have a wallet that's not Trust Wallet, you can choose to import that wallet. In this case, you'd choose the "I already have a wallet" option.
Step 3: Deposit SEI to your Trust Wallet
Select the "Receive" button

Select SEI or search for it if you don't see it right away, then select it

Use your deposit details to deposit SEI to your Trust Wallet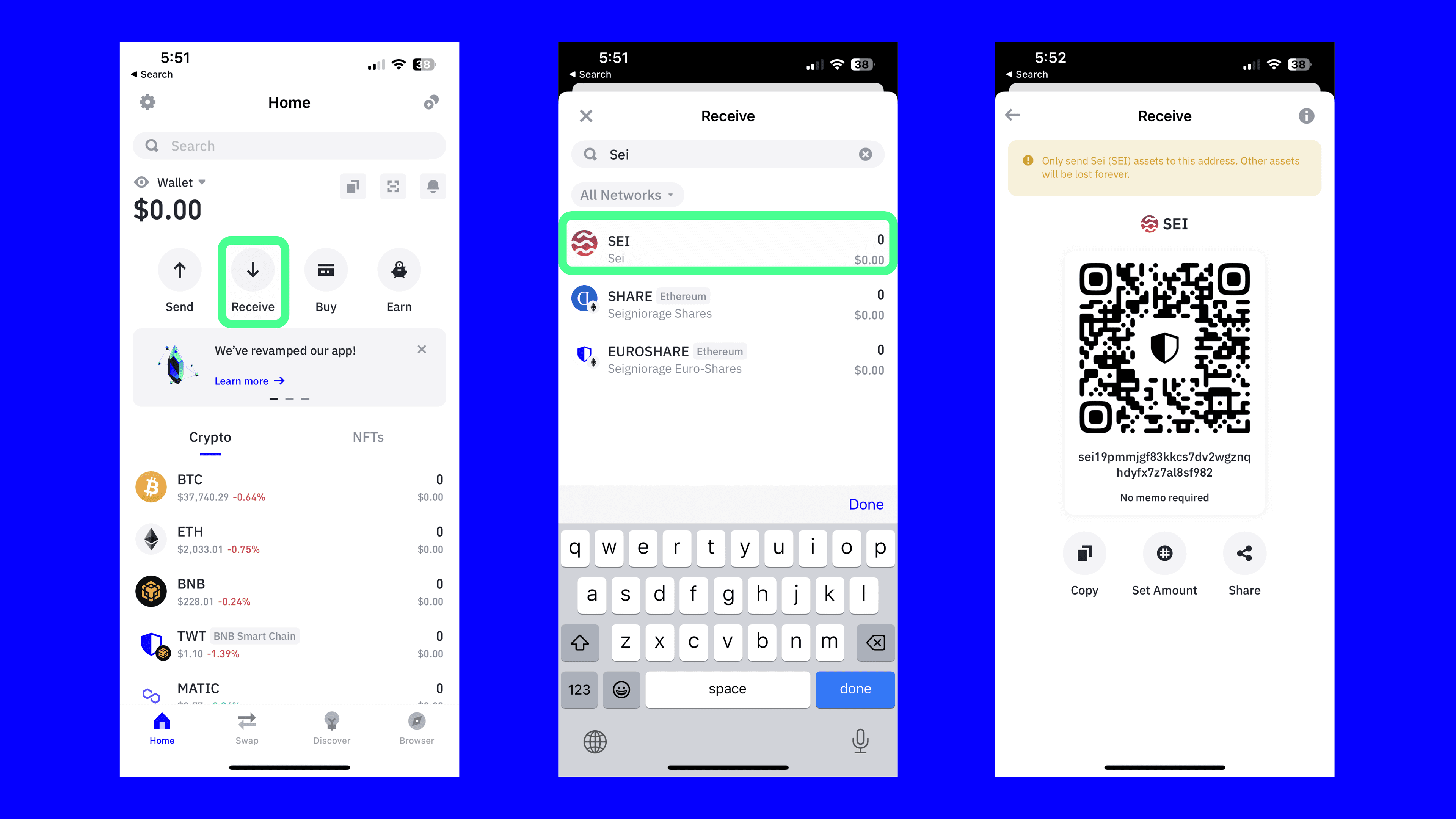 Conclusion
Sei is much more than just another blockchain protocol; it's an ambitious attempt to reshape the decentralized asset trading landscape. With its fast transactions, focus on security, and unique offerings, Sei looks to help more people access what the decentralized web has to offer. So whether you're a crypto enthusiast, a developer, or simply curious about the future of decentralized trading, Sei's expansive ecosystem offers a fascinating insight into what the future might hold.
Join the Trust Wallet community on Telegram Follow us on Twitter Instagram Facebook Reddit
Note: Any cited numbers, figures, or illustrations are reported at the time of writing, and are subject to change.