Web3
A Safer Web3 Experience with Trust Wallet Security Scanner
Published on: Jul 25, 2023
Updated on: Oct 4, 2023
In Brief
Discover Trust Wallet's enhanced Security Scanner V2! Get risk descriptions for transactions and ensure your Web3 journey is safer. Explore now!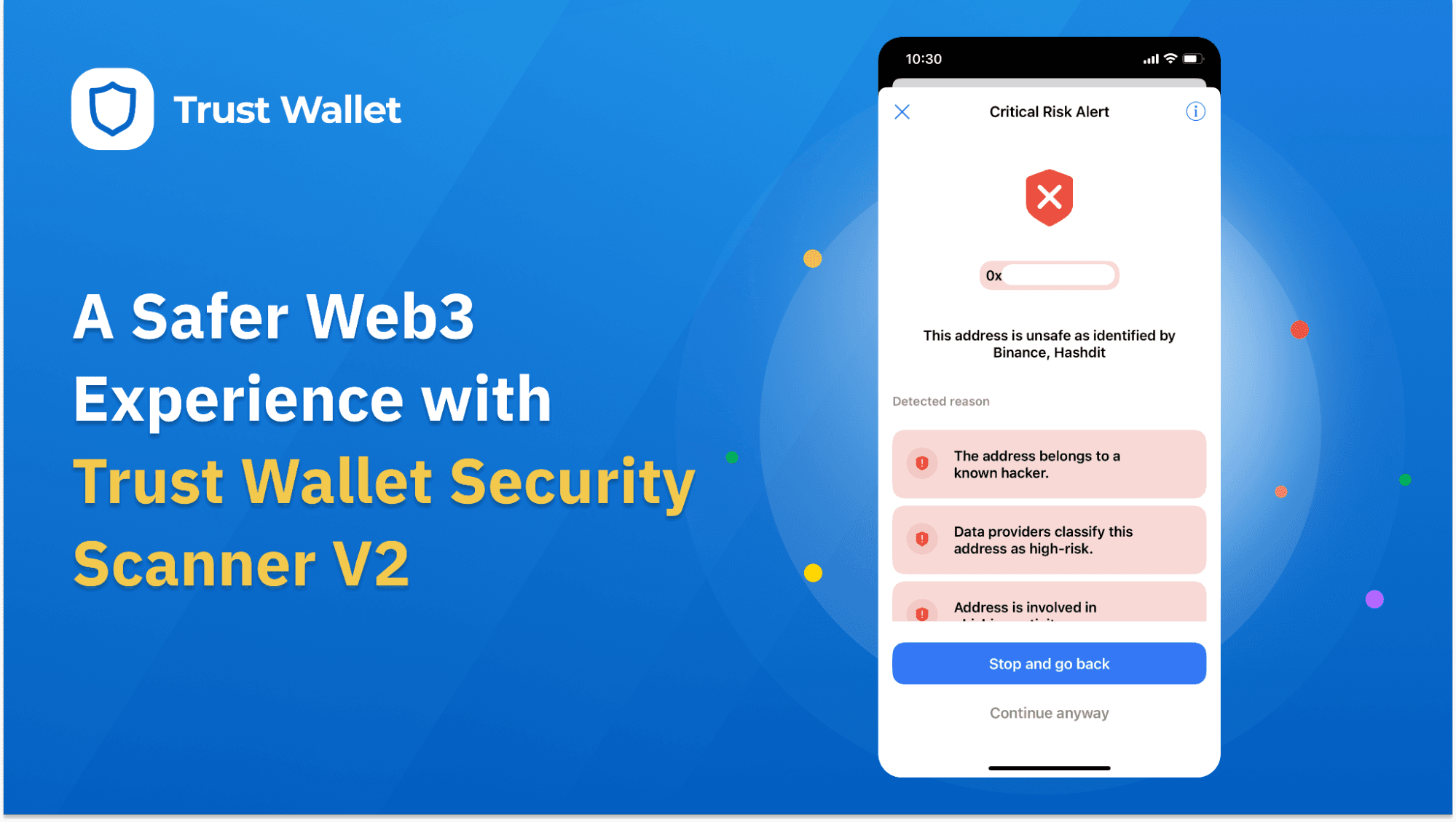 One of our core commitments at Trust Wallet is making the Web3 experience safe and seamless for everyone. It's with this ethos in mind that we developed the Trust Wallet Security Scanner, a built-in feature that's designed to protect your assets by alerting you of risky transactions. The Security Scanner not only aims to ensure the safety of your transactions but also keeps you in full control of your assets.
Today, we're excited to share the latest enhancements to this feature - the Trust Wallet Security Scanner V2!
Note: Risk data presented on Security scanner warnings is sourced directly from our esteemed security partners, including Binance Risk and Hashdit, without alteration. For further inquiries or to engage with our security partners, please refer to the contact information on their websites.

The Trust Wallet Security Scanner: A quick recap
Security is critical in the digital world of crypto and Web3. The advent of decentralized finance (DeFi) has opened up endless possibilities, but it also has its share of risks. Recognizing these complexities and the increasing number of users stepping into the crypto space, we introduced the Trust Wallet Security Scanner.
This feature operates in a proactive manner by assigning a risk level to each transaction and alerting users of any potential threats. The feature helps to protect from scams, and other risks that could result in a loss of funds. Through warning messages, users are given the freedom to make informed decisions about their transactions. The aim is to make the Web3 experience safer and more enjoyable for everyone.
The Security Scanner leverages multiple data points and trusted security partners to assess the risk associated with a transaction. Ultimately, it helps to protect from phishing scams, contributes to DeFi wallet security, and keeps your tokens secure. What's more, this handy feature is integrated right into the Trust Wallet mobile app and doesn't require any manual activation.
Introducing Trust Wallet Security Scanner V2
With a strong commitment to continually enhancing the user experience, we're thrilled to introduce the Trust Wallet Security Scanner V2. The updated version offers all the benefits of the initial version and takes security a notch higher with the introduction of helpful risk descriptions.
Multiple levels of protection
Trust Wallet Security V2 gives you multiple levels of protection, via warnings, when potential risky transactions are identified. It works as follows.
When a user attempts to send funds to a High Risk address, a clear warning message appears – see image 1.

The user has the option to select the warning (!) to view the details and risk description through a risk alert popup – see image 2. To close the popup, the user can click "Stop and go back".

If the user chooses to ignore the warning in image 1 and selects "Confirm", the Risk Description page will still popup (see image 3).
During this process, the user is strongly advised to select "Stop and go back" to abort the transaction. If, however, the user chooses to continue, they can click "Continue anyway", keeping in mind the potential risks involved.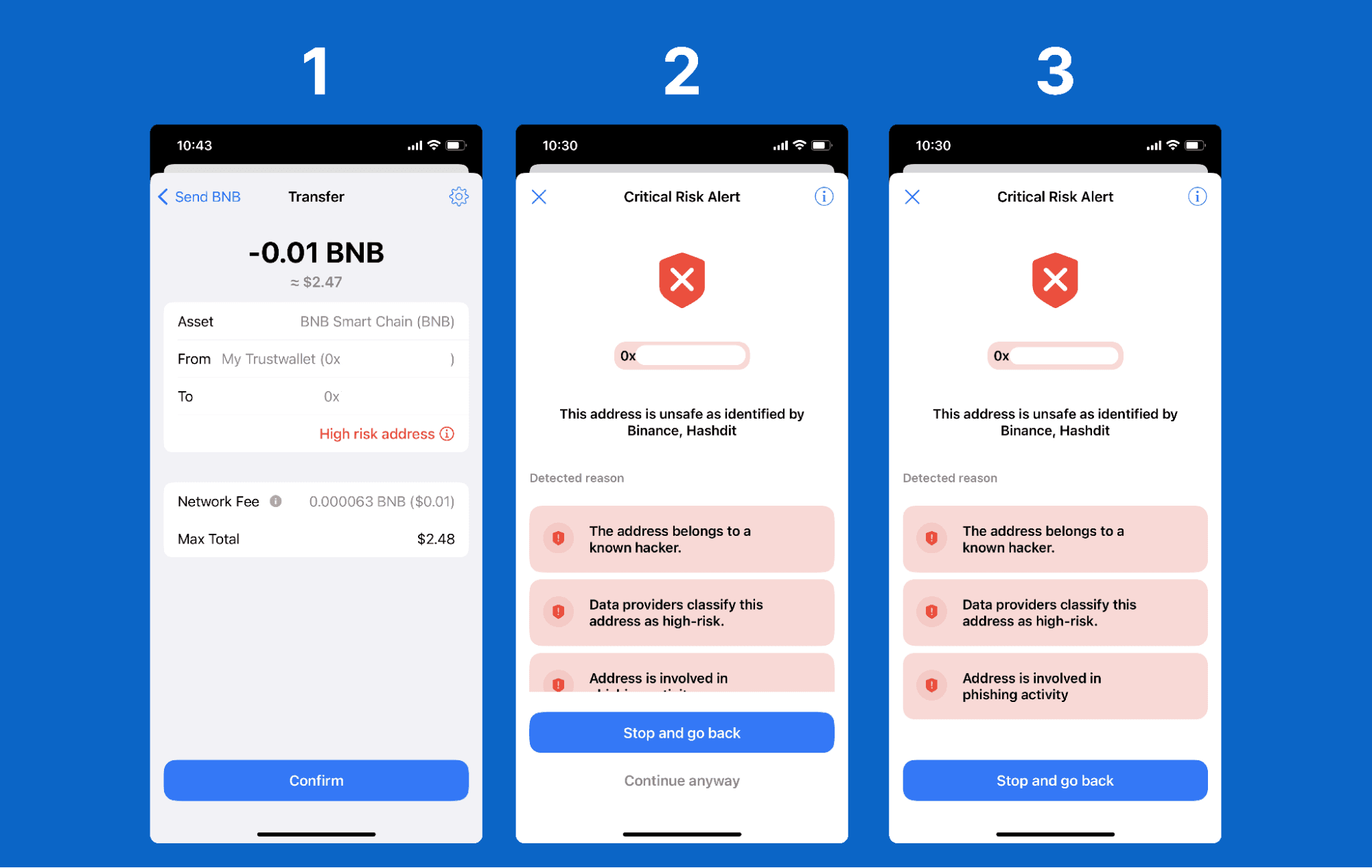 These risk descriptions provide valuable insights, enhancing transparency about flagged transactions. By implementing this enhancement to the Security Scanner, we hope to give you more control over your assets and better understand the risks in the complex world of crypto transactions.
Making Web3 safer, together
At Trust Wallet, we believe in the power of technology to transform and secure your experience on the decentralized web. If you ever wonder how to protect your wallet and your entire Web3 experience, the Security Scanner is another tool that helps you on that journey. The Trust Wallet Security Scanner V2 represents our ongoing commitment to our community in providing a safe and enjoyable journey in the world of Web3.
Security is our top priority, and we're here to make your journey into the world of crypto and Web3 as safe and seamless as possible. Check more ways to secure your wallet including, how to back up your wallet securely, using a hardware wallet with Trust Wallet, and much more.
Also, check out the FAQ for more information on how the Trust Wallet Security Scanner works and stay tuned for more updates and enhancements!

Join the Trust Wallet community on Telegram Follow us on Twitter Instagram Facebook Reddit