Airdrops
Arbitrum Airdrop – Everything You Need to Know
Published on: Mar 22, 2023
Updated on: Nov 14, 2023
In Brief
Here's a breakdown of everything you need to know about Arbitrum and its airdrop in case you want to participate.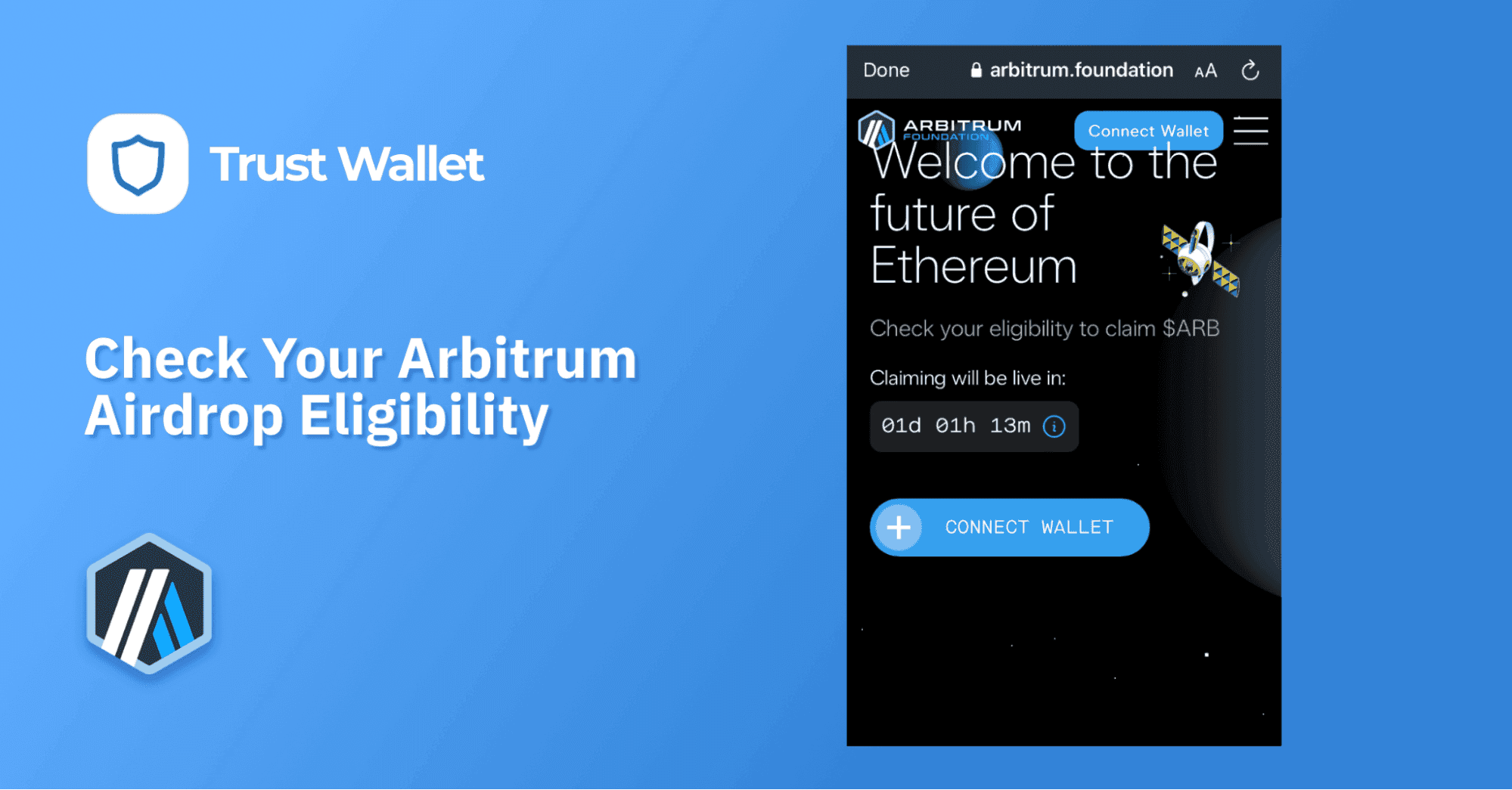 Arbitrum, a popular Ethereum layer-2 protocol, is set to issue its own native token to eligible community members – scheduled for an airdrop on March 23, 2023. With the launch of the ARB token, Arbitrum will officially transition into a decentralized autonomous organization (DAO).
Here's a breakdown of everything you need to know about Arbitrum and its airdrop in case you want to participate. And if you are looking to participate, you can easily check your eligibility using Trust Wallet.

What is Arbitrum?
Arbitrum is a layer 2 blockchain scaling solution built on top of the Ethereum blockchain. Offchain Labs created it in August 2021 with the aim of speeding up transaction times while lowering the on-chain transaction costs and promoting scalability.
Simply put, Arbitrum seeks to expand Ethereum's smart contracts capability by improving its scalability and speed while still offering auxiliary privacy features.
But how exactly does Arbitrum reduce the high transactional gas fees?
By incorporating optimistic rollups.
Rollups are a smart contract scaling solution that involves compiling multiple off-chain transactions in a process known as 'rolling up'. Once all the transactions have been rolled up, they are presented as a single transaction to the Ethereum blockchain. This helps to reduce gas prices while retaining secure transactions and relieving network latency.
Rolling up makes Arbitrum faster and cheaper to use, with all transaction data being relayed back to the Ethereum blockchain. The layer 2 protocol can process 40,000 transactions per second, while Ethereum can manage only roughly 14 transactions per second. Transactions on Ethereum cost several dollars to complete, while the same costs approximately two cents on the Arbitrum blockchain.
Additionally, Arbitrum supports the Ethereum Virtual Machine (EVM). This means that Ethereum decentralized finance (DeFi) developers can easily link their decentralized applications (DApps) with Arbitrum without making any changes to their apps.
Since its inception, Arbitrum has been operating without a token. However, this will soon change as Arbitrum will airdrop its new and long-awaited native token, ARB, on March 23, 2023.
The ARB token will be a governance token that will permit its holders to vote on decisions associated with the protocol through the chain's DAO.
What Is the Arbitrum Airdrop and Why Is It Important?
A cryptocurrency airdrop is where crypto projects send tokens or coins to eligible crypto wallet addresses.
Typically, the crypto project will select eligible wallets of their blockchain's active community members and send them a specific amount of the new digital currency, usually for free, or in exchange for carrying out a task like retweeting a tweet shared by the company issuing the new cryptocurrency. The main objective of an airdrop is to create awareness of the new token, to boost circulation, and to decentralize the token holders.
Arbitrum is planning an airdrop for its new ARB token.
But what is the Arbitrum airdrop, and why is it important?
The Arbitrum airdrop is a strategy that Arbitrum will use to distribute its ARB tokens to its users. This will help Arbitrum officially launch its native token and spearhead its circulation to early adopters.
Additionally, the Arbitrum airdrop is also important as it will mark the blockchain's official transition into a DAO and present the ARB token holders with an opportunity to vote for any changes to the protocol.
ARB will have a total circulating supply of 10 billion tokens. The Arbitrum community will have control of 56% of the 10 billion tokens, while 11.5% will be airdropped to eligible Arbitrum users. In addition, 1.1% will be allocated to the DAOs that manage the Arbitrum ecosystem. The rest of the tokens will go to a treasury that the Arbitrum DAO will manage. A further 44% of ARB's circulation will go to the employees and investors of Offchain Labs who first developed Arbitrum.
However, all employee and investor tokens will be subject to vesting schedules and lock-up periods.
Most early Arbitrum adopters have been allotted 625 ARB tokens, which correlates to a rough total airdrop value of $400 and $1,250. Arbitrum's highest allocation per address is 10,250 ARB tokens, and it is anticipated that 4,400 crypto wallets will be eligible for the ARB tokens, receiving between $6,500 and $20,600 in tokens.
How to Check if You're Eligible for the Arbitrum Airdrop Using Trust Wallet
Arbitrum users can check if they are eligible for the Arbitrum airdrop by visiting https://arbitrum.foundation, the official website of the Arbitrum Foundation, and connecting their crypto wallet, such as Trust Wallet, to receive their ARB tokens.
Trust Wallet is an easy-to-use, non-custodial crypto wallet that enables users to securely buy, store, sell, and swap over 9M+ crypto assets across 70 blockchains, all under one app. With more than 25M+ users, Trust Wallet is the most secure crypto wallet you can find in today's market.
The Arbitrum Foundation and Offchain Labs worked with Nansen, a crypto analytics firm, over a couple of months to develop eligibility criteria for the ARB token airdrop. Some factors they looked at included how long a user had been using Arbitrum One and Arbitrum Nitro, how many transactions they did, and the various applications they utilized. They then built a points system hinged on the different metrics of Arbitrum's usage.
So, how can you check if you are eligible for the Arbitrum airdrop? Let's dive in!
Here's how to check if you're eligible for Arbitrum airdrop using the Trust Wallet mobile app
Step 1: Be sure you have Trust Wallet installed. Get the latest version here:

Step 2: Go to https://arbitrum.foundation/ on your mobile device and follow the instructions.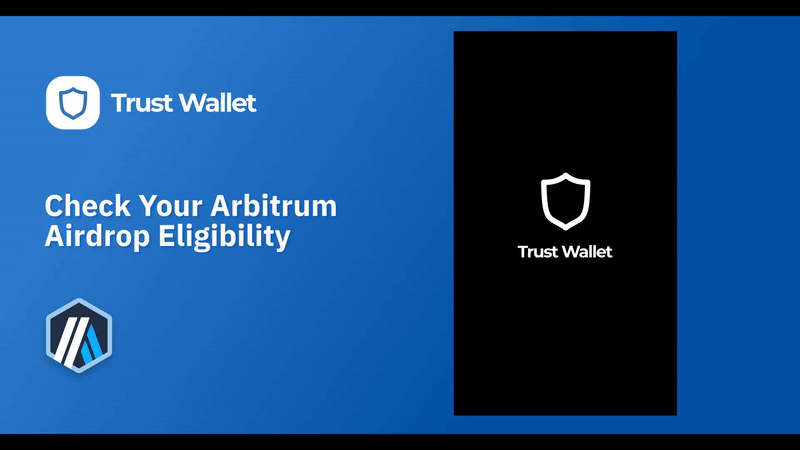 Here's how to check if you're eligible for using the Trust Wallet Mobile App with WalletConnect
Step 1: Visit the Arbitrum Foundation's official website Go to https://arbitrum.foundation/ and click on the 'Connect Wallet' option.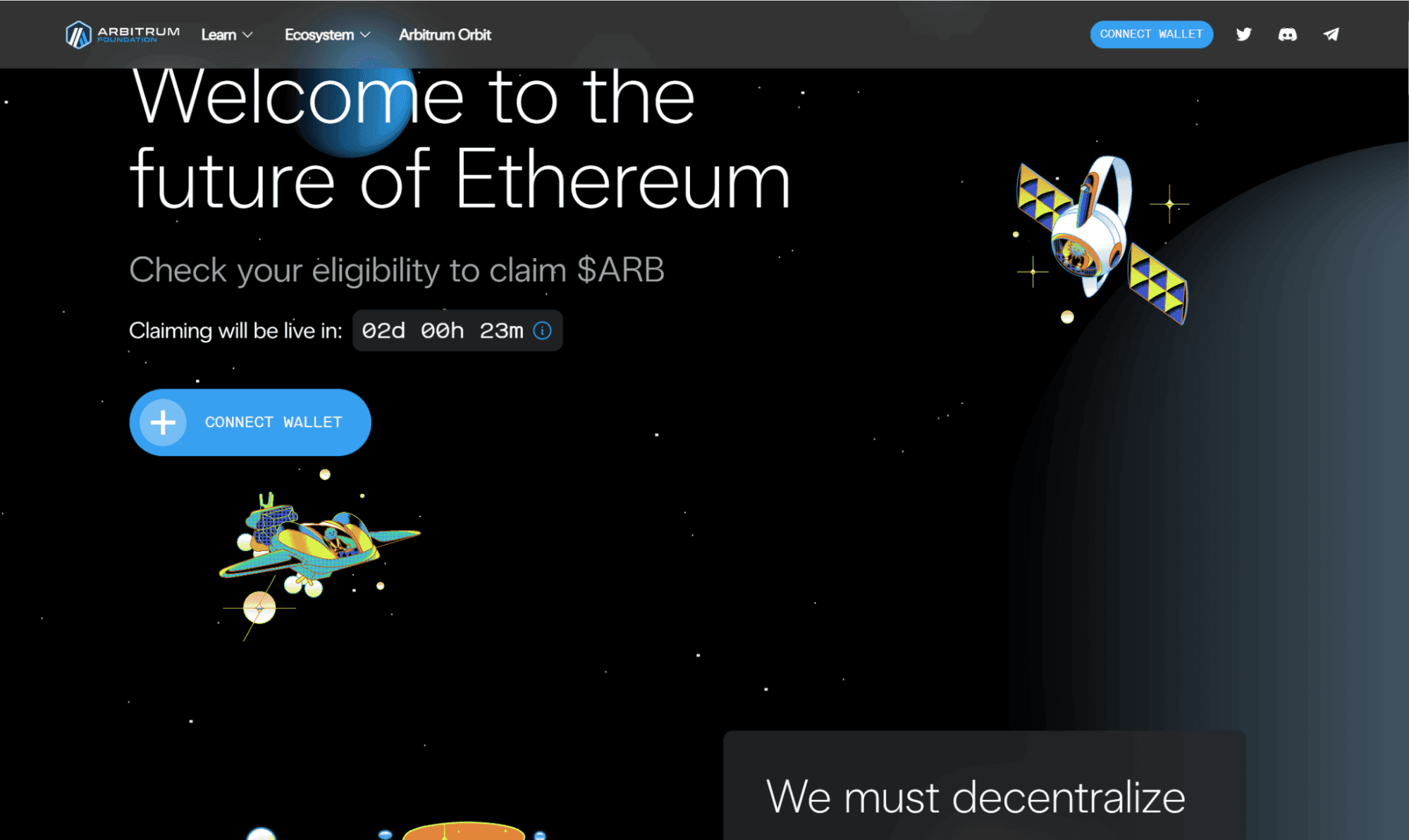 Step 2: Choose your crypto wallet
Next, proceed to choose the wallet you want to connect to. For purposes of this guide, we will connect to Trust Wallet on mobile using WalletConnect.
Step 3: Connect via WalletConnect
Go to your Trust Wallet, click on 'Settings' then 'WalletConnect', and scan the QR code. You will automatically be asked to confirm the connection on your Trust Wallet app to check your airdrop availability.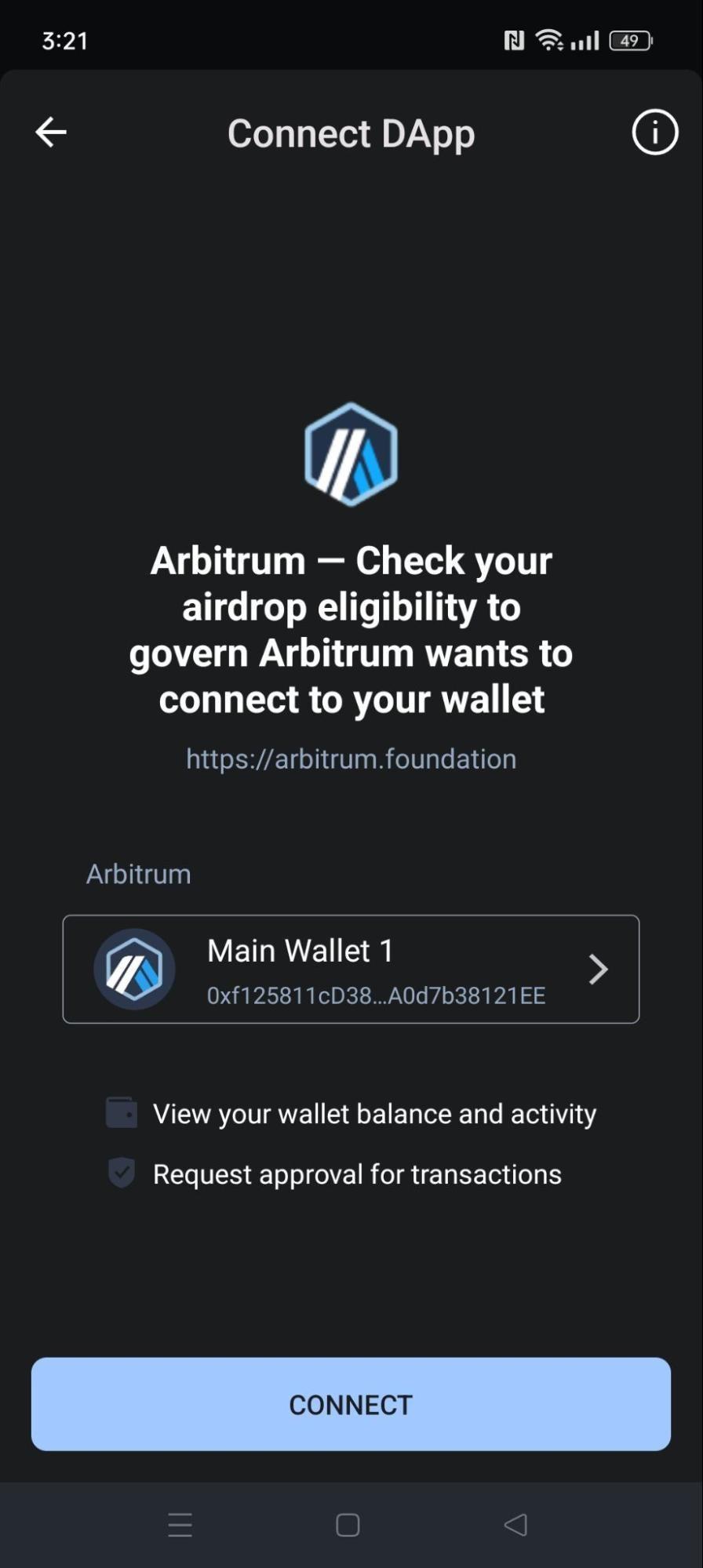 Step 4: Check eligibility
Next, once you are successfully connected, go back to the Arbitrum Foundation's website and click on 'Check Eligibility' to confirm if you are eligible for the ARB airdrop.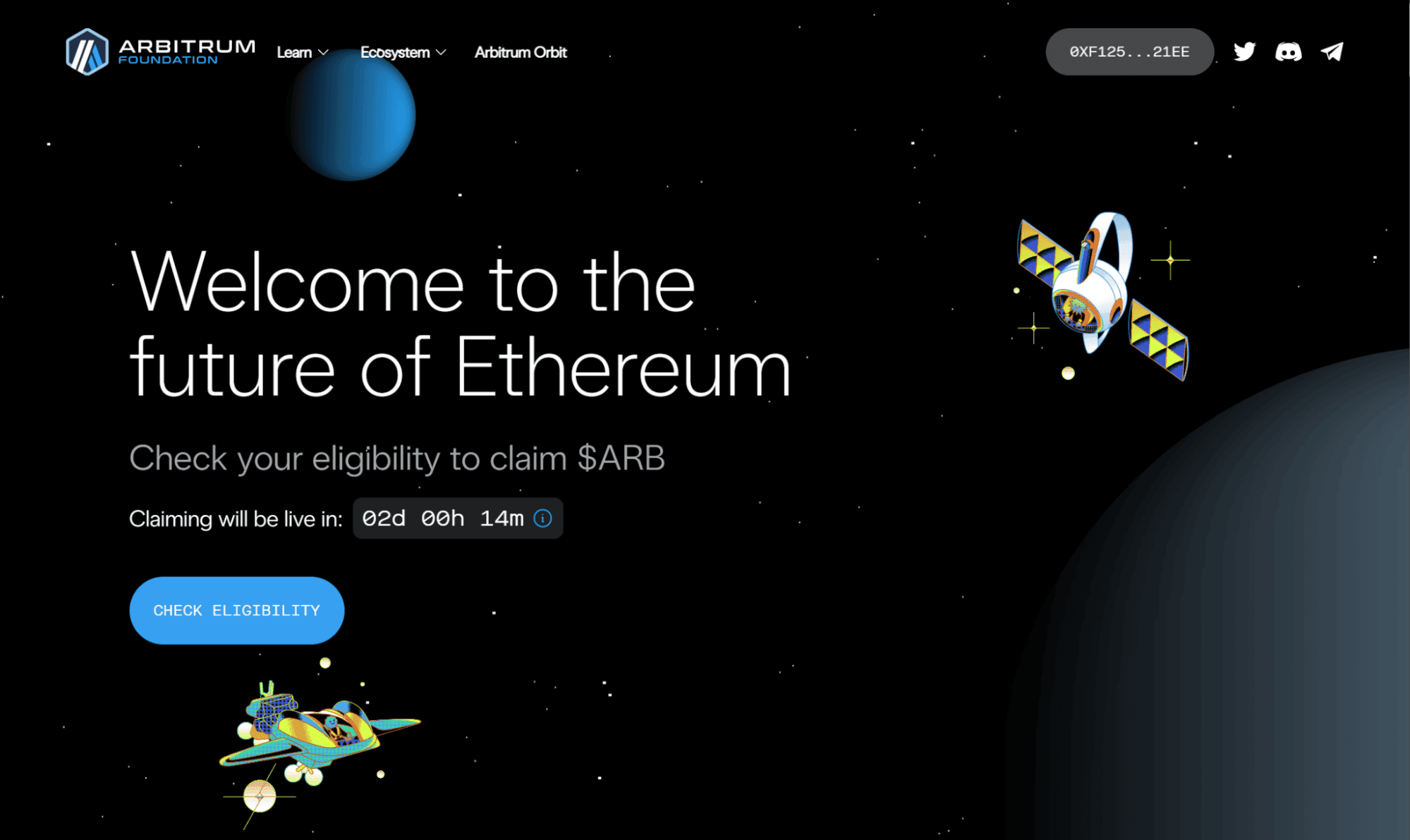 And that's it!
Remember, always DYOR
As Arbitrum airdrop its token, it's important that you tread with caution while claiming your ARB tokens to avoid falling prey to ARB airdrop scams. It's not uncommon for scammers to use airdrops to phish users through spoof websites as well as other schemes. Unfortunately, that is also the case for the Arbitrum airdop.
While the ARB token airdrop is only a matter of hours away, it's still important that you do your own research (DYOR) on this and other kinds of airdrops. DYOR will not only help to protect you from scammers but it can also help you to make better financial decisions.

Join the Trust Wallet community on Telegram Follow us on X (formerly Twitter) Instagram Facebook Reddit
Note: Any cited numbers, figures, or illustrations are reported at the time of writing, and are subject to change.