Web3
Axie Infinity: A Beginner's Guide
Published on: Nov 10, 2023
In Brief
Explore Axie Infinity, the P2E NFT game. Learn to earn crypto by breeding Axies, battling in arenas, and exploring the AXS token with Trust Wallet.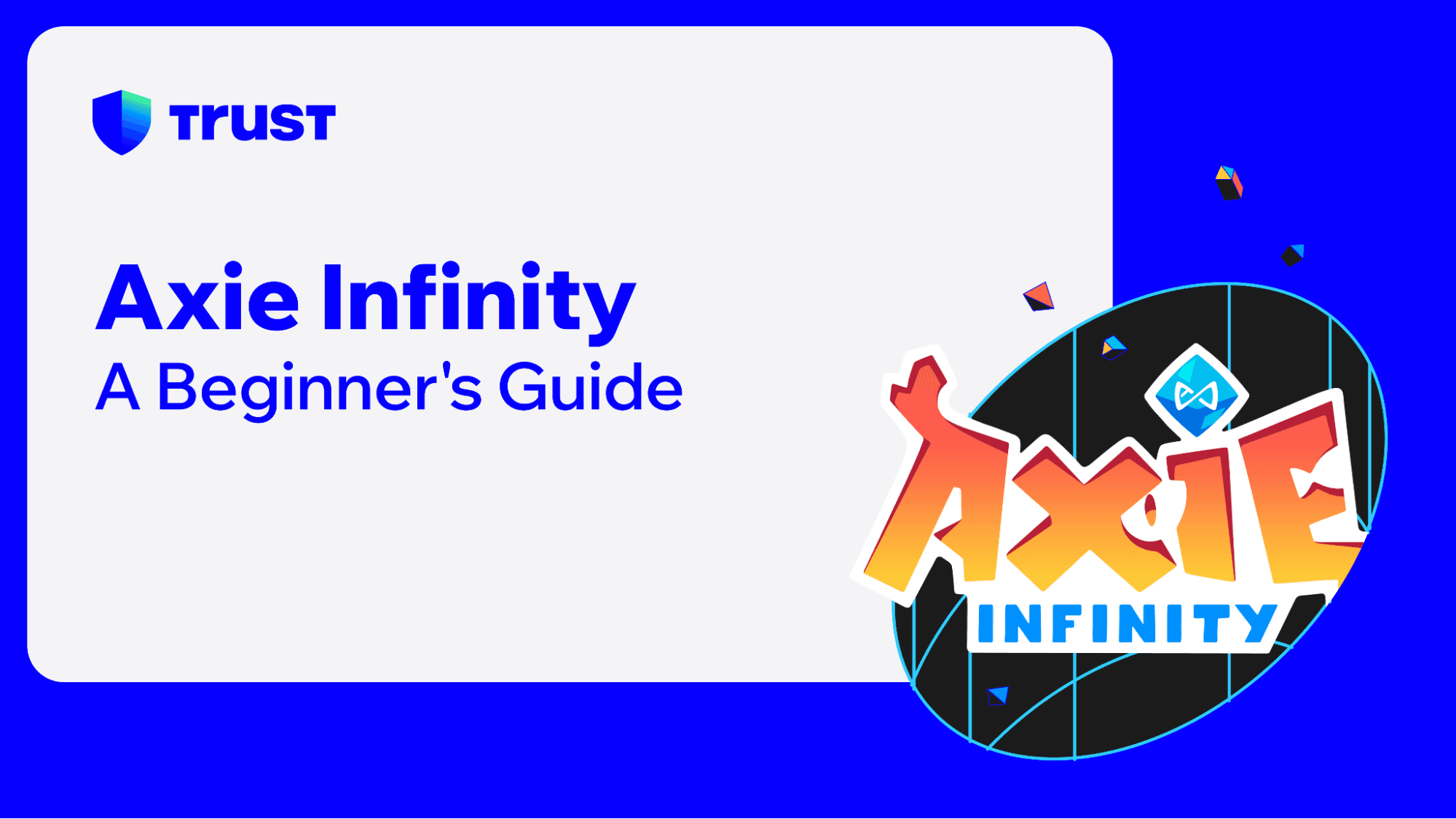 Axie Infinity is a popular Ethereum-based play-to-earn (P2E) game that borrows heavily from Pokemon. Players can breed and collect virtual creatures (which exist as NFTs) known as Axies and use them to battle other gamers to earn crypto tokens as rewards.
Today, Axie Infinity is one of the most popular P2E games globally, where players can earn Axie Infinity Shards (AXS) and Smooth Love Potion (SLP) for playing.
In this beginner's guide, you will learn how you can get started with Axie Infinity, how to earn and manage SLP tokens, and how to advance in the game.
Before You Get Started
But before we get started, ensure you have the most updated version of Trust Wallet so you can explore the Axie ecosystem without limits. We'll have a quick look at how to get the latest Trust Wallet version, plus how to buy AXS tokens.
Trust Wallet can be downloaded as a mobile app, or you can install the Trust Wallet Extension for your desktop browser. For this guide, we'll focus on creating a new wallet using the Trust Wallet mobile app.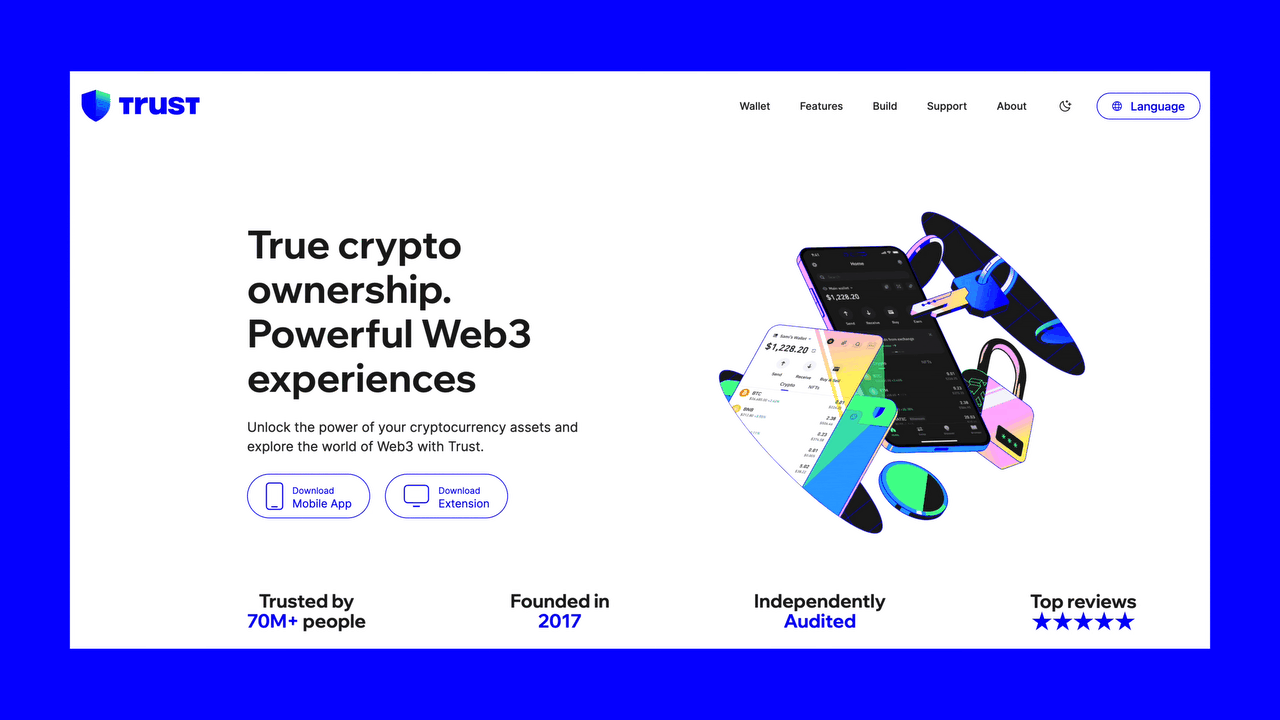 Get the most updated version of Trust Wallet
Below you'll see the steps to create a new wallet, but you could just as easily import an existing Web3 wallet to Trust Wallet, if that's your preference.

To create a new wallet:
Download, install and then open Trust Wallet

Choose "Create a new wallet".

Choose your backup option, or you can optionally postpone the backup process by choosing "Skip".

Start using Trust Wallet.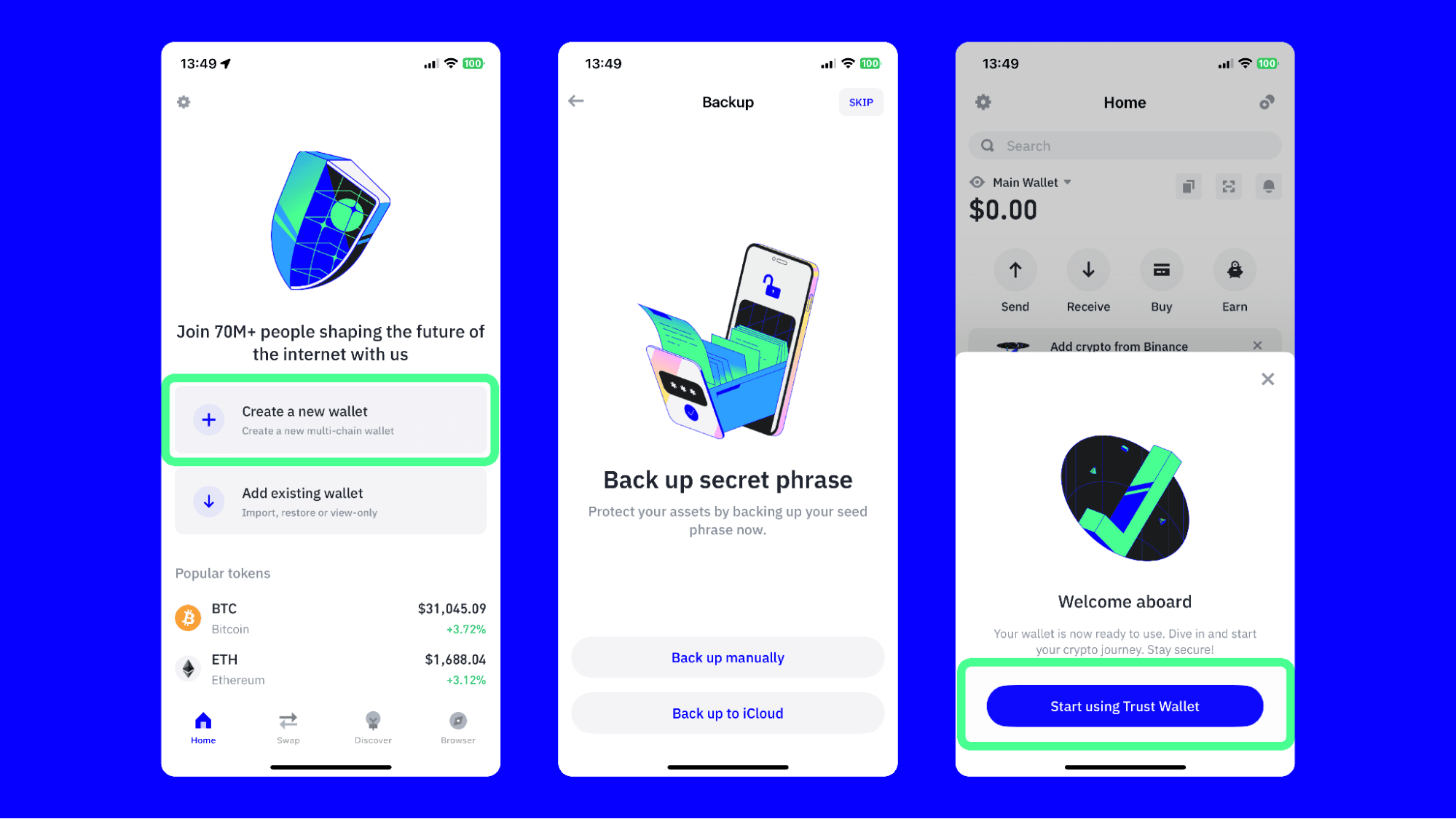 How to Buy Axie Infinity (AXS) token with Trust Wallet
Search for "AXS" or "Axie" from the search bar on the wallet's Home screen.

Select AXS on the Ethereum Network or on the Ronin chain.

Select "Buy".

Enter the amount of AXS you want to purchase.

Select the third party provider & payment method you'd like to use.

Select "Buy AXS", and then follow the steps to complete the purchase.
Getting Started with Axie Infinity
As a popular blockchain-based game, Axie Infinity incorporates NFTs, giving players full ownership of their Axies. This allows gamers to breed and sell their Axies to other players.
To start playing Axie Infinity, you will first need to visit the game's website.

Next, you'll need to create a Ronin wallet using your Trust Wallet Extension and buy Axies for your gameplay.

Proceed to create your account on the Axie official marketplace, and then download one of the three Axie Infinity games.
Axie Infinity requires players to have at least three Axies before they can start playing. Axies are the main characters and in-game assets that enable gamers to play. They are epitomized as NFTs and feature unique capabilities and traits.
Players have two options when it comes to acquiring Axies: buy them in-game from the Axie marketplace or borrow/lease them.
The latter allows Axie owners to earn money by leasing or selling their Axies after breeding them. Breeding is a very important aspect of the Axie Infinity ecosystem, as players can get new offspring that have the characteristics they want.
To breed an Axie, players must get two Axies to hatch an egg and wait up to five days for a new Axie to be born. The rarer the Axie, the higher its selling price can be. Moreover, no two Axies are similar as their rarity is dependent on their four base statistics, which include their health, morale, speed, and skill.
Earning and Managing SLP (Smooth Love Potion)
The Axie Infinity ecosystem utilizes two crypto tokens - Axie Infinity Shard (AXS) and Smooth Love Potion (SLP).
SLP is the in-game cryptocurrency of the Axie Infinity Web3 game. SLP tokens are generated within the Axie Infinity game itself. The token allows players to breed and collect unique digital pets known as Axies that are represented by NFTs. Moreover, breeding an Axie will cost players both AXS and SLP tokens.
Besides breeding, players can also earn SLP tokens. To earn SLP crypto tokens, gamers have to compete against each other in arena mode or win battles in adventure mode against computer-controlled monsters.
Players can also trade their earned SLP tokens on supported crypto exchanges - a feature that has given this in-game token wider market access. SLP tokens also have an unlimited supply and can be swapped for AXS tokens, which have a limited supply.
The AXS token is used as a governance token in the Axie Infinity ecosystem.
While the SLP token is used to reward players who win different battles, AXS is used to reward the best players from all the gaming seasons. Players should have a trusted crypto wallet like Trust Wallet to securely store, manage, and swap SLP and AXS tokens.
Advancing in the Game
As an Axie Infinity player, you can incorporate various strategies to advance in the game and win rewards.
Firstly, you need to participate in battles and win to advance in the game.
Secondly, you need to breed and upgrade your Axies to improve their stats and make them stronger to increase your chances of winning the battles you participate in. Be strategic about how you breed the Axies so you can get the abilities and traits that match your battle strategy.
Thirdly, understand the weaknesses and strengths of your Axies. This will allow you to better position your Axies and balance your team. And because no one battle is the same, remember to always adapt your strategy in each game. Furthermore, you can't win without playing. By participating in various battles, you will understand what strategies to use and thus have an upper hand when it comes to your opponents.
Axie Infinity has various communities and resources where gamers share their experiences and tips for winning. Learning from these communities can help players to better understand the game and improve their battle performance.
While winning is necessary to earn crypto rewards, don't forget to have fun as you play.
Conclusion
The merger of online gaming and blockchain in the form of the Axie Infinity game represented an interesting shift in the gaming sector. Since its launch in 2018, Axie Infinity has experienced massive growth, driven by a strong community of players.
The P2E blockchain-based game has also undergone various upgrades to satisfy the demand of its players. All this for good reasons, as the game offers players an immersive gaming experience that allows them to have fun while earning rewards paid in crypto.
Start exploring Axie Infinity using Trust Wallet today!

Frequently Asked Questions
What is Axie Infinity?
Axie Infinity is an Ethereum-based play-to-earn game where players can breed, collect, and battle creature NFTs called Axies to earn cryptocurrency rewards.
How do I start playing Axie Infinity?
To play Axie Infinity, you'll need to create a Ronin wallet using Trust Wallet Extension, purchase at least three Axies from the official marketplace, and download one of the Axie Infinity games to begin playing.
What are the ways to acquire Axies?
Players can either buy Axies from the in-game marketplace or lease them. Breeding Axies is also an option for obtaining new ones with desired traits and statistics.
How are SLP and AXS tokens used in Axie Infinity?
SLP tokens are used within the game for breeding Axies and can be earned by winning battles. AXS tokens are governance tokens used to reward players and can be swapped with SLP tokens. Both can be managed and traded via crypto exchanges.
Can I buy Axie Infinity (AXS) using Trust Wallet?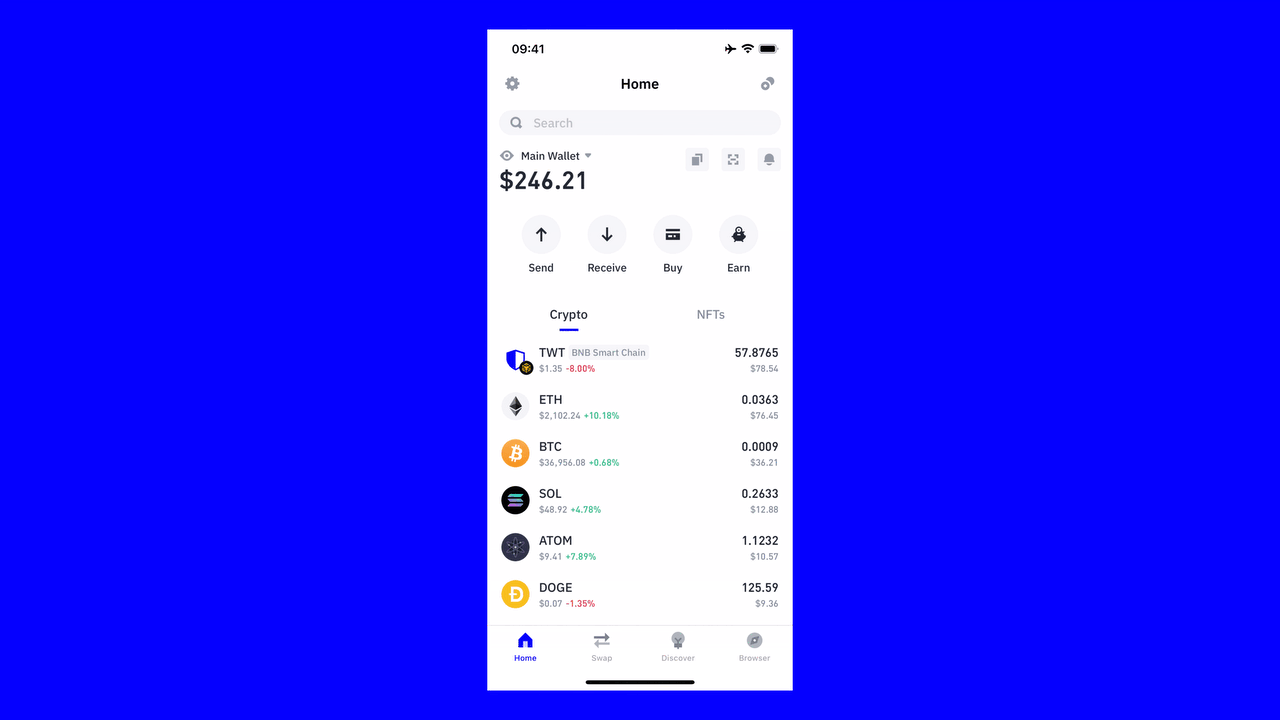 Download the Trust Wallet Chrome Extension to participate in the exciting world of battling Axies.
Join the Trust Wallet community on Telegram Follow us on X (formerly Twitter) Instagram Facebook Reddit
Note: Any cited numbers, figures, or illustrations are reported at the time of writing, and are subject to change.