Web3
Friend.Tech – The Web3 Social Media App, Explained
Published on: Aug 29, 2023
Updated on: Nov 24, 2023
In Brief
Discover Friend.tech, the Web3 social media app that could change online communities. Learn how it's affecting the game for influencers, creators, and users alike.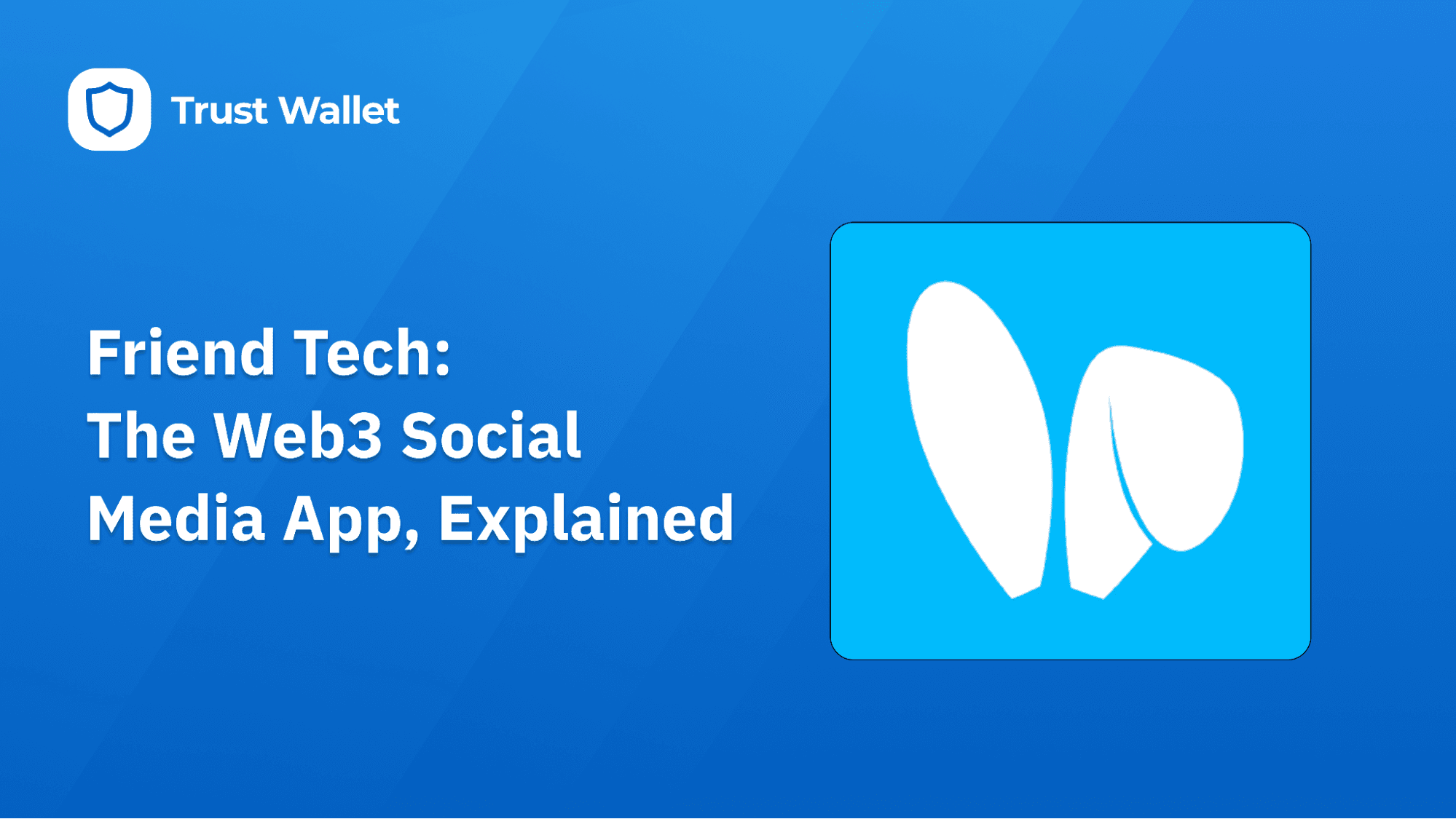 Friend.tech is a new decentralized social media application designed for Web3. Since mid-August, this new platform has taken online communities by storm, with social media users scrambling to get invite codes to join. Friend.tech is built on Base, Coinbase's new Layer 2 blockchain, and has introduced a new way for people to control their online presence.
This guide will take an in-depth look at what Friend.tech is, how it works, its connection to the Base blockchain, popularity, and user engagement. Read on for more.
What is Friend.Tech?
Friend.tech is a Web3 mobile-based social media application where your network or friends become "Keys", which are like shares. The platform, which markets itself as 'the marketplace for your friends' on its website, is a SocialFi project that blends decentralized finance (DeFi) and social networks.
The application provides people with a market to trade the likeness, network, and popularity of influencers and creators. Simply put, it's a platform that's focused on creator monetization. The project comes from a home of other well-known projects such as TweetDAO and Stealcam.
The platform provides you with your own Telegram-like private chat group. Anyone joining your private chat group must first 'invest in you' by buying your Keys. Your Key owners are then able to exchange private messages with you. If they decide to leave your group chat, they can sell the Keys they bought to other users keen on joining your group chat.
Every user on Friend.tech is akin to a social token.
As an outsider looking to get into a friend's or celebrity's private group chat, you can buy the required social token, like how you'd invest in a company by buying its shares and becoming a stakeholder. You can HODL onto the token as its value increases with the user's credibility or sell it for a higher value when you no longer want to be part of the group.

What Are the Issues Facing Friend.tech?
Friend.tech, which released its invite-only beta version on August 10, was created by 0xRacerAlt and Shrimpeppe to grow its Web3 audience. The project is designed to provide Web3 creators and influencers a way to monetize their content.
The release of Friend.tech comes when earnings for leading influencers have severely dropped in Stealcam, the other Web3 project founded by 0xRacerAlt. It's hard to tell whether this is just another attempt to get influencers on another application with no long-term 'goal' on how they can consistently monetize their content.
Following the beta release, the project has over 110K buyer addresses, over 2M all-time transactions, and more than 47K ETH all-time volume, according to data from Dune Analytics.
Despite what seems to be a successful release, there have been some concerns about the project's privacy, security, and its founders, which can create problems for the platform as it looks to scale.
For starters, the platform requires people to link their X account with their Ethereum wallet. While there is a lack of clarity from the founders as to why this is important, various crypto influencers have raised the alarm on this as the linkage gives Friend.tech varied permissions to their X account, such as the ability to retweet and post on their behalf.
Secondly, there was a Friend.tech database leak that showed the X account of its users and the crypto wallet addresses they signed up with, even though the users themselves didn't make this information public.
Some tweets have also surfaced questioning Shrimpeppe's credibility, as he was allegedly involved in a DAO praising convicted "pharma bro" Martin Shkreli. Moreover, 0xRacerAlt and Shrimpeppe are also said to have founded an NFT project that went under after they rugged the community rallying behind the project.
Besides the project not having a clear roadmap, the privacy policy on the website doesn't contain any information, as clicking on it results in a pop-up that says 'Coming Soon.' Its founders have also yet to come out and clear any doubts raised so far on the project's security and privacy issues, as well as their involvement in the now-defunct crypto project.
How does Friend.tech work?
The Friend.tech mobile-based application is available to both Android and iOS users. Here's how you can sign up:
On your phone, visit the Friend.tech website, add the website to your home screen, and install the app. Note that you can't install the app without adding the website to your home screen. This process eliminates the need for go-between APK downloads, guaranteeing a seamless entry into the Friend.tech application.

You can use your phone number, Google or Apple account to sign up. While signing up ensures you have an account, you'll need an invite code from an existing user as the application is still in beta. Existing Friend.tech members have up to three codes that they can give out. You can also look for them on X or Reddit.

Enter your invite code and then link your X profile account. Once successfully connected, you'll need to bridge a minimum of 0.01 ETH from the Arbitrum or Ethereum mainnet into the Base network through the Base wallet address that will be shown. This will allow you to buy or sell Keys.

It can take a few seconds to minutes for the ETH you deposited to reflect. Also, given the privacy concerns, you can revoke Friend.tech's access to X after you are signed up. Once your ETH has been successfully transferred, you'll get access to all new accounts, buy and sell gigs, and so much more.
On Friend.tech, each person is either a follower or a creator. Creators can organically build their following by inviting people to join their private groups on the app. Conversely, followers get to buy Keys of the accounts they want to follow at a base price.
The base price paid serves as the participation fee for the private chat group. As the creator's network grows, so does the share price appreciate. This, of course, is good for both the creator and you as a shareholder. If you wish to leave the group later, you can sell your Keys.
Private chat feature
One of the key features of Friend.tech is its private chat feature that allows creators to monetize their content. It's one of the features that's making Friend.tech attractive to X crypto influencers.
You can follow a creator, get access to their private group chats, and engage with them via private messages after you buy their Keys. Ergo, buying Keys for various influencers grants you access to their private chat rooms, where you can enjoy exclusive content.
The private chat feature is crucial to influencers or creators with large followings because the more followers they have, the more money they can make. Essentially, the higher their network on Friend.tech, the higher their net worth on the platform. The monetization aspect feeds into why the application was developed in the first place. Besides the money, another reason the private chat feature is crucial for influencers with a large following is that it allows them to 'control' who follows them.
One downside of most social media platforms is that influencers or creators with large followings tend to turn off their DMs due to the number of direct DMs they get from just about anyone. With Friend.tech, influencers are sure that their messages are from a community of fans and not just trolls.
Investment aspect
Buying Keys to follow an influencer on Friend.tech is similar to buying shares for a public company and earning dividends in return. If the company performs well, you can earn a return on your initial investment.
The Friend.tech application borrows a similar approach, only that you'll be investing in creators on the app. To ensure you get a good ROI, you need to invest in creators who with the potential to grow. This guarantees a meaningful return on your investment, especially if you join the group in its nascent stage.
You can join a group and pay its base price. As the group becomes more popular and more people join, the total quantity of the group Keys grows, and the base price increases. If a group's share price skyrockets, you can sell your Keys and exit the group, thereby earning profit. And, of course, Friend.tech allows you to withdraw your ETH earnings.
Friend.tech allows both creators and their followers to earn. Every time you buy or sell Keys, a 10% fee applies. 5% of the 10% goes to the Friend.tech treasury, while the other 5% goes to the influencer whose keys are being traded. With a sizable following, an influencer will always have a steady passive income.
Joining a specific group on the platform, therefore, goes beyond social interaction as it also has a potential investment value. In addition, Friend.tech will have an airdrop that's expected to benefit about 44,000 users.
Friend.tech's connection to the Base layer 2 blockchain
The Base network is an Ethereum Layer 2 network solution that's built by Coinbase. Base, like other Layer 2 solutions, was built to address some of the challenges, such as high transaction fees, slow transaction speeds, and scalability issues that shroud Layer 1 blockchains like Ethereum.
The Friend.tech platform is built on top of the Base network. Therefore, Friend.tech enjoys the security of the Ethereum blockchain as it's the underlying blockchain. As a decentralized application (dApp) on Base, Friend.tech benefits from the low-cost, faster transaction speeds and secure dApp development features that Base offers. Moreover, since Base is scaled by Coinbase, developers building on Base also leverage Coinbase's products with seamless integrations.
While Friend.tech isn't the only dApp built on Base, its beta release has made it the most popular dApp developed on the Base network.
Popularity and user engagement
Since Friend.tech announced its beta launch on August 10, the platform's popularity and user engagement have grown, according to data on Dune Analytics.
Since its launch, the platform's total value is estimated to be over 10K ETH with an all-time ETH volume of more than 47K ETH. On August 21 Friend.tech experienced a high trade volume of 11.09K ETH, the highest it has done since its launch. The all-time transaction on the app currently stands at over 2M, while the all-time buyer addresses are at more than 116K.
The hype surrounding Friend.tech that's made it attractive to people can be linked to its features. Its private chat feature allows influencers and creators to earn money from their friends. As a friend, you can become a follower and ensure your favorite friends turned influencers earn from your following.
The platform also offers an easy and seamless sign-up process that doesn't require any third-party downloads. Shareholders can also profit when a creator's group's following increases, making it a win-win for both the influencer or creator and their followers. Because it's built on a Layer 2 network, users enjoy low gas fees and high transaction speeds.
By combining a social network and DeFi, Friend.tech is poised for growth as more people flock to the platform. However, to scale fully, the SocialFi application will need to address some of the issues that have so far been identified.
Conclusion
While there are other decentralized social platforms, Friend.tech's unique approach is that it allows users to monetize their content. And, considering it's still in its beta version, people can expect a lot more from it as it continues to evolve.
It's built atop Coinbase's Base blockchain, which means that it gets to enjoy Ethereum's security while allowing its users to engage and transact at higher speeds and low transaction fees, making it scalable.
Still, the app has gotten some concerns regarding its privacy and security, especially since people have to link their X profiles as part of the setup.
As another Web3 dApp that's attracting quite the hype in the crypto community, it's important to do your own research before signing up on such platforms. Remember to use crypto wallets that guarantee security as you navigate the Web3 ecosystem.
Trust Wallet, for instance, features the Trust Wallet Security Scanner that notifies you of risky transactions and offers you a chance to explore the Web3 ecosystem securely. You can also use the Trust Wallet app or the Trust Wallet Browser Extension while at it.
As Friend.tech continues to evolve, crypto enthusiasts and investors alike must watch for the project's future developments. If you choose to buy or invest in any Keys, ensure that it's for groups that have the potential to grow and only invest what you can afford to lose.
Download Trust Wallet today and get to experience its enhanced security features as you safely explore Web3.