Guides
How to Buy Bitcoin Using Trust Wallet: A Visual Guide.
Published on: Oct 25, 2023
Updated on: Oct 26, 2023
In Brief
Learn how to buy Bitcoin (BTC) using Trust Wallet with our step-by-step visual guide. Also discover the security features of Bitcoin and Trust Wallet, as well as how to sell BTC for fiat.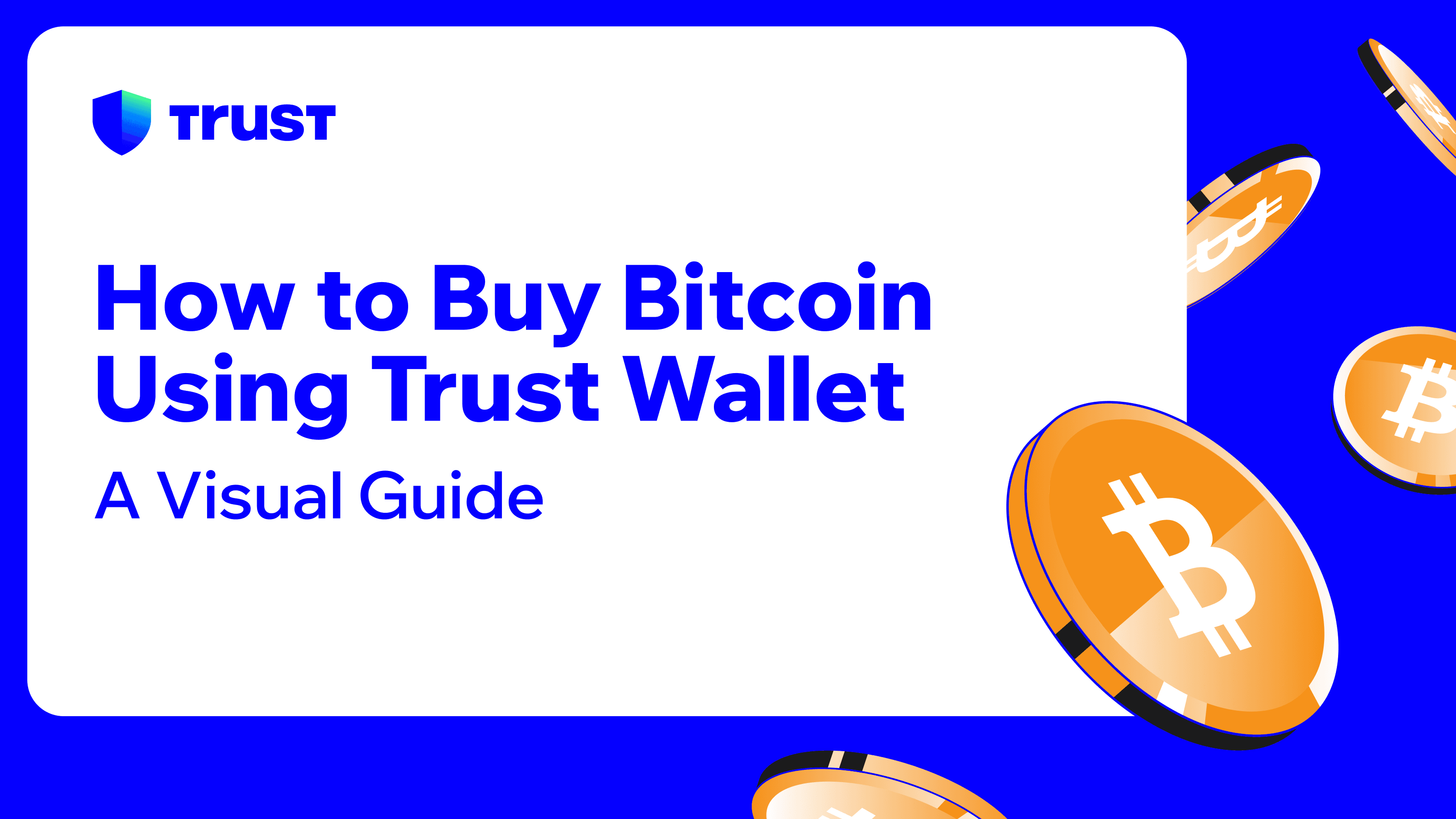 If you're curious about how to buy crypto assets like Bitcoin (BTC) in a straightforward manner, you've landed on the right page. In this guide, we'll walk you through purchasing Bitcoin using Trust Wallet, a highly secure, self-custody crypto wallet and Web3 gateway trusted by millions.

What is Trust Wallet?
Trusted by over 70 million users worldwide, Trust Wallet is more than just a simple-to-use crypto wallet—it's your open gateway to the Web3 world. Built on our core values of financial freedom, strong security, and user-friendly design, we're on a mission to build a seamless Web3 hub and open ecosystem for everyone. Buy crypto, swap tokens, stake to earn rewards, and so much more. Whether you're a beginner or an expert, Trust Wallet empowers you to fully own, control, and leverage your digital assets.
With key features like the Trust Wallet Security Scanner and support for 10+ million digital assets across 100+ blockchains, you can explore and access opportunities in Web3 with confidence. Trust Wallet is available as a mobile app on Apple iOS and Android, and also as the Trust Wallet Chrome Extension for desktops.
What is Bitcoin?
Bitcoin is a digital currency that was created in 2008 by an unknown person or group of people using the pseudonym Satoshi Nakamoto. Unlike traditional currencies like the dollar or euro, Bitcoin is entirely digital and operates on a decentralized network, meaning it isn't governed by any single authority like a central bank. Transactions in Bitcoin are verified by a network of computers and are recorded on a public ledger known as the blockchain. This technology ensures that all transactions are transparent and secure.
One of the standout features of Bitcoin's technology is its use of cryptography, which is a method of protecting information by converting it into a secure code. When you make a transaction in Bitcoin, it's cryptographically signed to ensure only the rightful owner can spend their bitcoins. This adds an extra layer of security and prevents fraud or unauthorized access.
Additionally, the decentralized network on which Bitcoin operates is maintained by individuals known as "miners." Bitcoin mining is a process where powerful computers are used to solve complex mathematical equations that validate and secure each transaction on the blockchain. Once a transaction is added to the blockchain, it's practically irreversible, making it extremely secure against tampering or hacking.
This blend of decentralization and cryptographic security makes Bitcoin not just an alternative form of currency, but a fundamentally safer and more transparent way to conduct transactions.
Learn more about Bitcoin:
Before You Get Started
Before we delve into the steps for buying Bitcoin via Trust Wallet, you'll first need to set up a wallet if you haven't already. Trust Wallet can be downloaded as a mobile app, or you can install the Trust Wallet Extension for your desktop browser. For this guide, we'll focus on creating a new wallet using the Trust Wallet mobile app.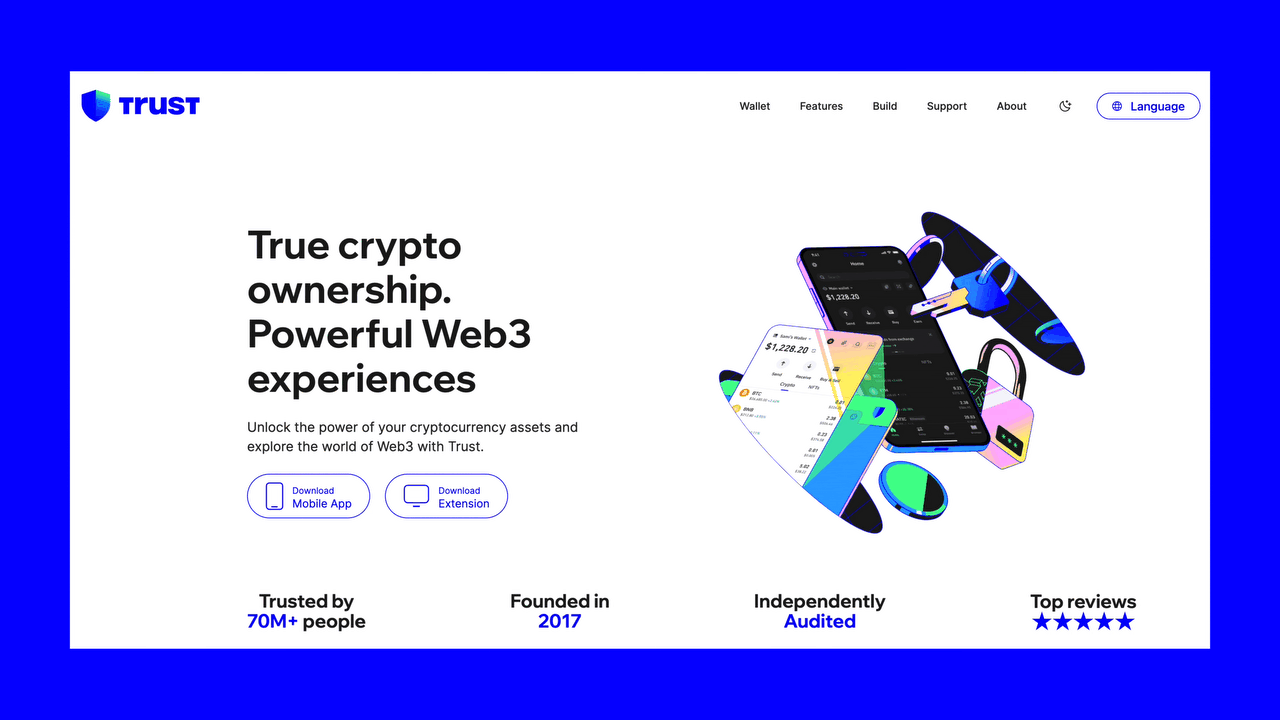 Step 1: Get the most updated version of Trust Wallet
Below you'll see the steps to create a new wallet, but you could just as easily import an existing Web3 wallet to Trust Wallet, if that's your preference.

To create a new wallet:
Download, install and then open Trust Wallet

Choose "Create a new wallet".

Choose your backup option, or you can optionally postpone the backup process by choosing "Skip".

Start using Trust Wallet.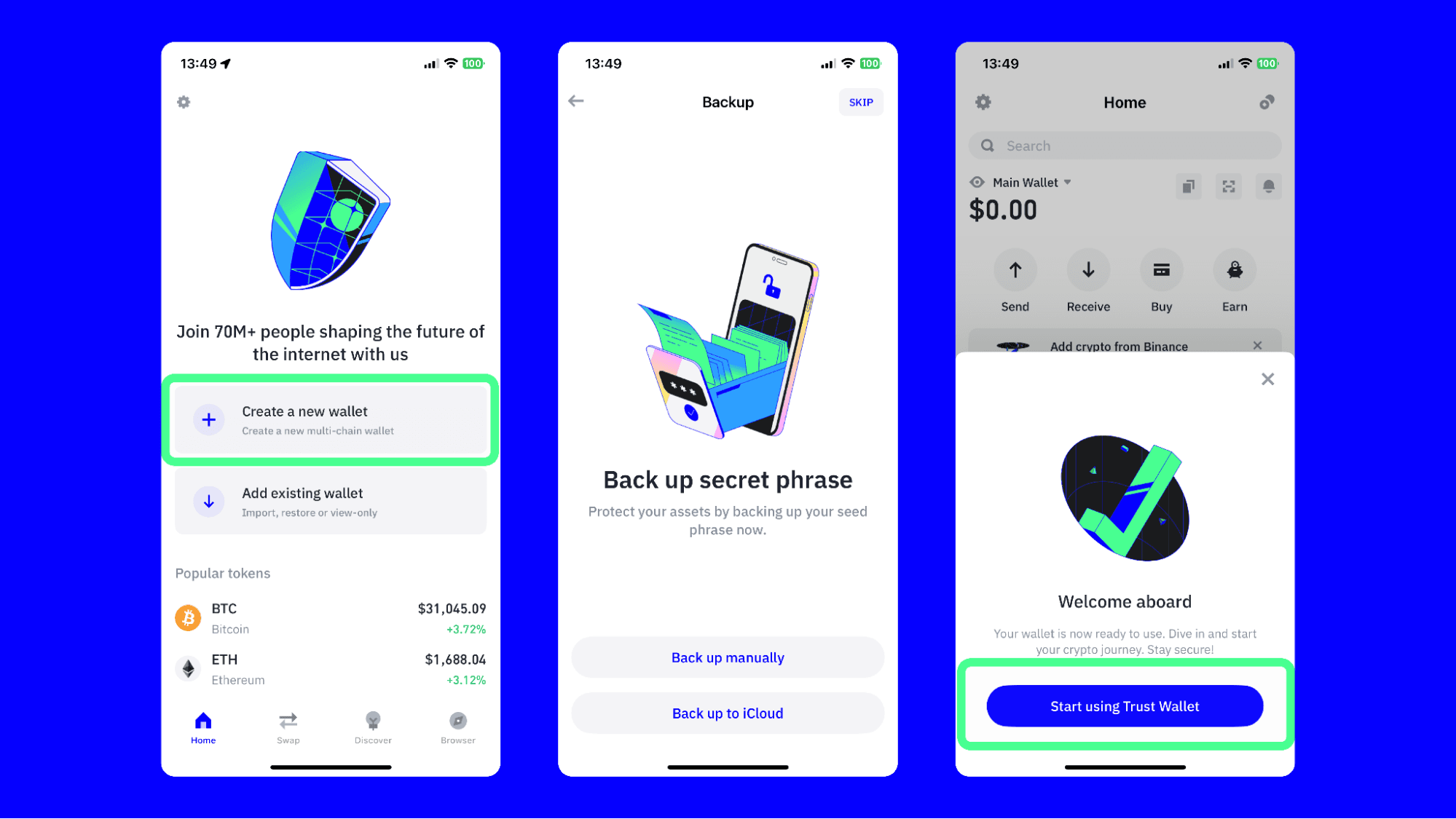 Step 2: Buy crypto using your Trust Wallet
Select the "Buy" button, from the wallet's Home screen.

Choose Bitcoin (BTC), and enter the amount you wish to purchase.

Select the third party provider & payment method you'd like to use.

Select "Buy BTC", and then follow the steps to complete the purchase.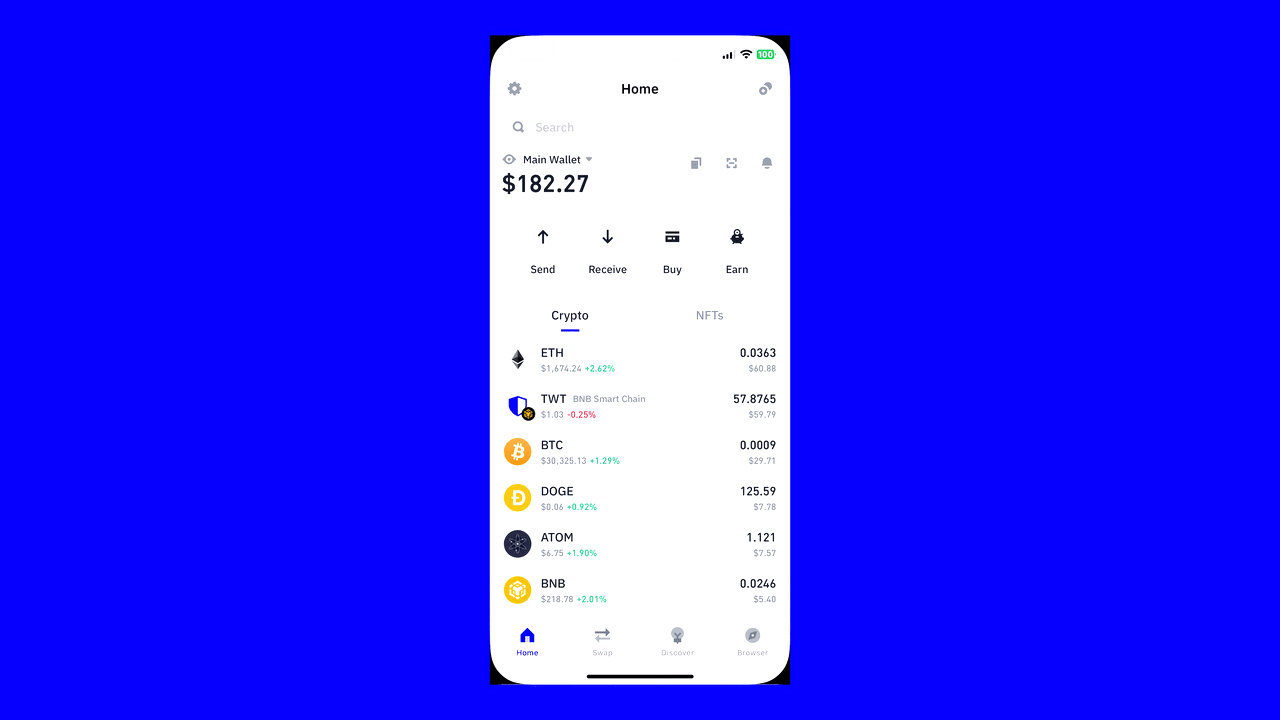 Frequently Asked Questions
What are the fees to buy Bitcoin (BTC) using Trust Wallet?
Fees are dynamically determined in real-time by our affiliated fiat gateway partners. We've teamed up with a variety of third-party payment services to offer you a diverse array of convenient choices. Please be aware that the fee schedule may differ depending on the payment method selected and your geographical location.
What payment methods are accepted?
Trust Wallet accommodates multiple payment options, such as credit/debit cards and bank transfers, to name a few. The specific methods available to you are subject to your location and the payment provider you opt for. What currencies can I use to purchase Bitcoin (BTC)?
Our global partners support over 100 local fiat currencies. This enables a broad range of users to purchase crypto in their native currency.
In addition to buying, can I also sell Bitcoin (BTC) using Trust Wallet?
Absolutely, you can convert your Bitcoin to fiat currency using Trust Wallet. Our integrated third-party partners offer services that allow you to sell your crypto for cash. Here's how to sell your Bitcoin using Trust Wallet.
Choose Bitcoin (BTC) from your wallet's home screen.

Choose the "More" option.

Enter the amount you want to sell.

Select the third-party provider, and then complete the remaining steps to sell your Bitcoin (BTC).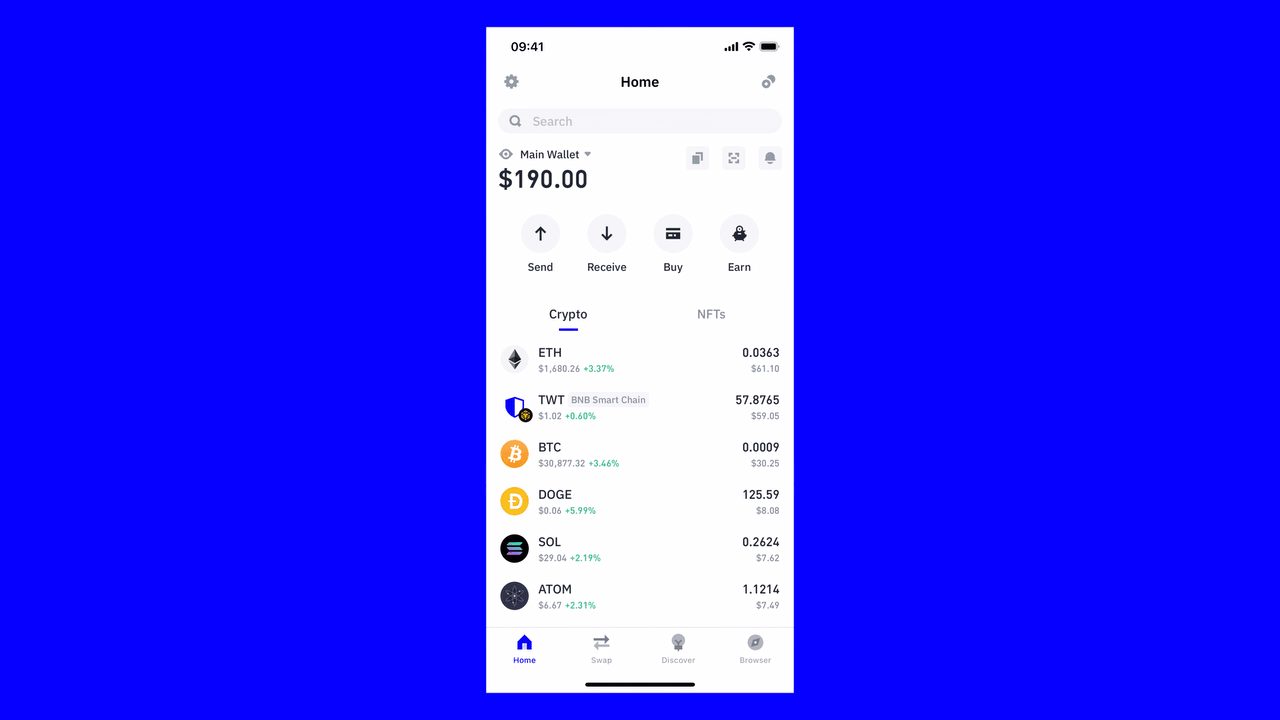 When I buy Bitcoin (BTC) using Trust Wallet, where is it stored?
When you buy BTC using your Trust Wallet, it's stored directly in your wallet. There's no need to transfer your BTC from one address to another or do anything else – the crypto will be stored safely and automatically.
How do I check my Bitcoin (BTC) balance in Trust Wallet?
To check your BTC balance in the Trust Wallet app, simply open the app and view your current balance from the main wallet page.
How do I check the Bitcoin (BTC) price in Trust Wallet?
To check the BTC price in the Trust Wallet app, simply open it and view the price from the main wallet page. Alternatively, you can also select the BTC asset and tap on the chart symbol to view more detailed information on the BTC price.
Join the Trust Wallet community on Telegram Follow us on X (formerly Twitter) Instagram Facebook Reddit
Note: Any cited numbers, figures, or illustrations are reported at the time of writing, and are subject to change.