Guides
How to Buy Dogecoin Using Trust Wallet: A Visual Guide
Published on: Nov 14, 2023
In Brief
Learn how to buy Dogecoin (DOGE) using Trust Wallet with our step-by-step visual guide. Also discover the technological features of Dogecoin, as well as how to buy and sell DOGE using Trust Wallet.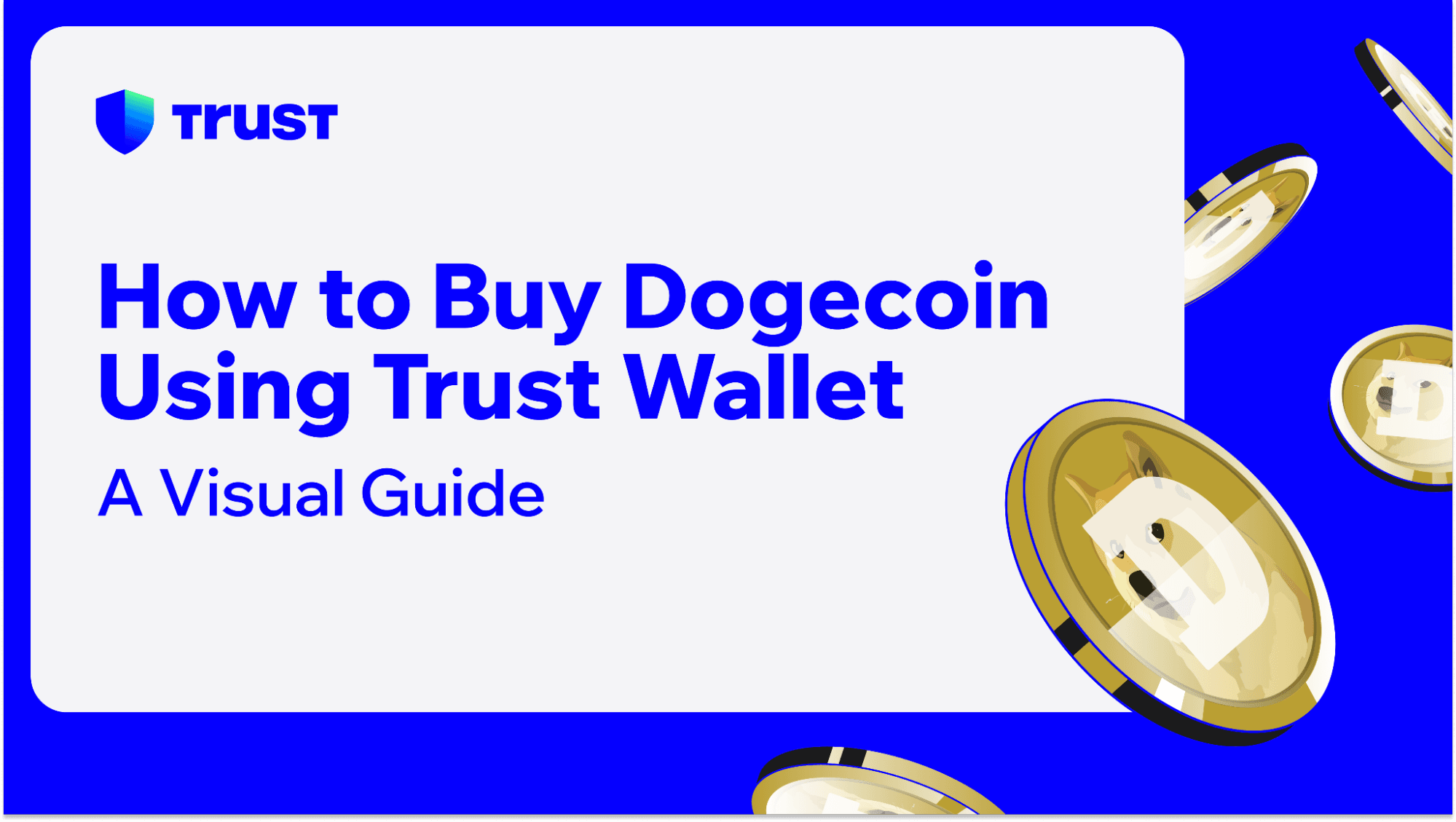 If you're curious about how to buy crypto assets like Dogecoin (DOGE) in a straightforward manner, you've landed on the right page. In this guide, we'll walk you through purchasing Dogecoin using Trust Wallet, a highly secure, self-custody crypto wallet and Web3 gateway trusted by millions.

What is Trust Wallet?
Trusted by over 70 million users worldwide, Trust Wallet is more than just a simple-to-use crypto wallet—it's your open gateway to the Web3 world. Built on our core values of financial freedom, strong security, and user-friendly design, we're on a mission to build a seamless Web3 hub and open ecosystem for everyone. Buy crypto, swap tokens, stake to earn rewards, and so much more. Whether you're a beginner or an expert, Trust Wallet empowers you to fully own, control, and leverage your digital assets.
With key features like the Trust Wallet Security Scanner and support for 10+ million digital assets across 100+ blockchains, you can explore and access opportunities in Web3 with confidence. Trust Wallet is available as a mobile app on Apple iOS and Android, and also as the Trust Wallet Chrome Extension for desktops.
What is Dogecoin?
Dogecoin, originating in December 2013, was created by software engineers Billy Markus and Jackson Palmer as a lighthearted alternative to traditional cryptocurrencies. Inspired by the popular "Doge" meme featuring a Shiba Inu dog, Dogecoin was initially conceptualized as a joke to satirize the growing speculation in the cryptocurrency space. However, it quickly gained a substantial following due to its fun and friendly approach, distinguishing itself from the more serious image of other cryptocurrencies like Bitcoin.
From a technical standpoint, Dogecoin shares many similarities with Bitcoin, yet it exhibits distinct differences. It operates on a proof-of-work model but utilizes Litecoin's scrypt technology, differing from Bitcoin's SHA-256 algorithm. This technical choice renders Dogecoin less energy-intensive to mine. Another notable feature is its faster block generation time, approximately one minute per block, compared to Bitcoin's ten minutes, enabling quicker transaction confirmations and enhancing its usability for everyday transactions.
Unlike Bitcoin, which is designed with a cap of 21 million coins, Dogecoin has an unlimited supply. This design choice aims to encourage spending over hoarding, fostering an inflationary nature. Initially used as a means to tip online content creators and support charitable causes, Dogecoin has evolved to have a broader range of uses. Its welcoming community and approachable nature continue to attract users, contributing to its enduring popularity and unique position in the cryptocurrency landscape.
Learn more about Dogecoin and meme coins:
Before You Get Started - Create a Dogecoin Wallet
Before we delve into the steps for buying Dogecoin via Trust Wallet, you'll first need to set up a wallet if you haven't already. Trust Wallet can be downloaded as a mobile app, or you can install the Trust Wallet Extension for your desktop browser. For this guide, we'll focus on creating a new wallet using the Trust Wallet mobile app.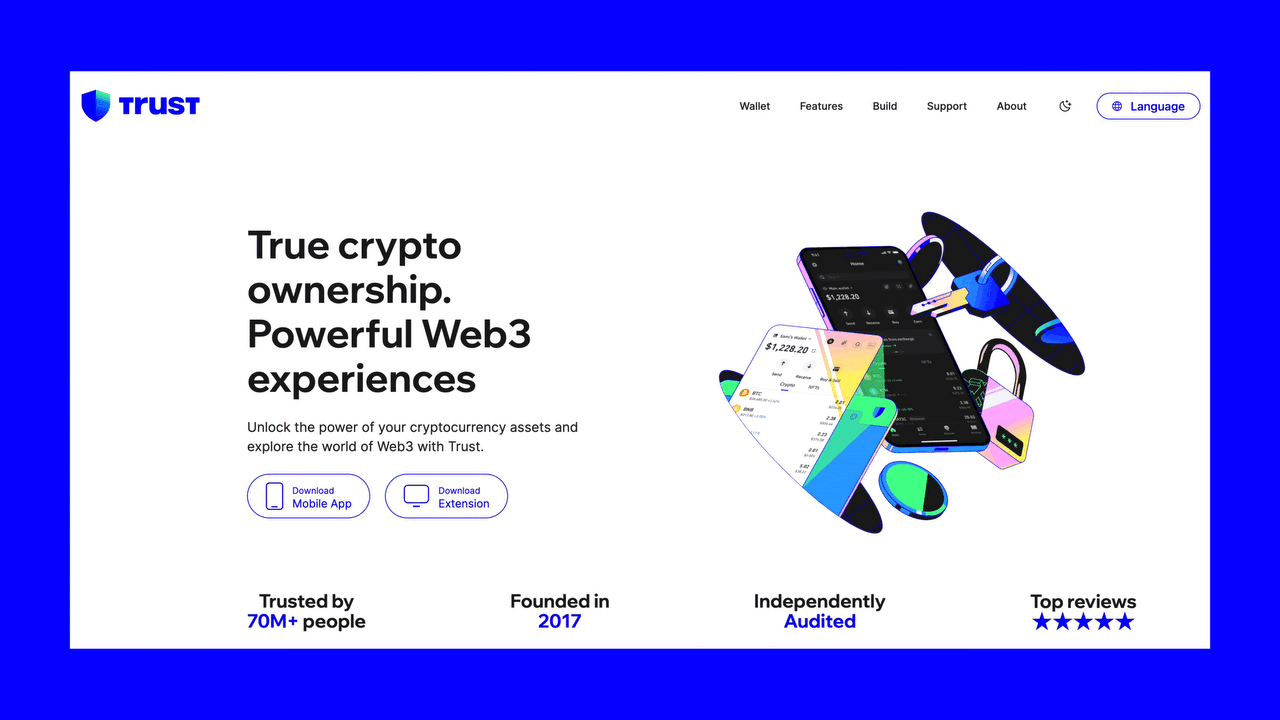 Step 1: Get the most updated version of Trust Wallet
Below you'll see the steps to create a new Dogecoin wallet, but you could just as easily import an existing Web3 wallet to Trust Wallet, if that's your preference.

To create a new wallet:
Download, install and then open Trust Wallet

Choose "Create a new wallet".

Choose your backup option, or you can optionally postpone the backup process by choosing "Skip".

Start using Trust Wallet.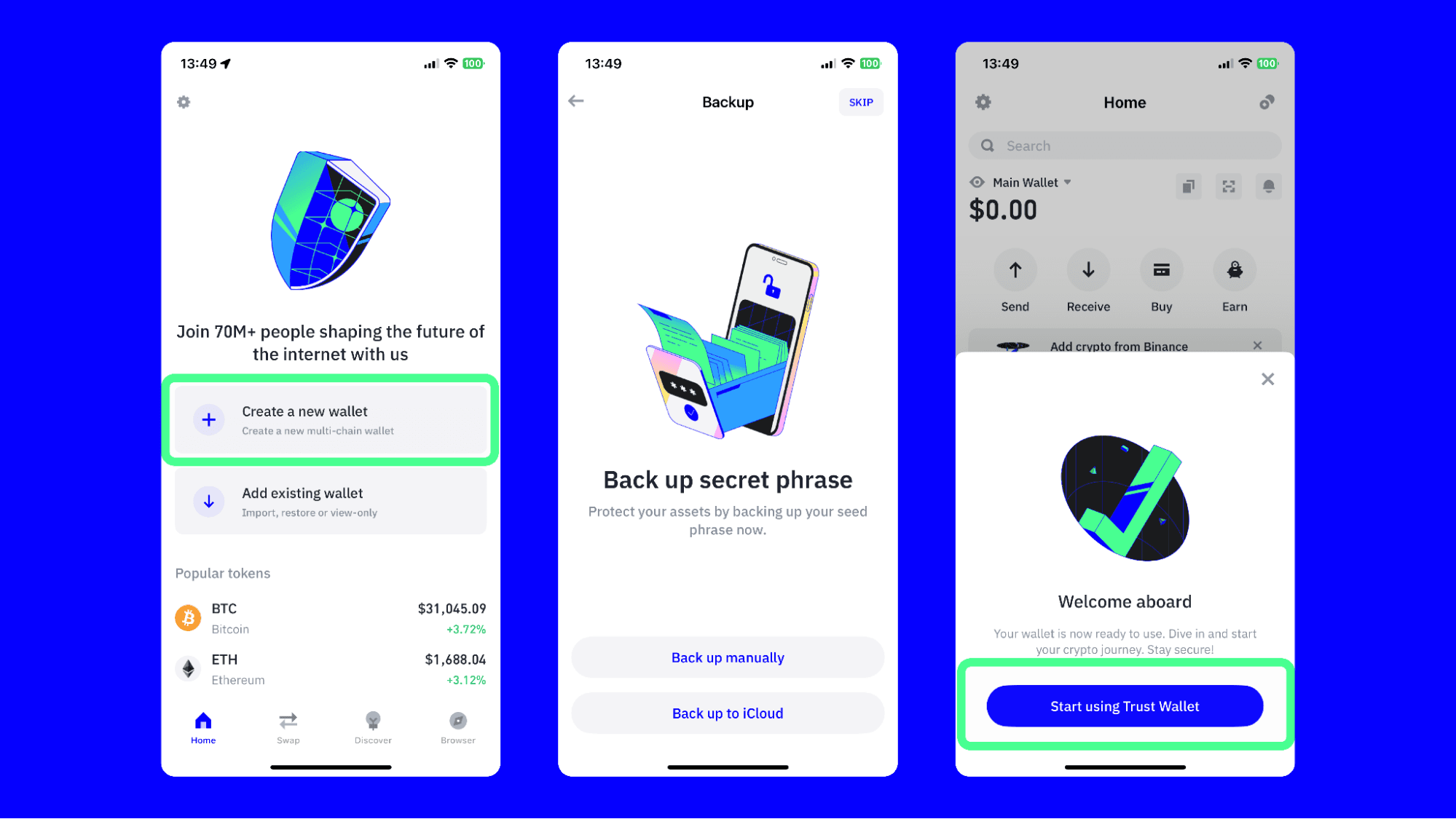 Step 2: Buy crypto using your Trust Wallet
Locate Dogecoin using the search bar.

Choose Dogecoin (DOGE), select the buy option, and enter the amount you wish to purchase.

Select the third party provider & payment method you'd like to use.

Select "Buy DOGE", and then follow the steps to complete the purchase.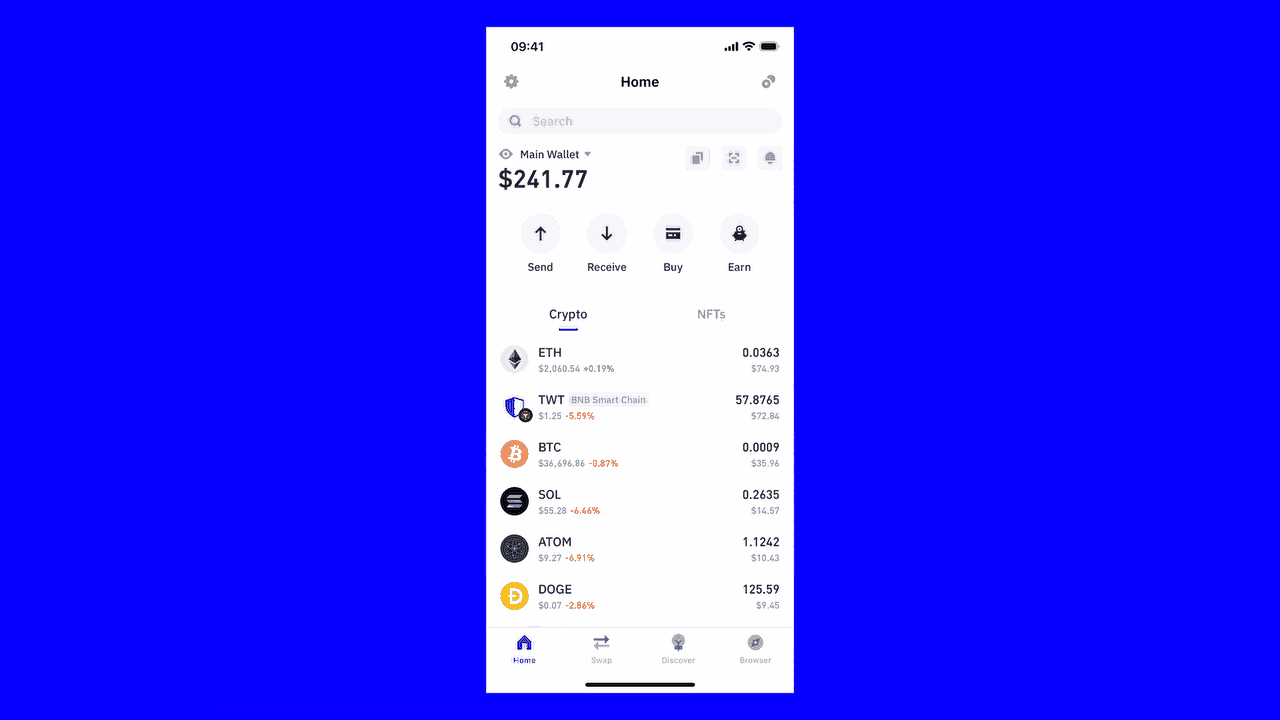 Frequently Asked Questions
What are the fees to buy Dogecoin (DOGE) using Trust Wallet?
Fees are dynamically determined in real-time by our affiliated fiat gateway partners. We've teamed up with a variety of third-party payment services to offer you a diverse array of convenient choices. Please be aware that the fee schedule may differ depending on the payment method selected and your geographical location.
What payment methods are accepted?
Trust Wallet accommodates multiple payment options, such as credit/debit cards and bank transfers, to name a few. The specific methods available to you are subject to your location and the payment provider you opt for.
What currencies can I use to purchase Dogecoin (DOGE)?
Our global partners support over 100 local fiat currencies. This enables a broad range of users to purchase crypto in their native currency.
In addition to buying, can I also sell Dogecoin (DOGE) using Trust Wallet?
Absolutely, you can convert your Dogecoin to fiat currency using Trust Wallet. Our integrated third-party partners offer services that allow you to sell your crypto for cash. Here's how to sell your Dogecoin using Trust Wallet.
Choose Dogecoin (DOGE) from your wallet's home screen or locate it using the search bar and select it.

Choose the "More" option.

Enter the amount you want to sell.

Select the third-party provider, and then complete the remaining steps to sell your Dogecoin (DOGE).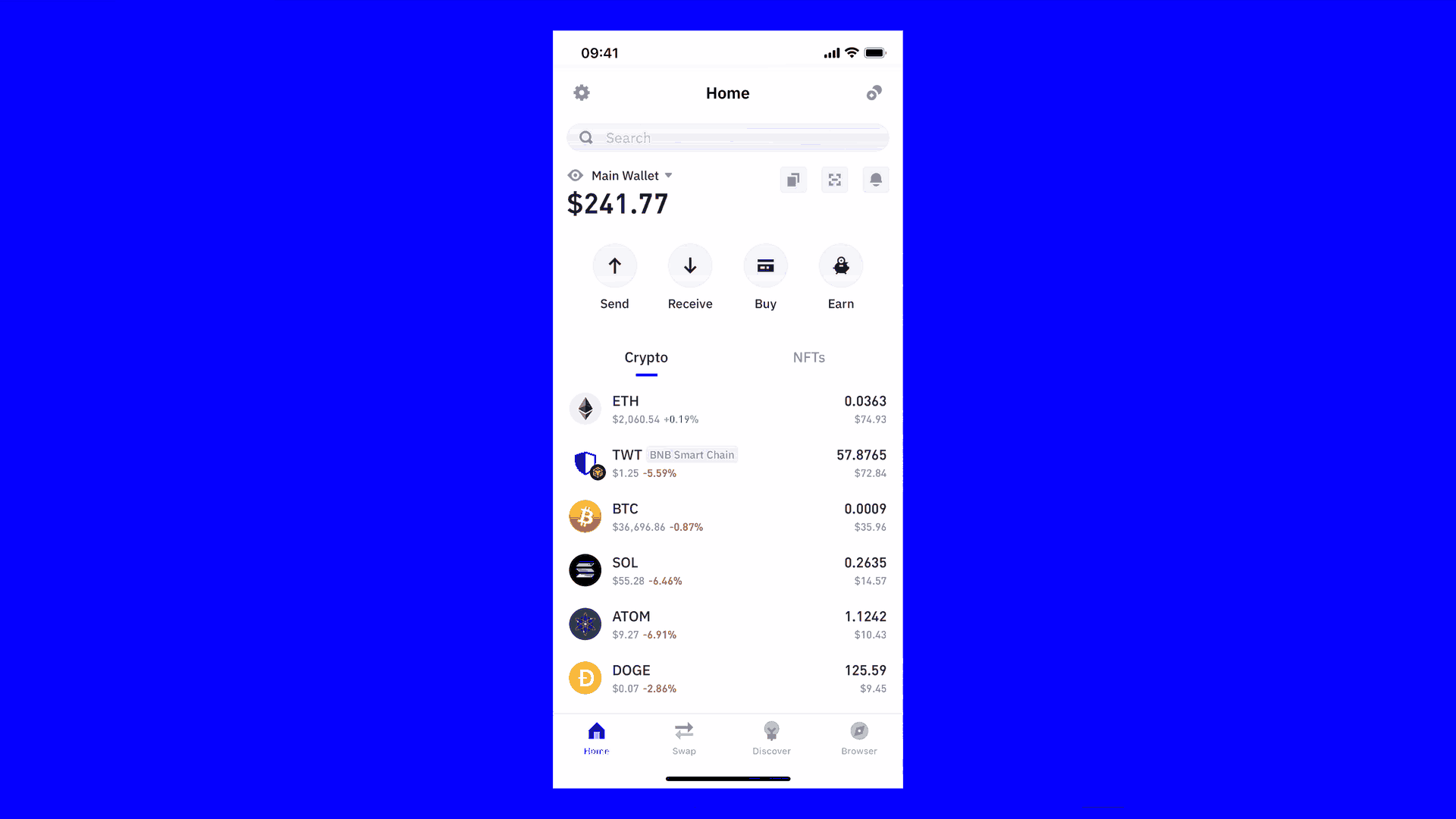 When I buy Dogecoin (DOGE) using Trust Wallet, where is it stored?
When you buy DOGE using your Trust Wallet, it's stored directly in your wallet. There's no need to transfer your DOGE from one address to another or do anything else – the crypto will be stored safely and automatically.
How do I check my Dogecoin (DOGE) balance in Trust Wallet?
To check your DOGE balance in the Trust Wallet app, simply open the app and view your current balance from the main wallet page.
How do I check the Dogecoin (DOGE) price in Trust Wallet?
To check the DOGE price in the Trust Wallet app, simply open it and view the price from the main wallet page. Alternatively, you can also search for the DOGE asset and tap on the chart symbol to view more detailed information on the DOGE price.

Join the Trust Wallet community on Telegram Follow us on X (formerly Twitter) Instagram Facebook Reddit
Note: Any cited numbers, figures, or illustrations are reported at the time of writing, and are subject to change.