Guides
How to Do Your Crypto Taxes Using Trust Wallet
Published on: Aug 4, 2023
In Brief
Master crypto taxes with Trust Wallet! This guide explains how to simplify reporting your transactions for tax purposes. File with ease with this optional tool.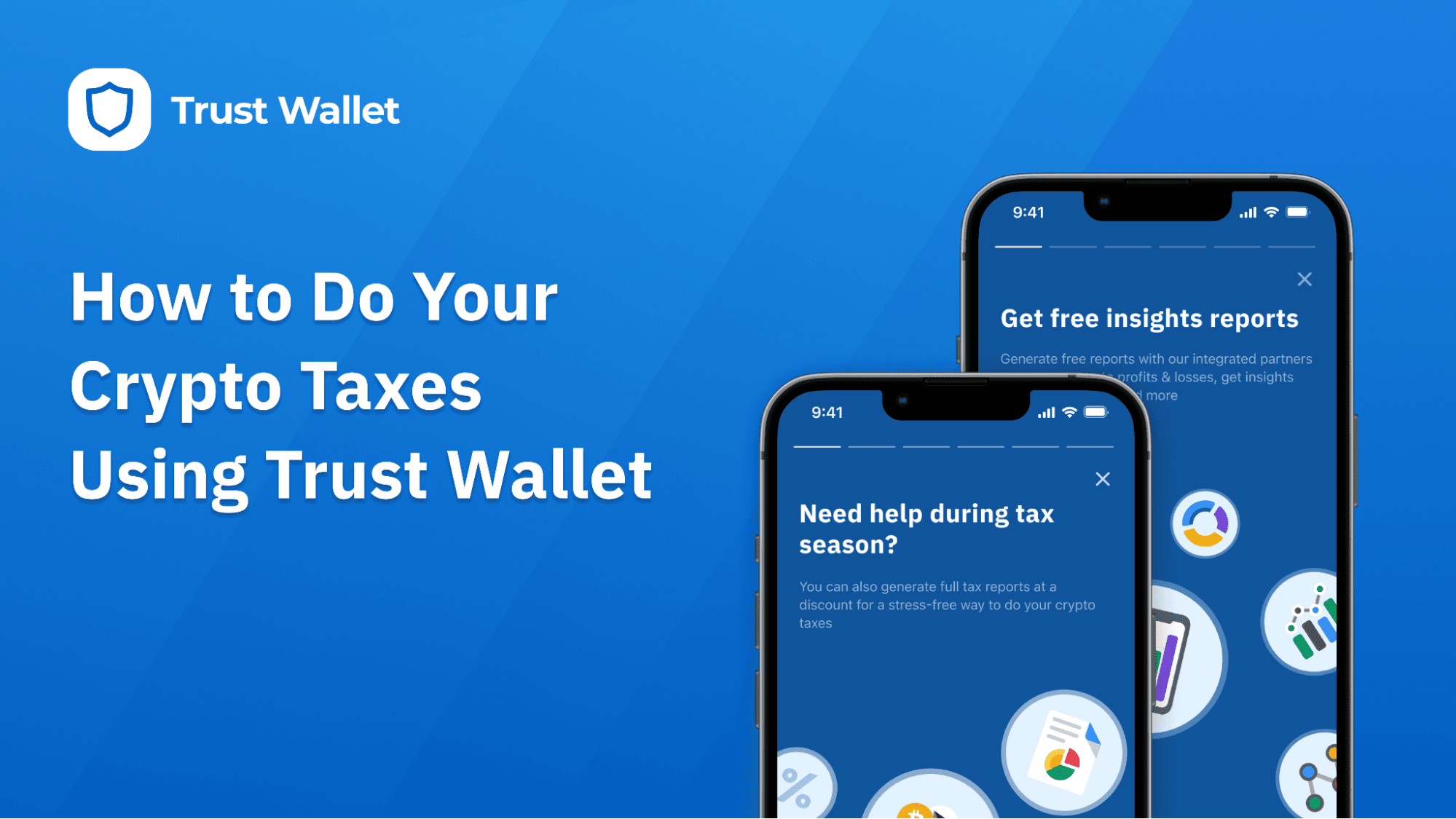 Introduction
Understanding and reporting your cryptocurrency taxes can be a complex task. That's why Trust Wallet joined forces with Coinpanda, Koinly, and CoinTracker to simplify your crypto tax filing. This guide will help you learn how to report your crypto taxes in a user-friendly way using Trust Wallet. Let's dive in!

Note: The tax tools feature in Trust Wallet is optional. Please consult a tax advisor to understand the local tax laws and obligations in your local region.
Understanding Crypto Taxes
First, it's important to realize that crypto taxes are part of your legal obligations. Regardless of where you live, most tax authorities treat cryptocurrencies as a form of property, meaning you must pay taxes on any gains realized from your crypto investments. Whether you are liable to pay taxes on your crypto or not is your responsibility to find out – so we encourage you to check the local laws for your region if you'd like to ensure you're compliant.
Trust Wallet's Crypto Tax Integration
To simplify the tax reporting process, Trust Wallet has teamed up with Coinpanda, Koinly, and CoinTracker. These integrations allow you to generate a full tax report and gain insights into your crypto and NFT holdings. The aim is to help you report your taxes easily, accurately, and without the usual complexity of manual inputs.
Before you get started
Before we dive into using the integrated tax tools, you'll need to create a wallet if you don't already have one. Trust Wallet is available as a mobile app or you can get the Trust Wallet Extension for your desktop web browser. In this example, we'll set up a new wallet using the Trust Wallet Mobile App.
Step 1: Download the latest version of the Trust Wallet App.

Step 2: Set up your new wallet
Open the Trust Wallet app, and choose "Create a new wallet."

Select an option to back up your wallet.

Once your wallet is set up, tap on "Start using Trust Wallet."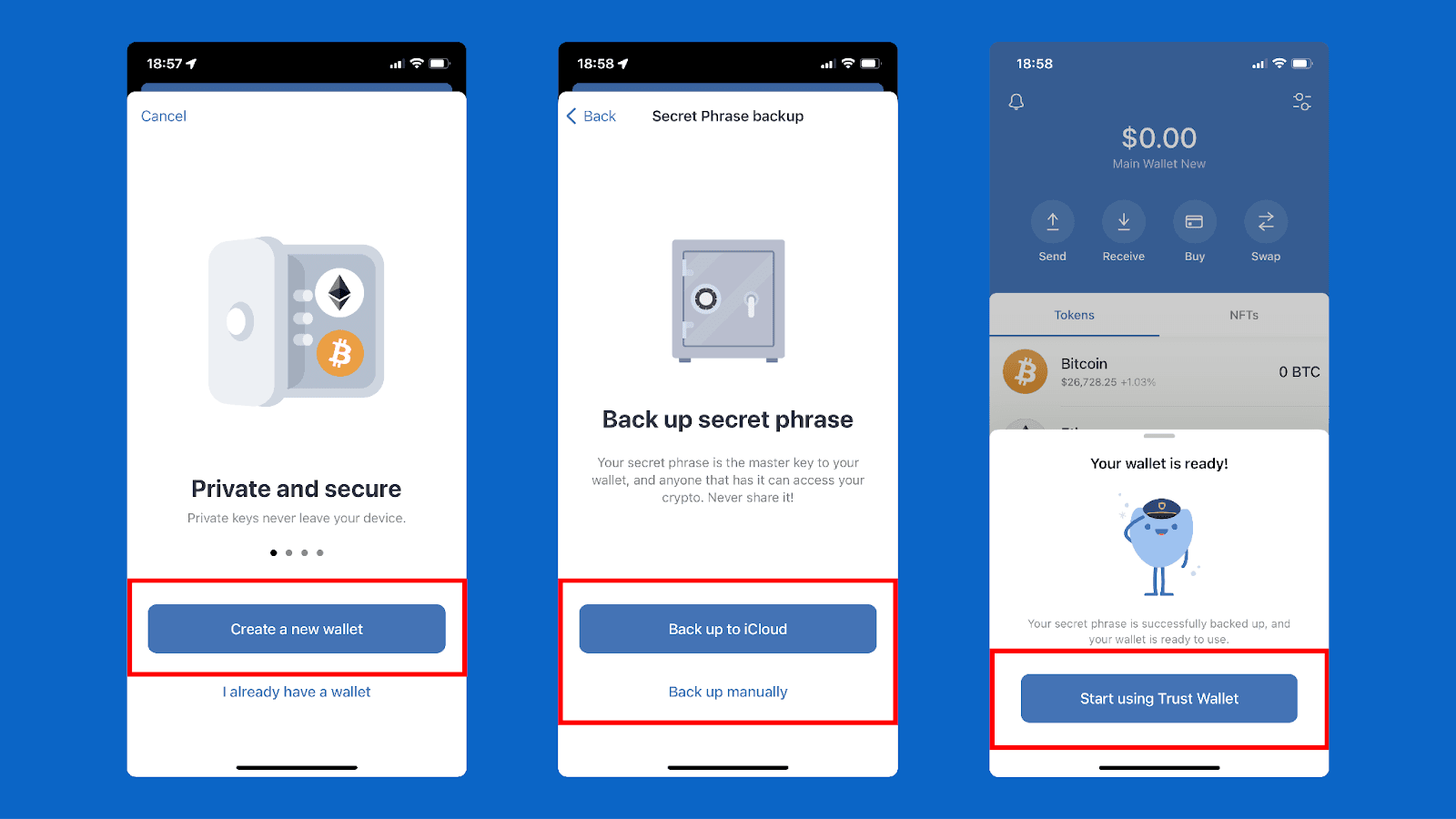 Tip: If you already have a wallet that's not Trust Wallet, you can choose to import that wallet. In this case, you'd choose the "I already have a wallet" option. Accessing Trust Wallet's integrated tax tools
Accessing the integrated tax tools in Trust Wallet is simple. Here's how:
Select the 'Discover' menu item

Choose any of the tax tools and follow the instructions to connect your wallet and generate your tax report

View these detailed instructions for more information.
Note: Being that Trust Wallet has integrated the tax services of Coinpanda, Koinly, & Cointracker, you can choose between any of the integrated services you prefer.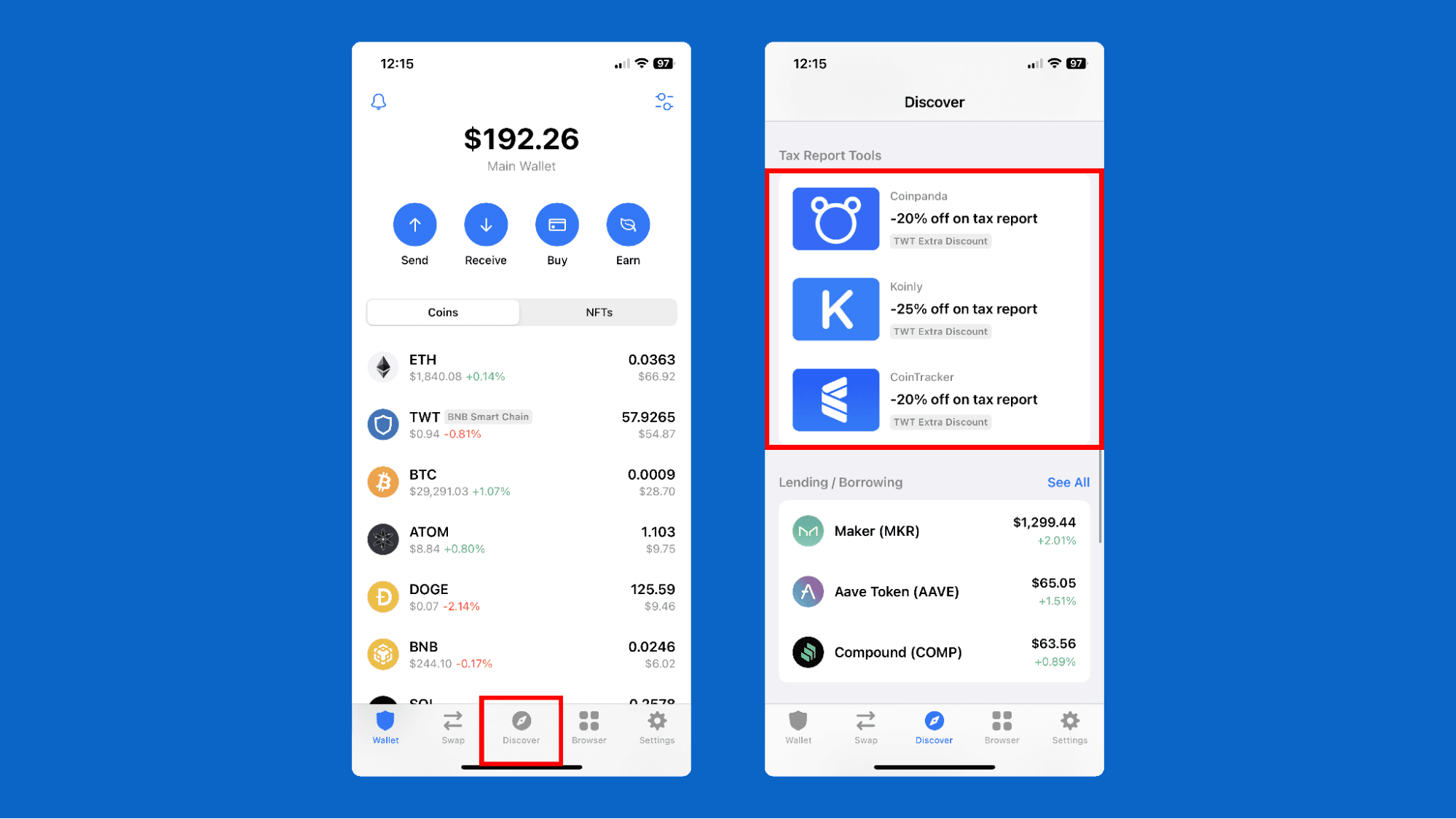 Trust Wallet's Approach to Privacy
Trust Wallet ensures that your data remains private. Your wallet information is not shared with any third-party services, including tax service providers. The tax integration is an optional tool aimed at simplifying the tax process and not a data collection exercise.
Extra Benefits for Trust Wallet Token (TWT) Holders
If you use Trust Wallet to generate your tax report using any partner service, you automatically receive a discount. If you hold at least 50 TWT, you can get additional discounts.
Support and Help
For any issues within the Trust Wallet app, their support team is ready to help. If you have questions about one of the integrated services and the specific tax forms, you can reach out to the integrated tax service's support team. See this article for more details.
Conclusion
Cryptocurrency taxes don't have to be complicated. With the Trust Wallet crypto tax integrations, you can stay ahead of your crypto taxes and understand your portfolio better. So get started and simplify your crypto tax journey today!
Please note: This article is for informational purposes only and should not be considered as financial advice. Always consult with your tax advisor when dealing with cryptocurrency tax obligations.

Frequently asked questions about crypto taxes
What are Crypto Taxes?
Crypto taxes refer to the taxes that you owe to the government when you buy, sell, mine, or use cryptocurrencies for transactions. The tax laws vary based on the country you reside in.
What is Trust Wallet's new tax integration feature?
Trust Wallet has partnered with Coinpanda, Koinly, and Cointracker to offer a seamless crypto tax reporting experience. This new integration feature allows you to connect your Trust Wallet with any of these services to automatically generate tax reports based on your wallet transactions.
Remember, tax laws can be complex and may change frequently. Always consult with a tax professional or use a trusted tax software to ensure that you are compliant.
Do I have to pay taxes on my Crypto Transactions?
Many countries require you to pay taxes on your cryptocurrency transactions. The exact rules can vary, but in general, if you have bought, sold, mined, or used cryptocurrencies in any way that resulted in a profit, you may owe taxes on that profit. Be sure to check your local laws.
How do I report my Crypto on my taxes?
Reporting your crypto on your taxes requires recording all of your transactions, the prices at the time of the transactions, and any gains or losses. Trust Wallet simplifies this process by integrating with Coinpanda, Koinly, and Cointracker to automatically generate tax reports based on your wallet transactions.
How do I file my Crypto Taxes using Trust Wallet?
You can file your crypto taxes using Trust Wallet by connecting your wallet with Coinpanda, Koinly, or Cointracker. Once connected, the tax service will import your transactions and generate a tax report for you. What if I hold my cryptocurrency and don't sell it? Do I still need to pay crypto taxes?
If you hold your cryptocurrency and don't sell it, you typically don't owe taxes on it until you sell it, trade it, or use it in a transaction. However, this can vary by country, so it's essential to check your local tax laws or consult with a tax professional.
Join the Trust Wallet community on Telegram Follow us on Twitter Instagram Facebook Reddit
Note: Any cited numbers, figures, or illustrations are reported at the time of writing, and are subject to change.