Guides
How to Use dApps with Trust Wallet: A Beginner's Guide
Published on: Oct 12, 2023
In Brief
Learn to navigate and use DApps with Trust Wallet. This beginner's guide offers step-by-step instructions and tips for a secure, seamless Web3 experience.
Trust Wallet's mission has always been to make the Web3 landscape intuitive, secure, and open for everyone. We've also developed features like the Trust Wallet Security Scanner to help protect your assets. One of the foundations of Web3 is the applications people use to interact with it. So today, we're putting our focus on helping you understand how to interact with decentralized applications, commonly known as dApps, right from your Trust Wallet.
Note: For users who are entirely new to the concept, dApps are decentralized applications built on blockchain technology, designed to function without a central authority. Sounds interesting? Let's dive in!
What is Trust Wallet?
Trust Wallet is the simple-to-use, self-custody crypto wallet and gateway to Web3 for people who want to fully own, control, and leverage the power of their digital assets. From beginners to experienced users, Trust Wallet makes it simpler, safer, and convenient for millions of people around the world to experience Web3, store and manage their crypto and NFTs, buy, sell, and stake crypto to earn rewards, and access dApps securely—all in one place. With features such as the Trust Wallet Security Scanner, and support for 10+ million digital assets across 100+ blockchains, Trust Wallet is a true multi-chain crypto wallet that allows users to access the Web3 world safely; and without limits. Get Trust Wallet as a mobile app on Apple iOS, Android—or as the Trust Wallet Chrome Extension, available for desktop browsers.
What are dApps?
DApps, or decentralized applications, are a revolutionary part of the Web3 ecosystem. They offer the same functionalities as traditional applications but with added benefits such as security and transparency. Given the growing interest in decentralized finance (DeFi) and other crypto-related activities, understanding how to use dApps is becoming increasingly important.
Why Use Trust Wallet for dApps?
Trust Wallet is designed to be a one-stop solution for your crypto needs, from managing assets to interacting with dApps. The experience is seamless, and it comes with the added benefit of security features like the Trust Wallet Security Scanner to make your Web3 experience safer.
Getting Started: Accessing dApps with Trust Wallet
Getting started with dApps on Trust Wallet is simple. You can either use the Trust Wallet Extension for desktop browsers, or the mobile app. In this example, we'll look at using dApps with the mobile app. Here's an example of accessing a dApp called Uniswap in order to swap your tokens.
Open Trust Wallet and navigate to the Browser option.

Locate Uniswap and select it.

Select "Connect" and choose "Trust Wallet".

Following the transaction prompt to connect your wallet.

Once connected, start using the dApp.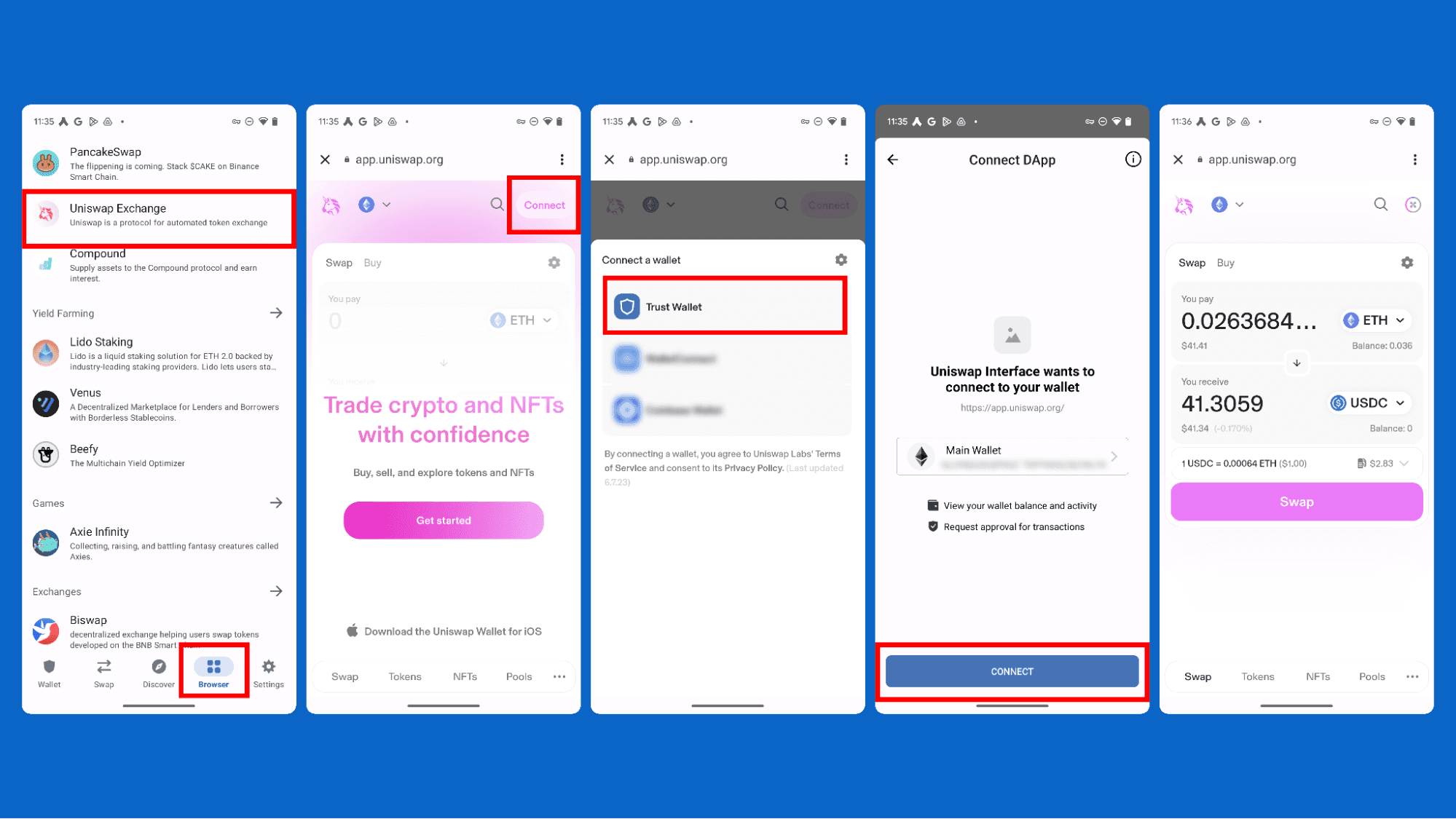 Another way to connect to a dApp is to type the URL directly into the address bar. In this example with Uniswap you could also type in https://app.uniswap.org/ into the address bar and navigate to the dApp.
Understanding Transaction Prompts
Once you start interacting with a dApp, you might see transaction prompts. Don't worry; this is normal! Trust Wallet will give you an overview of what the transaction entails. Review it carefully, and if everything looks good, you can confirm the transaction.
The Power of Choice: Picking the Right dApp
Selecting a dApp to interact with might be a daunting task given the multitude of choices. Trust Wallet offers a curated list of reputable dApps, making it easier for you to pick one that suits your needs.
Tips for a Secure dApp Experience
Just like when you're conducting transactions, be cautious when interacting with dApps.
Read Reviews: Always read reviews and do your research.

Understand Smart Contracts: Get a basic understanding of the smart contracts that power the dApp.

Be Cautious of High-risk dApps: Trust Wallet's Security Scanner will help flag these, so pay attention to any warnings you receive.
Ready to Explore the dApp Universe?
The world of dApps is vast and full of opportunities. Whether you're looking to play decentralized games, engage in decentralized finance, or anything else in the crypto space, Trust Wallet has got you covered.
At Trust Wallet, we're always aiming to make your journey in the world of Web3 as safe and delightful as possible. As always, we're here to support you every step of the way. Our goal is to provide a secure and easy-to-use platform for all your crypto needs. With features like the Trust Wallet Security Scanner and our robust dApp browser, we're confident that you'll find Trust Wallet to be the perfect companion in your Web3 journey.
Join the Trust Wallet community on Telegram Follow us on X (formerly Twitter) Instagram Facebook Reddit
Note: Any cited numbers, figures, or illustrations are reported at the time of writing, and are subject to change.