Announcements
Introducing the New Trust Wallet Mobile App & Browser Extension
Published on: Oct 16, 2023
In Brief
Experience the new Trust Wallet app and browser extension. Enjoy a modern design, easier navigation, and robust features for a seamless Web3 journey.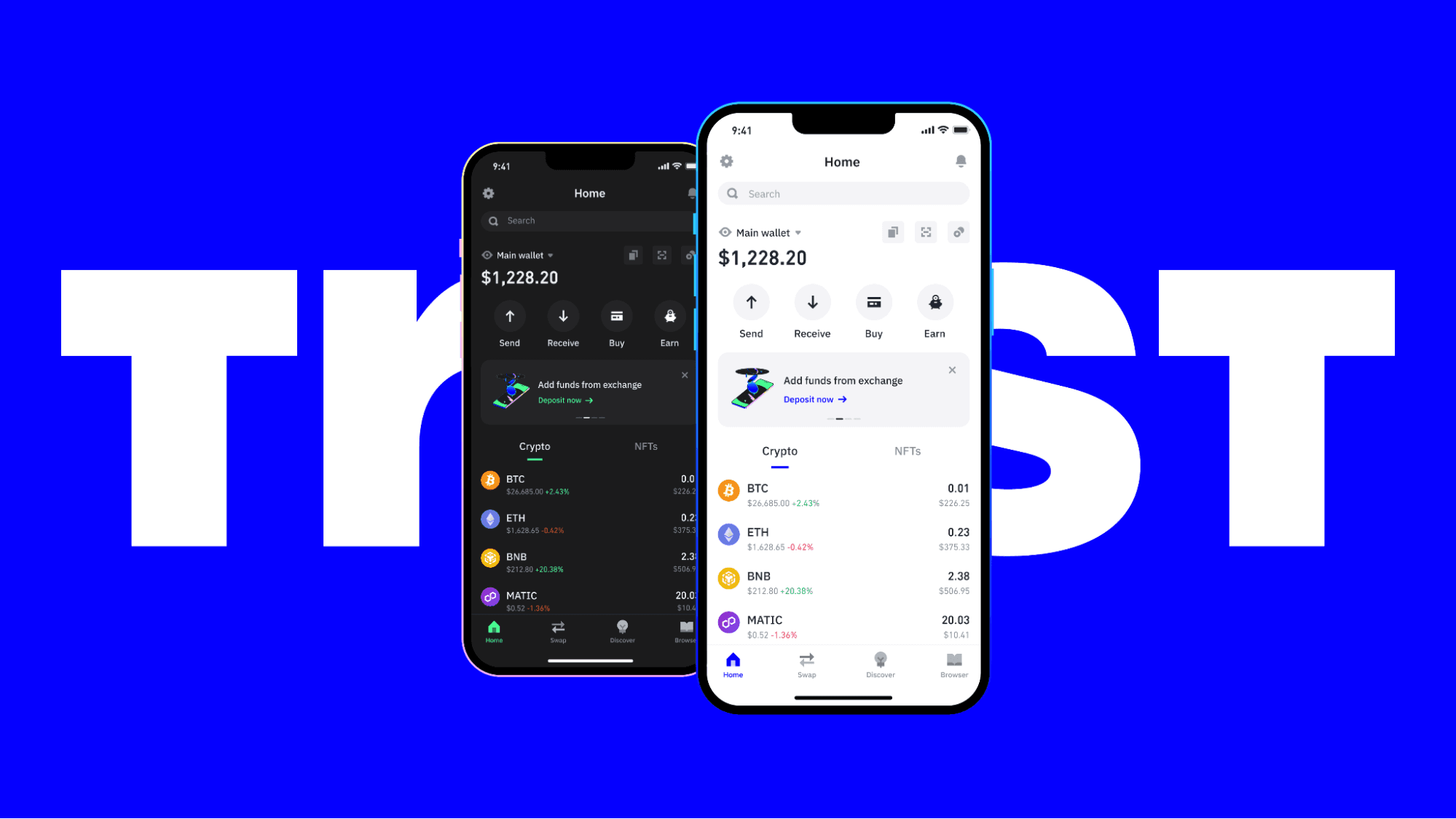 We're excited to release one of the biggest updates in our journey to provide a safer, more accessible Web3 experience. Born in 2017 with a simple, user-friendly design, we've come far, thanks to you—our community of over 70 million. This update kicks off our long-term strategy to empower financial freedom for everyone.
The previous Trust Wallet interface was good; now it's time for great. You'll notice our brand makeover, new design system, and updated user interface right away. Crafted based on your feedback, we've achieved a balance between the new and the familiar. While we've refreshed the look and optimized some functions, our foundational pillars of security, self-empowerment, and ease of use remain unshaken.
The new Trust Wallet for iOS, Android, and desktop browsers rolls out on October 16th, in phased stages over a week. We aim for a smooth transition and appreciate your understanding for any minor issues.

Next, we'll dive into what's new. From an enhanced look to simplified navigation, each update is designed with you in mind.
New look: Bolder and More Accessible
Trust Wallet's new look includes a bolder shield logo and wordmark, as well as eye-catching, AAA-compliant colors we call Trust Blue and Trust Green. Designed for visual accessibility, our new interface accommodates both light and dark mode users. This isn't just a cosmetic update; it's a commitment to our core belief that the freedom to own should be accessible to everyone.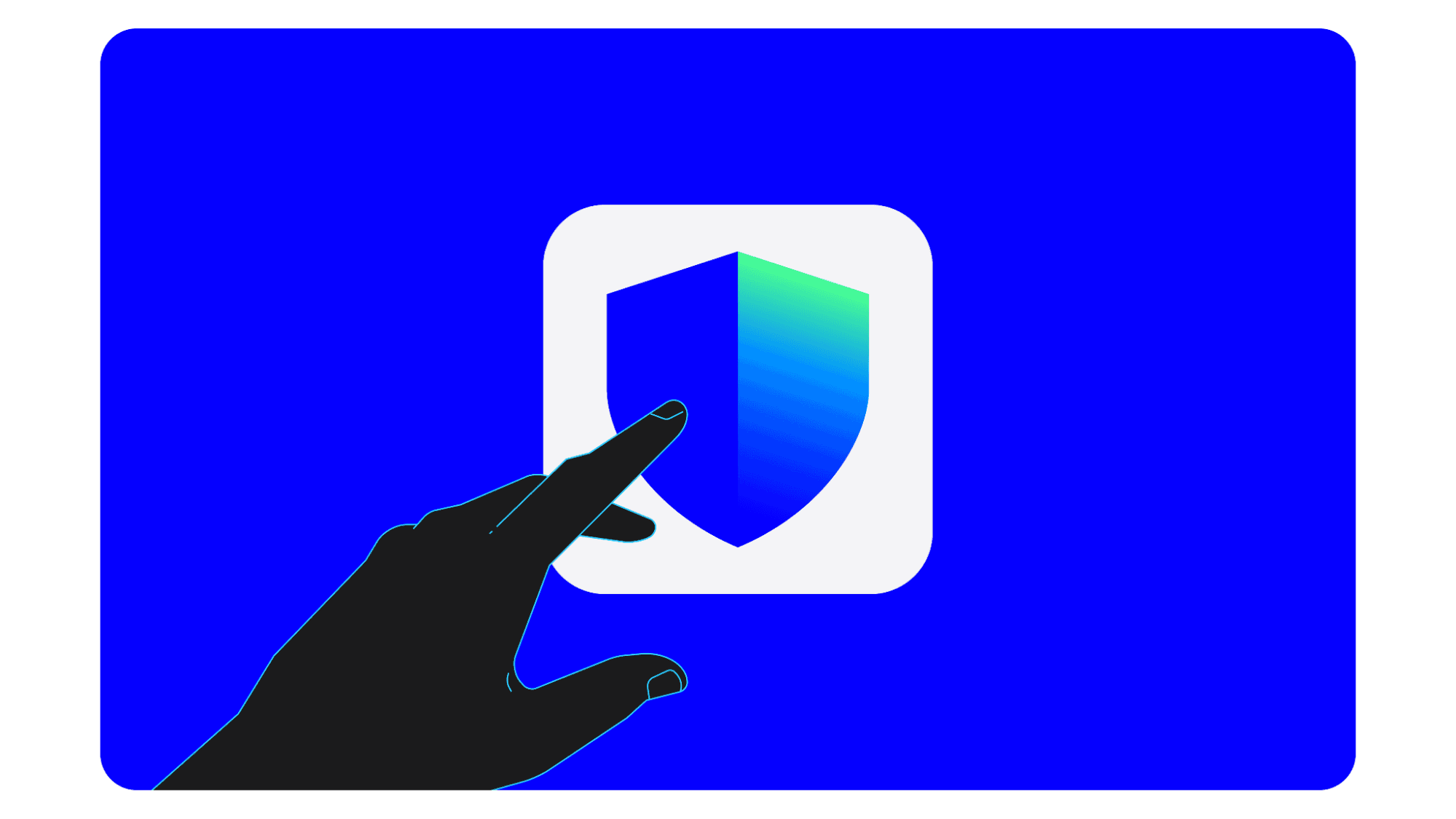 New Welcome Animation: Creating an Unforgettable First Impression
Whereas our previous app offered only static images, Trust Wallet now welcomes you with a captivating animation. This nurtures a vibrant and intuitive introduction to your Web3 journey, making your first interaction with our app unforgettable and exciting.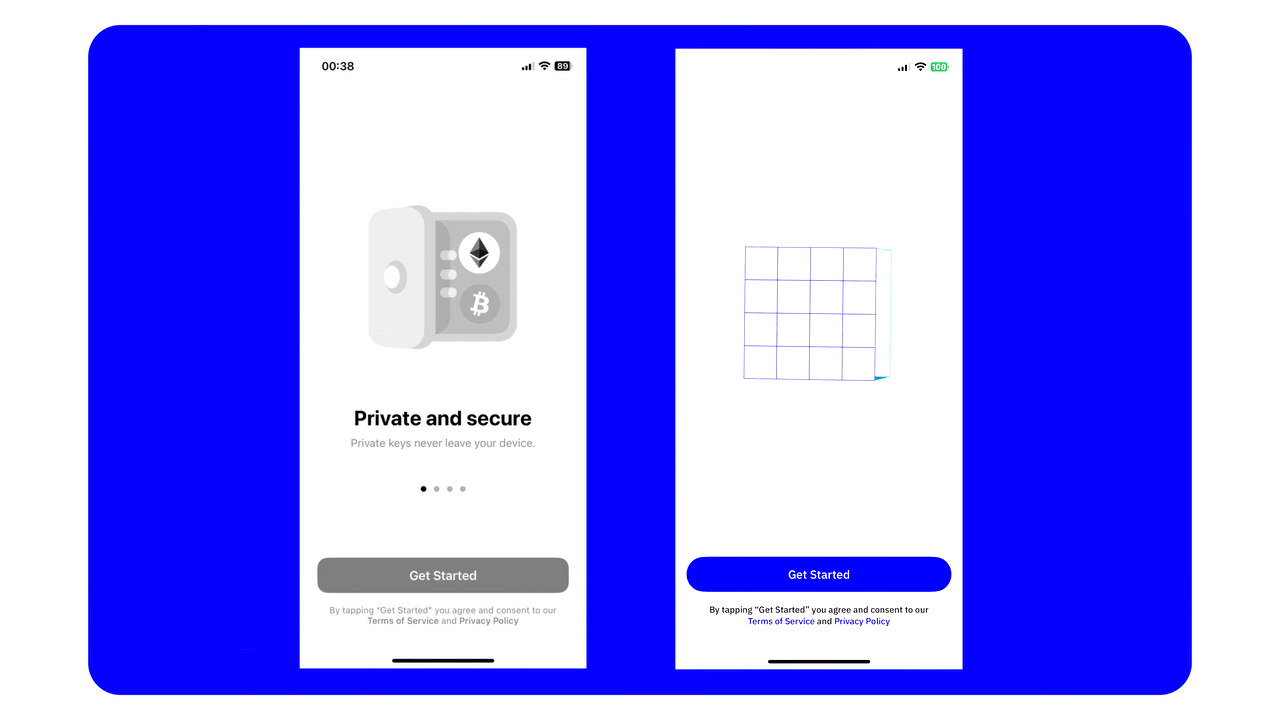 Seamless Wallet Creation: Starting Off on the Right Foot
We heard your feedback. Setting up a wallet should be a breeze. With the new Trust Wallet, we've streamlined the process to create a delightful kickstart to your digital asset experience. After all, our mission is to build an open ecosystem that's accessible to everyone, experts and beginners alike.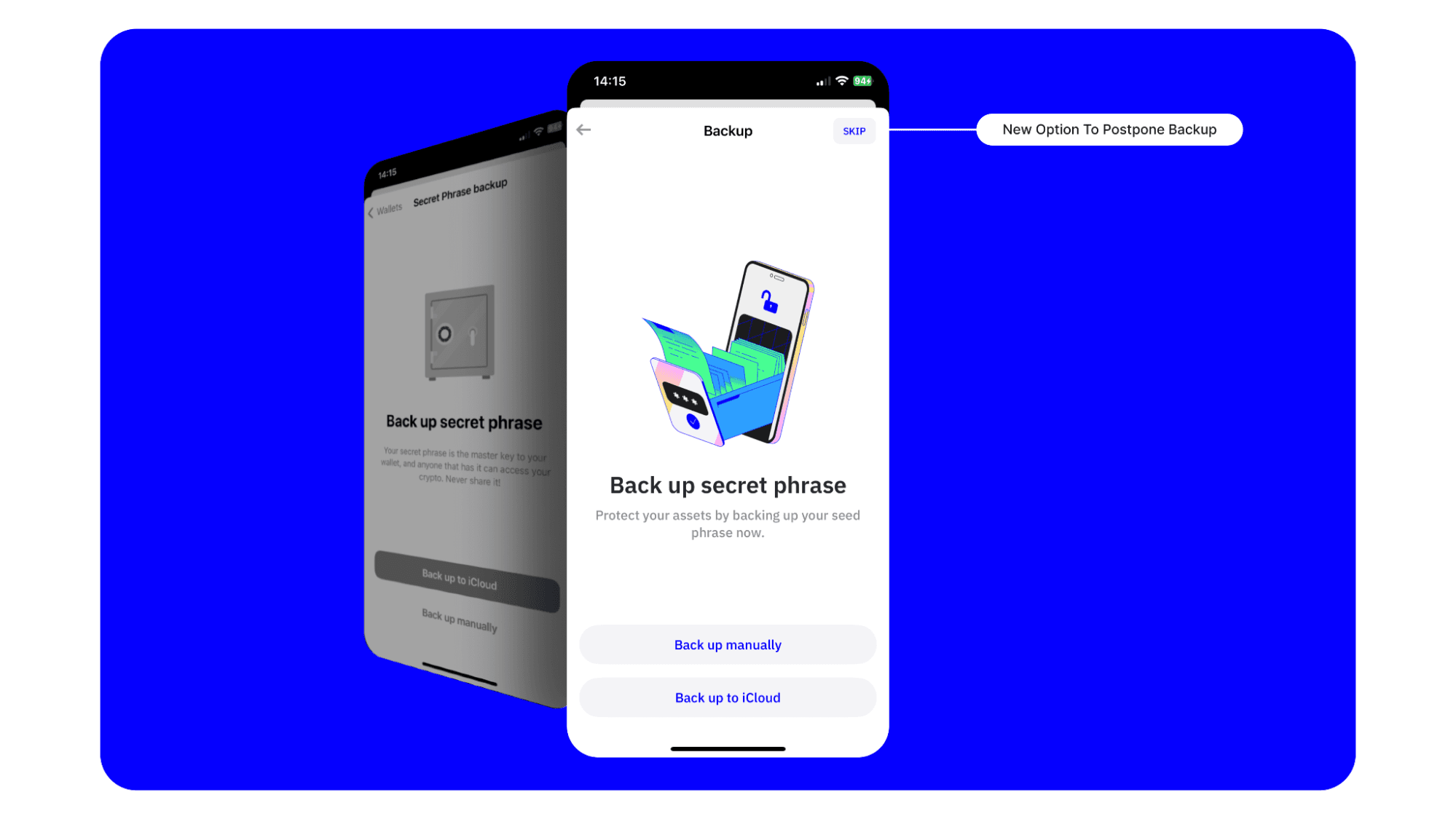 Updated Home Screen: Your Web3 hub
The home screen is essentially the 'front door' to everything the app has to offer. As the hub of all actions, we've reorganized the home screen to make your experience more intuitive and easier to discover new features and access existing ones.
A few notable improvements for the mobile app:
User-Centric Layout: Essential components such as the notification bell, settings—now in the top left, and QR scanner have been strategically rearranged to better align with your usage patterns.

Smooth Wallet Switching: The newly added wallet-switching feature not only gives you seamless access to any of your wallets but also strengthens the entire revamp of the platform.

Easy Feature Discovery: Enhanced banners magnify your ability to discover and utilize new and existing features with greater efficiency.

Quick-Copy Wallet Address Option: We've included a quick-copy option, enabling hassle-free access to any of your wallet addresses.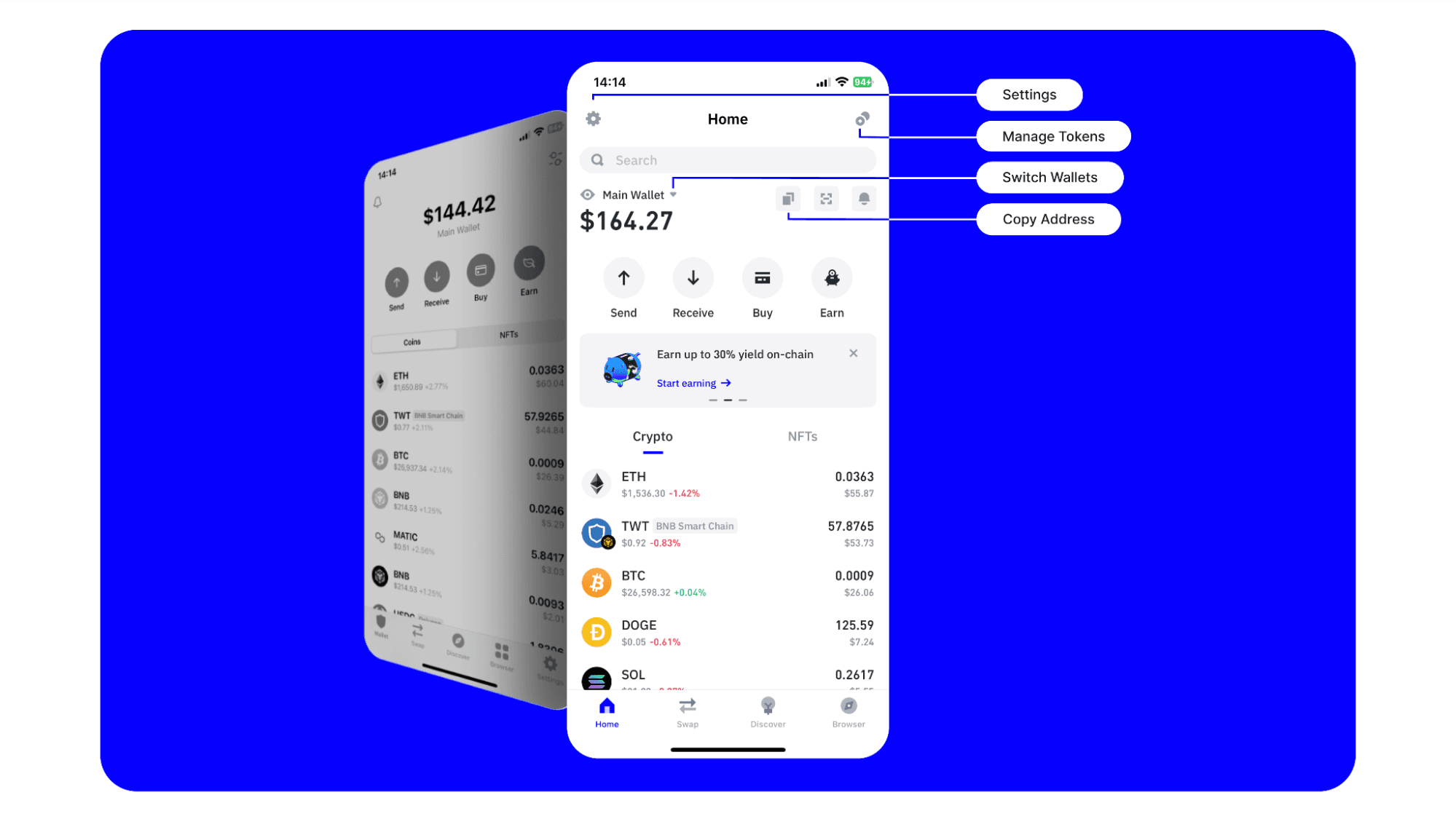 Improvements for the browser extension:
Reorganized for Ease of Use: We've rearranged features like address copy, network selector, and others, so there's more space to view other important info like your asset balances.

More Functionality: Added search functionality and easy access to additional options means you can access various parts of your wallet seamlessly from the home screen.

More Clarity: Options like Buy and Sell are more clearly labeled so you know where to go when you want to buy crypto or convert crypto to fiat currency.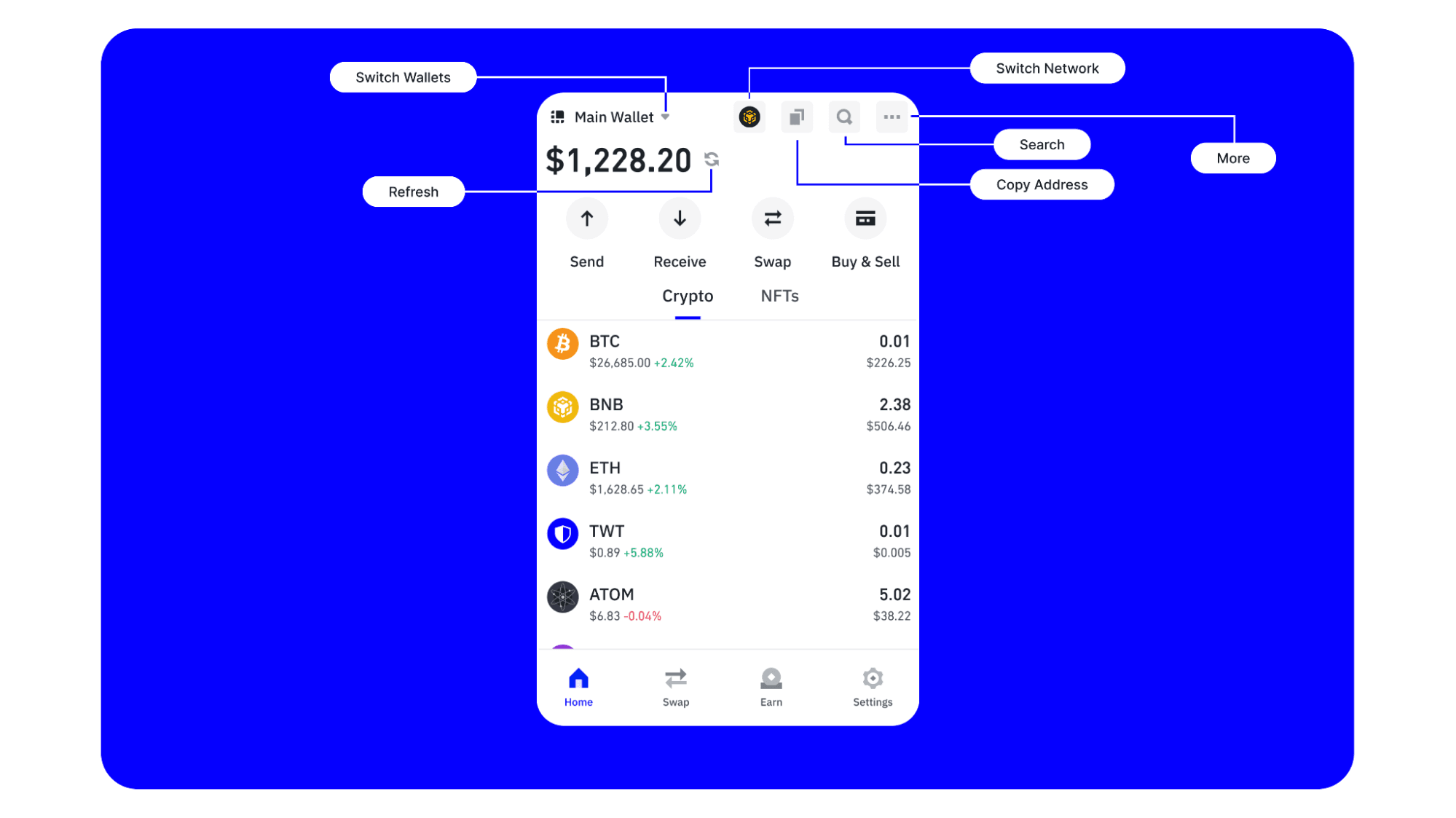 Easier Token Management: Search by Chain
Managing your diverse asset portfolio shouldn't be like searching for a needle in a haystack. That's why we've introduced a new blockchain network filter. Now, it's easier than ever to search for assets on specific blockchains, making your asset management easier with one glance. That's right, you won't need to scroll through a long laundry list of tokens to find the ones you want anymore. With 100+ blockchains and 10M+ assets supported, this is a handy feature that enables you to find what you want quickly.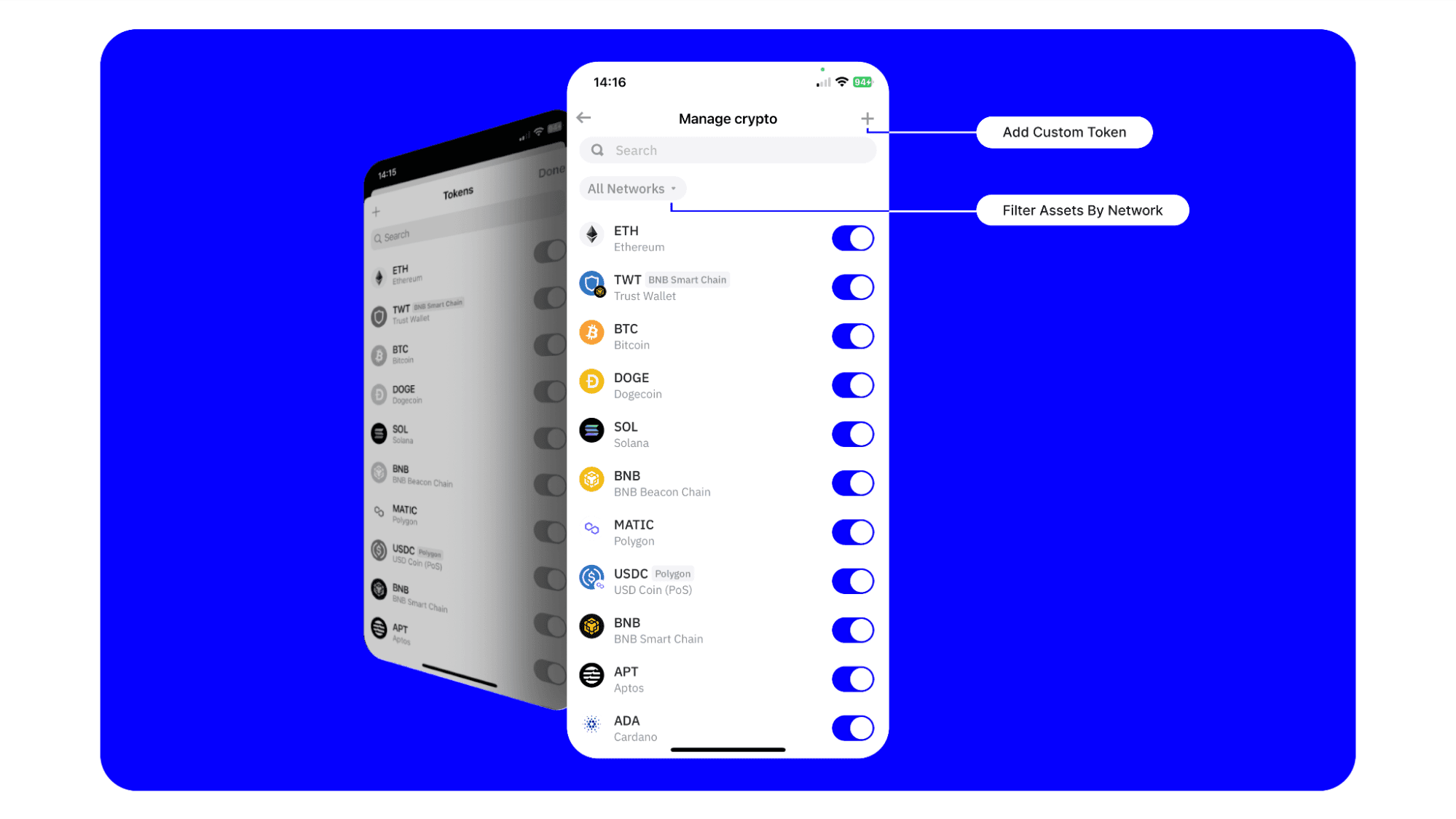 Stress-Free Wallet Importing: Switching made easy
If you're making the switch from another wallet, welcome to Trust Wallet. We've streamlined the wallet import process, making your transition as simple as a few taps. It's all part of our commitment to offer a truly seamless Web3 experience.
Getting Started with the New Trust Wallet
With these new updates, we're not just updating the look and feel; we're evolving to be a better platform to fulfill our commitment to opportunity and security in the Web3 world. And this is just the beginning—we'll have even more updates to roll out soon. Start exploring what's new, and experience firsthand why Trust Wallet continues to be the go-to Web3 gateway for over 70 million users globally.
The new Trust Wallet app for iOS and Android, along with the desktop browser extension, starts rolling out globally beginning October 16th.

Learn More: