Announcements
Moonpay and Trust Wallet: 0% Fee on First 5 Crypto Purchase Transactions for Nigerian Users
Published on: Aug 28, 2023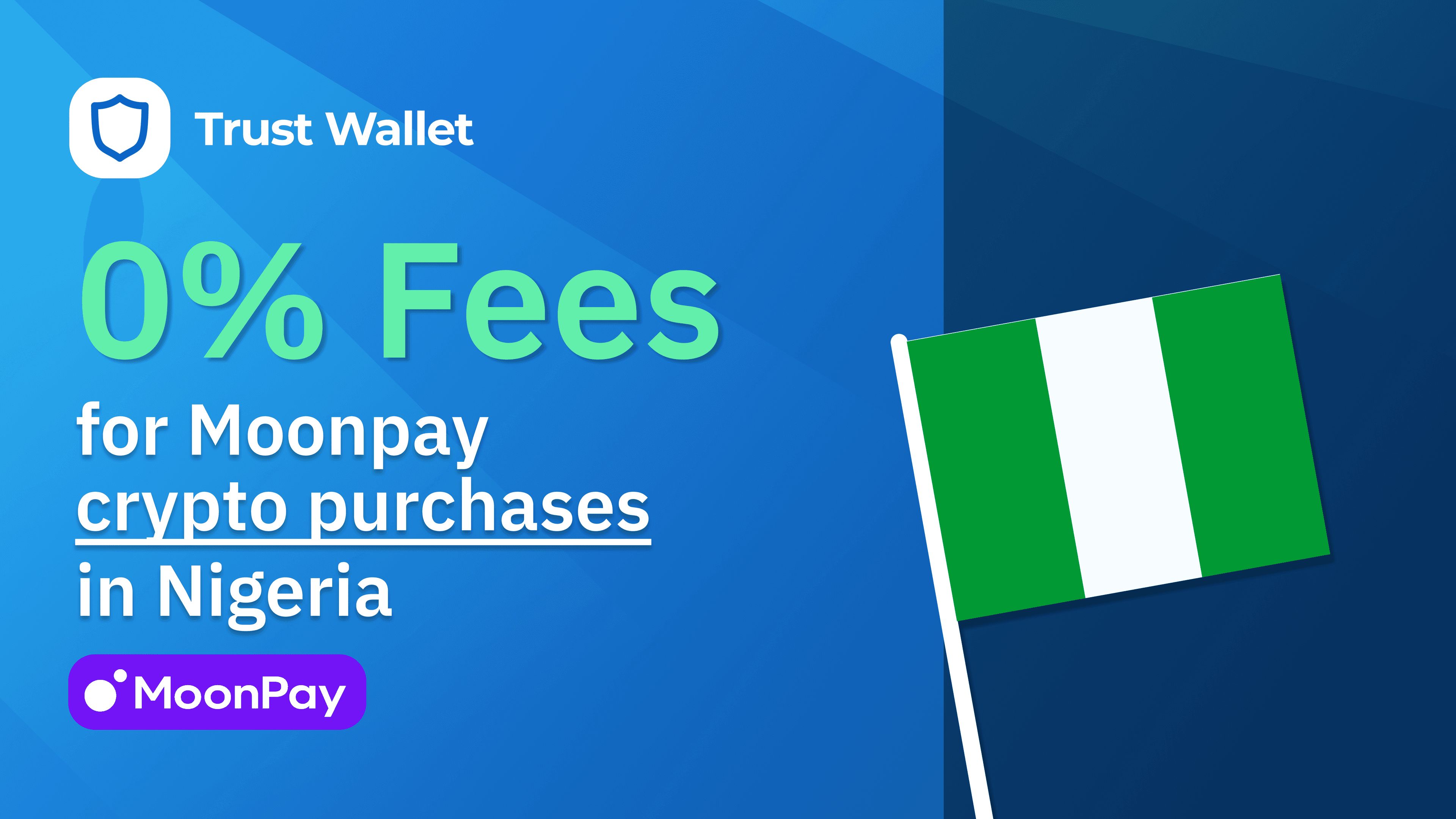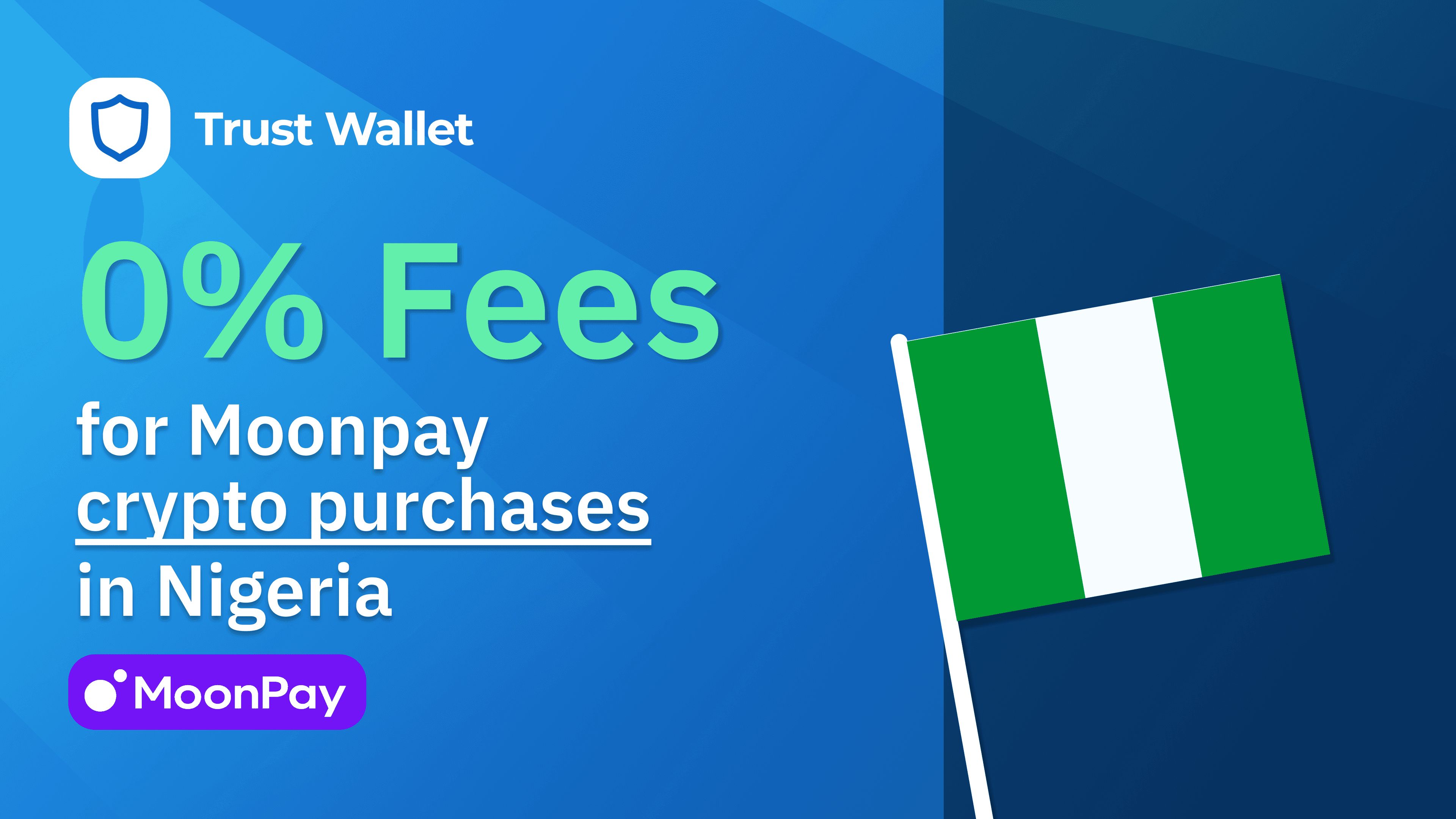 Download Trust Wallet to enjoy this promotion!

Promotion details
Trust Wallet and Moonpay team up to enable seamless fiat-to-crypto purchases for Nigerian Moonpay users: Enjoy 0% fee transfers when you make your first 5 purchases with Trust Wallet.
Following the successful launch of our fiat-to-crypto purchase feature, we're excited to announce a special promotion that lets you save on purchase fees. For a limited time, on a first come, first served basis, you'll enjoy 0% fees when you use Moonpay to buy crypto with fiat currency inside of Trust Wallet.
Used by over 60 million people worldwide, Trust Wallet is an easy-to-use, true multi-chain self-custody wallet that allows you to buy, store, send, receive, and now purchase an array of cryptocurrencies securely. As for MoonPay, it's a leading Web3 infrastructure company, offering seamless solutions for payments and digital asset management, trusted by over 500 partners across more than 160 countries.
This limited-time offer runs from August 28th to September 10th, and is designed to make it even easier for users to explore the convenience, ease, and safety of our fiat-to-crypto feature.
A quick recap of our crypto-to-fiat feature
We recently integrated the ability to seamlessly convert your crypto into traditional fiat currencies within the Trust Wallet app. By partnering with industry-leading platforms like MoonPay, we're providing a smooth, secure, and compliant crypto-to-fiat conversion experience. This feature not only enhances the experience for millions of people around the world, it also makes Trust Wallet a complete end-to-end solution for managing your crypto assets.
Our mission is to empower users with greater control over their digital assets and provide a seamless, secure way to manage their holdings. With this promotion, we want to reward our loyal community, as well as make it easy for people to try the feature and see how easy it is to convert crypto to fiat right inside Trust Wallet.
How to get started with 0% MoonPay fees
Taking advantage of 0% MoonPay fees when you buy crypto is simple. Before you get started here's what you need:
1. You'll need to be located in Nigeria to participate in the promotion.
2. Make sure you have the latest version of the Trust Wallet mobile app.

3. Then, go ahead and purchase crypto using Moonpay. For more information on how to buy crypto using Moonpay, check out our our how-to guide..
One wallet for your entire crypto journey
Trust Wallet continues to be the go-to platform for people looking for a comprehensive solution to manage their crypto assets and safely access Web3. From transferring, swapping, earning rewards, doing your crypto taxes, accessing dApps, and now converting crypto to fiat, Trust Wallet is your one-stop shop for a secure and seamless Web3 experience.
Don't miss out on this limited-time offer to experience 0% MoonPay fees on crypto purchases. Get started today.
Join the Trust Wallet community on Telegram Follow us on Twitter Instagram Facebook Reddit