Announcements
Trust Wallet Integrates Mantle Mainnet
Published on: Nov 20, 2023
In Brief
We're thrilled to announce our integration of the Mantle Mainnet. This guide is designed to help you navigate and make the most of this new integration on Trust Wallet.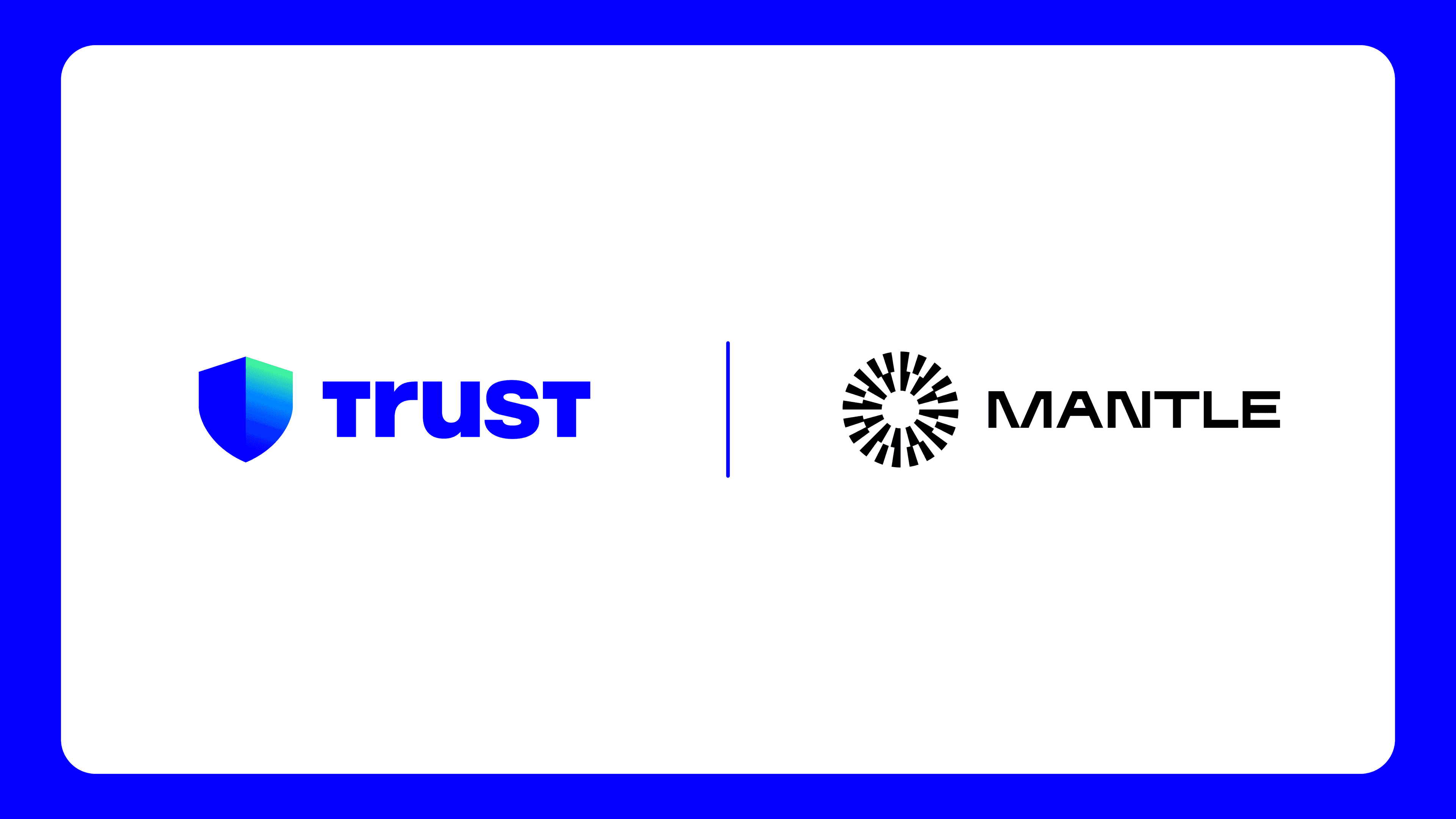 Trust Wallet's mission has always been to make the Web3 landscape intuitive, secure, and open for everyone. We're thrilled to announce our integration of the Mantle Mainnet, bringing you even more capabilities and offering you an enriched experience in the world of decentralized applications (dApps) and digital asset management.
What is the Mantle Mainnet?
Mantle Network Mainnet represents a significant leap forward in the world of decentralized applications (dApps). It's a high-performance Ethereum layer-2 network, uniquely designed with a modular architecture that fosters the development of dApps with exceptional user experiences. What sets Mantle Mainnet apart is its foundation on Ethereum's well-established security protocols, offering developers and users alike the reliability and trust associated with Ethereum's blockchain.
Introducing Mantle Mainnet Integration with Trust Wallet
The integration of Mantle Network within Trust Wallet introduces two key features:
Direct dApp Connectivity on Mantle Mainnet: This feature allows you to connect seamlessly with a wide array of dApps available on the Mantle Mainnet. Through Trust Wallet, accessing these dApps becomes a straightforward and secure process, ensuring you can dive into the diverse functionalities and opportunities they offer.

Effortless Mantle Token Transactions: With Mantle's native token, $MNT, now supported on Trust Wallet, you have the convenience of sending, receiving, and managing your $MNT holdings directly within the app. This integration simplifies your experience in handling digital assets, making Trust Wallet a more comprehensive tool for your crypto needs.
Why Use Trust Wallet for Mantle Network dApps?
Trust Wallet's integration with Mantle Mainnet provides a seamless, secure gateway to a vast array of dApps. Our platform ensures that managing your assets and engaging with the blockchain ecosystem is as intuitive and safe as possible.
Getting Started: Accessing Mantle Network dApps through Trust Wallet
Here's how you can start exploring Mantle Mainnet dApps using Trust Wallet:
Download Trust Wallet here

Open Trust Wallet and go to the Browser section.

Search and navigate to the Mantle Mainnet page

Tap on "Please connect your wallet," choosing "Trust Wallet" as your wallet option.

Follow the prompts to connect your Trust Wallet.

Once connected, you're ready to use the dApp.
Ready to Explore the dApp Universe?
The world of dApps is vast and full of opportunities. Whether you're looking to play decentralized games, engage in decentralized finance, or anything else in the crypto space, Trust Wallet has got you covered.
At Trust Wallet, we're always aiming to make your journey in the world of Web3 as safe and delightful as possible. As always, we're here to support you every step of the way. Our goal is to provide a secure and easy-to-use platform for all your crypto needs. With features like the Trust Wallet Security Scanner and our robust dApp browser, we're confident that you'll find Trust Wallet to be the perfect companion in your Web3 journey.
Join the Trust Wallet community on Telegram Follow us on X (formerly Twitter) Instagram Facebook Reddit
Note: Any cited numbers, figures, or illustrations are reported at the time of writing, and are subject to change.