Announcements
Trust Wallet x Arkham: $50,000 $ARKM Quest Giveaway!
Published on: Aug 31, 2023
Updated on: Sep 4, 2023
In Brief
Trust Wallet and Arkham are thrilled to unveil an exciting quest campaign that comes with a grand prize of $50,000 in ARKM rewards!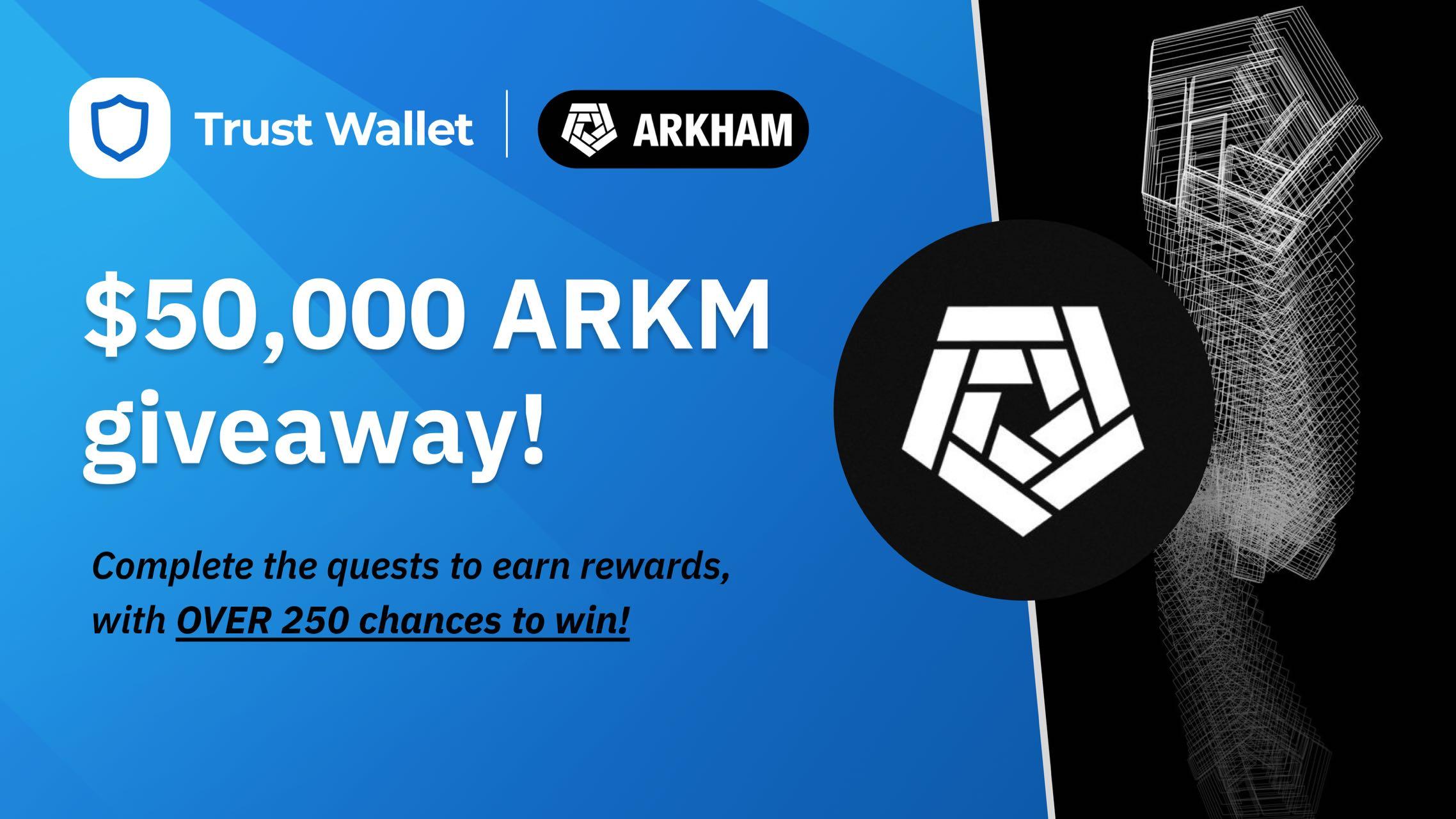 There are 2 separate giveaways and 250+ winners, so read on to find out how you can be a part of this adventure!
To get started, you need to:
Read How to explore Arkham with Trust Wallet
Promotion Period: 2023-08-31 13:00 (UTC) to 2023-09-14 13:00 (UTC)
Campaign 1: Complete simple quests in Arkham with Trust Wallet for a chance to win a share of $49,000 in $ARKM!
All you need to do is complete qualified quests in Arkham with Trust Wallet, and you could be in with a chance to win up to $10,000 in $ARKM through several rewards tiers. Follow these steps and claim your reward!
Steps
Campaign 1 Winners in $ARKM
$49,000 in $ARKM : 245 winners

$200 in $ARKM each
Selection Criteria and Rules
Users must be on the most updated version of Trust Wallet

It is mandatory to use Trust Wallet to connect to Arkham profile in order to qualify for participation in this promotion

Users who have completed instructions in steps will be randomly selected to receive rewards.

The winning users receive rewards within 15 business days.

Winning notifications will be sent to participants via official email. Please do not trust any notifications or private messages from unofficial channels.
Campaign 2: Join Arkham AMA for a chance to share $1,000 in $ARKM!
Join TrustWallet and Arkham's Twitter Space AMA and get up close and personal with the team experts! Ask a question, and stand a chance to win some $ARKM rewards!
Steps
Campaign 2 Winners in $ARKM
$1,000 $ARKM for 5 of the best audience questions selected from Space

$200 $ARKM each
Selection Criteria and Rules
The selection of the best audience questions will be at the discretion of Trust Wallet and Arkham

Up to 5 best questions will be selected, and the selected questioners will each receive $200 in $ARKM
Terms & Conditions:
The Promotion will end on 14th of September 2023, 13:00 (UTC)

You must use Trust Wallet to be eligible for rewards, as wallet addresses will be cross-verified; using a different wallet may lead to disqualification.

To qualify for rewards, users must complete all steps outlined in the announcement.

Winners from the social media promotion will be notified after the campaign ends.

Each wallet address is eligible for a maximum of one reward only.

In the event that a participant becomes eligible for multiple rewards, they shall be entitled to receive only the highest-valued reward amongst the applicable rewards.

Illegally bulk registered accounts or sub-accounts are not eligible to participate or receive any rewards.

Trust Wallet reserves the right to disqualify any participants showing signs of fraudulent behavior immediately.

Trust Wallet reserves the right at any time in its sole and absolute discretion to determine and/or amend or vary these Promotion Terms without prior notice, including but not limited to canceling, extending, terminating or suspending this Promotion, its eligibility terms and criteria, the selection and number of winners, and the timing of any act to be done, and all users shall be bound by these amendments.

Winners: Please allow up to 15 days from campaign end for prize distribution.

Price fluctuations:The total prize pool is reflective of the $ARKM at today's price (31st August 2023), where 1 $ARKM = $0.43 USD. So due to natural price fluctuations, the prizes awarded may be slightly higher or lower than originally stated.
Trust Wallet x Arkham Collaboration Highlights: Arkham Intelligence is a powerful and user-friendly platform designed to provide deep insights into the world of digital assets. Arkham offers a suite of advanced portfolio management and analytics tools, including real-time market views and multiple account integrations. Their platform provides users with a clear and comprehensive overview of their entire investment landscape, enabling them to make more informed decisions.