DeFi
Unibot Telegram Bot: Explained
Published on: Sep 27, 2023
In Brief
Explore the functionality of Unibot, the Telegram-based trading bot designed for decentralized finance (DeFi). Learn how Unibot simplifies trading and DeFi within the Telegram app.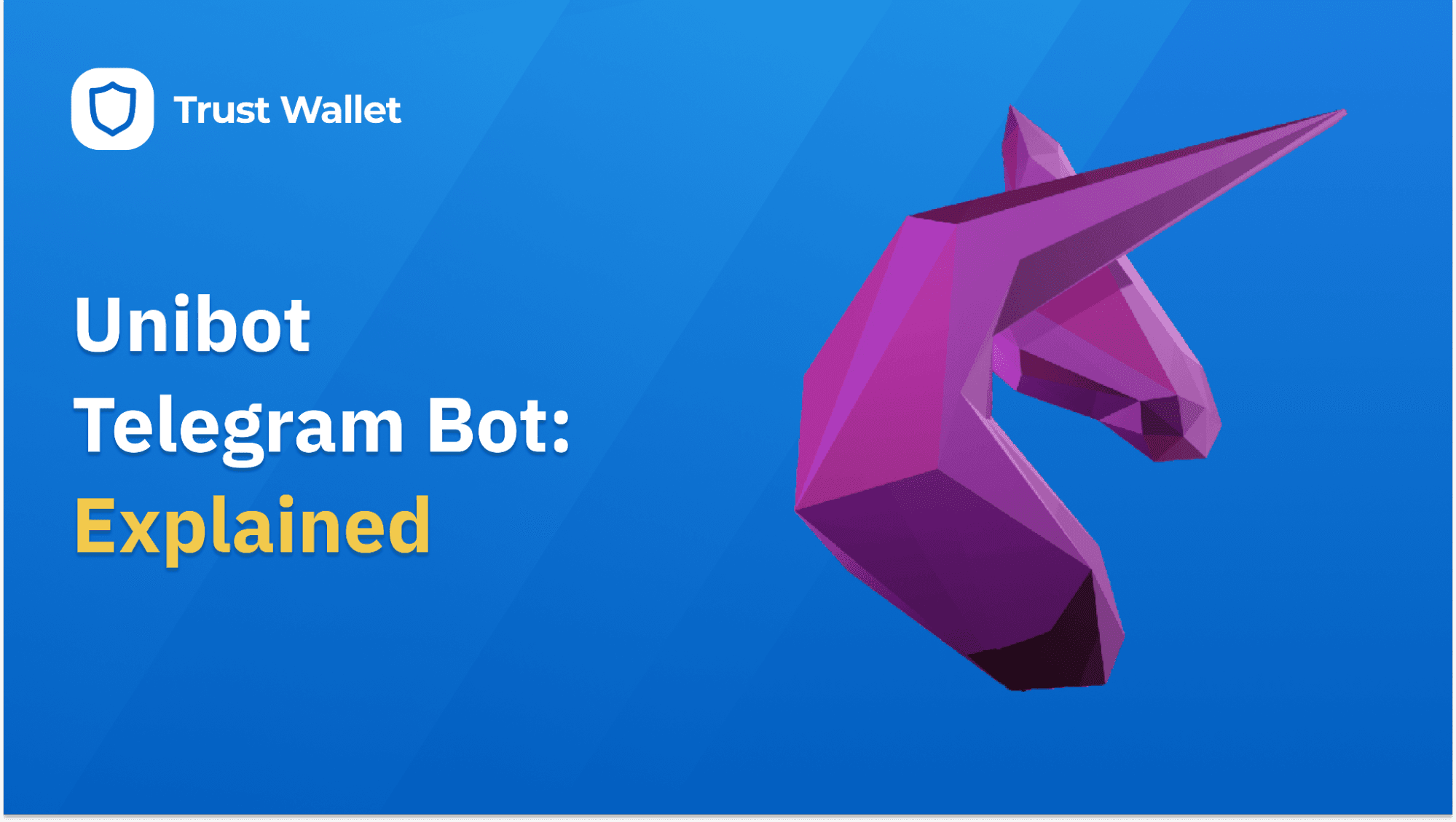 In DeFi (decentralized finance) There are billions in crypto trades processed daily. Many of these transactions are powered by smart contracts and open blockchains to provide Internet-native access to various financial services like borrowing, lending, trading, and yield farming, among others.
Despite the high trading volume numbers, decentralized trading platforms tend to have complicated dashboards that hinder widespread usage. This is where Telegram trading bots like Unibot come into play. Telegram trading bots, in general, allow people to trade digital currencies and tokens without exiting the Telegram app.
In this guide, we'll cover everything you should know about Unibot, how it works, its main features, tokenomics, and the role it plays in decentralized finance.
However, please remember that the information contained in this guide is for general information purposes and is not an endorsement to use Unibot. Should you opt to use Unibot, doing your own research (DYOR) before taking any action is advisable.
What is Unibot?
Unibot, which styles itself the fastest Telegram trading bot, is a Telegram trading bot that allows users to trade various cryptocurrencies without leaving the Telegram app.
The Telegram app is a well-known instant messaging application in the crypto community that hosts several cryptocurrency chat groups.
Telegram trading bots are software that acts on specific trigger keywords or commands sent by people in a Telegram chat. Although Telegram bots are pretty new in the crypto space, they've become popular due to their potential to automate tasks and provide people with straightforward crypto instructions.
Launched in May 2023, Unibot has witnessed a significant increase in users and crypto trading volumes. The crypto trading bot was founded by Ayden, a former Apple employee and a co-founder who's yet to be publicly named. Crypto traders and investors can use the bot to access crypto trading opportunities that were originally difficult to carry out.
DeFi users can use Unibot to directly purchase and sell tokens on Uniswap V3 without leaving their Telegram app. The trading bot was designed by Diamond Protocol as a Leveraged Liquidity Provision (LLP) platform for Uniswap V3.
Uniswap leads the pack as one of the best decentralized exchanges that users can leverage to trade their crypto assets and provide liquidity in exchange for rewards. Uniswap V3 - Uniswap's current version - provides liquidity providers (LPs) with an opportunity to concentrate their liquidity within a specific price range to reduce slippage and maximize their capital efficiency.
Essentially, crypto trading bots like Unibot have made Telegram a marketplace for smaller traders who don't want to miss out on the crypto trading action. The bot capitalizes on the Telegram app to offer quick trades and revenue-sharing options for UNIBOT coin holders. On the revenue-share option, token holders earn rewards that are equivalent to the amount of UNIBOT tokens they hold. We'll discuss this a little further down in the guide.
Besides the revenue-share opportunity, Unibot also offers users a wide array of features like decentralized exchange-based limit orders, decentralized copy trading, and protection against Miner Extractable Value (MEV) bots.
Now that we know what Unibot is, let's take a look at how the Telegram crypto trading bot works.
How Unibot Works
Unibot allows people to buy and sell Ethereum tokens from their wallet on Telegram. You can import your personal crypto wallet or use one of the three wallet options that the tool automatically creates for you. Once you create/import your wallet and create an order, Unibot will, on your behalf, process the crypto trade using token pool contracts.
The bot was designed to facilitate efficient crypto trading by utilizing a specific liquidity provision model that allows liquidity providers to offer one token and borrow a volatile token from the pool.
Unibot's liquidity provision model is quite different in comparison to the traditional approach that needs liquidity providers to contribute both tokens of the particular trading pair. In addition, the tool's liquidity provision mechanism is advantageous since it offers liquidity providers a hedging effect. This means that LPs can short the borrowed volatile crypto token, ergo, launching liquidity provision spots with varying profit possibilities under mixed market conditions.
Additionally, liquidity providers can potentially benefit from a high annual percentage rate (APR) via their liquidity positions. To do this, they'd need to borrow liquidity from a Unibot pool and capitalize on the highly concentrated liquidity provided in Uniswap V3. As a free-to-use tool, Unibot boasts of offering trades that are six times faster than trading on the Uniswap DEX.
According to its website, the bot has so far executed over $280 million total trading volume and more than $4 million revenue share distributed. You can check out the Unibot website for detailed instructions on how to use the tool.
Main Features of Unibot
Unibot has a wide array of features that help it process crypto trades on behalf of its users. Currently, its main trading features include:
Limit orders for buying and selling tokens You can set a limit order to buy and sell digital assets using Unibot. Limit orders get automatically executed when the order you create achieves the specified price. This way, you are able to buy low and sell high on DEXes.
Private transactions for protecting trades from MEV bots Unibot's private transaction feature helps to protect user trading activity from value MEV bots and reduces the likelihood of sandwich attacks. Miner extractable value bots are built to identify and manipulate potentially profitable opportunities in the global crypto markets. MEV bots utilize different strategies, such as arbitrage or sandwiching. They have also been linked with controversial practices and crypto scams.
Mirror sniping to copy trades of successful wallets With Unibot, users have the ability to copy trades of specific or successful wallets using the mirror sniping feature. As the name suggests, the feature simply allows you to mirror trades to trade like an expert. As a novice crypto trader, mirror sniping can help you generate a potential trading profit by copying the trading strategies incorporated by advanced traders.
Multi-wallet swaps for managing and executing swaps on multiple wallets The multi-wallet feature offers users flexibility and efficiency. How? Users can manage several wallets and still execute swaps at the same time on all the wallets.
Method sniper for immediate token purchase after launch The method sniper feature allows you to buy tokens as soon as they launch. Simply put, you can use this function to know of new token launches. You can also add up to five different token addresses for sniping purposes.
Fail guard to test orders in advance and save on gas fees With the Unibot fail guard order, you can test in advance whether your order will fail or not. This way, you are able to save money on gas fees while still maximizing the buying and selling potential of your order.
Unibot's Role in DeFi and Considerations
The Unibot trading bot comes packed with multiple benefits that could make it appealing to newcomers in the DeFi space looking for free, easy, and fast tools that they can use to swap tokens.
Already, Unibot has an upper hand over other crypto trading bots in the Web3 space as it leverages an already existing instant messaging app, Telegram. By capitalizing on Telegram, the tool is able to offer users a user-friendly interface coupled with fast trades which makes it even more attractive to newbies looking to get started on DeFi trading.
However, despite the multiple benefits that Unibot offers, the tool also has its fair share of security issues and considerations that users need to pay attention to.
In 2022, a security audit conducted by Quantstamp, a security company, revealed that the software had 34 security issues. Two of the 34 issues were high-risk. So far, Unibot has resolved 27 out of the 34 issues, including the two high-risk concerns.
Besides the security issues, there's also the fact that UNIBOT token holders can't claim their earned rewards until they accumulate to 0.1 ETH (~ $165). Another potential drawback to consider before using Unibot stems from the fact that the tool assigns users a custodial wallet whose private keys are stored in the cloud.
Now, while you can still import your own non-custodial wallet like Trust Wallet, for newbies who haven't set up one and are looking for an easy and seamless setup process, the quickest option will be to choose one of the three custodial wallets provided by Unibot during set up.
Opting for the wallet options provided by Unibot could potentially put your funds at a high risk of theft.
While the revenue-sharing model allows token holders to earn rewards, UNIBOT, just like any other crypto token is susceptible to market volatility issues. In addition, when trading UNIBOT, traders have to part with a 5% transaction tax on each trade. This, added to the gas fees can make trading the UNIBOT token expensive.
Conclusion
Unibot is among many upcoming Telegram trading bots that are gaining traction and becoming increasingly popular among crypto enthusiasts due to their ability to provide users with fast and easy trades. Besides being a free software, Unibot also has several features that make it appealing to users.
For instance, you can set a limit order that gets executed when your desired price is achieved thus making some gains on your order. Unibot is also very attractive to newbies as they can use the mirror sniping feature to copy successful trades carried out by expert traders or test orders using the fail guard feature before creating it.
Still, just like with any crypto project, Unibot is not void of risks. While Unibot has made some strides in resolving some of the security issues that were discovered in an audit carried out in 2022, some of them remain unresolved to date.
Additionally, the UNIBOT token can also experience extreme market conditions and could lead to losses. So always be sure to do your own research before making the decision to use the bot or interact with its token.
Download Trust Wallet today and start exploring Web3 safely using its enhanced security features.
Join the Trust Wallet community on Telegram Follow us on Twitter Instagram Facebook Reddit
Note: Any cited numbers, figures, or illustrations are reported at the time of writing, and are subject to change.