Airdrops
What Is a Crypto Airdrop & How Do I Claim One?
Published on: Aug 1, 2023
In Brief
In this guide, we'll explain everything you need to know about crypto airdrops, including how to find them and claim them safely.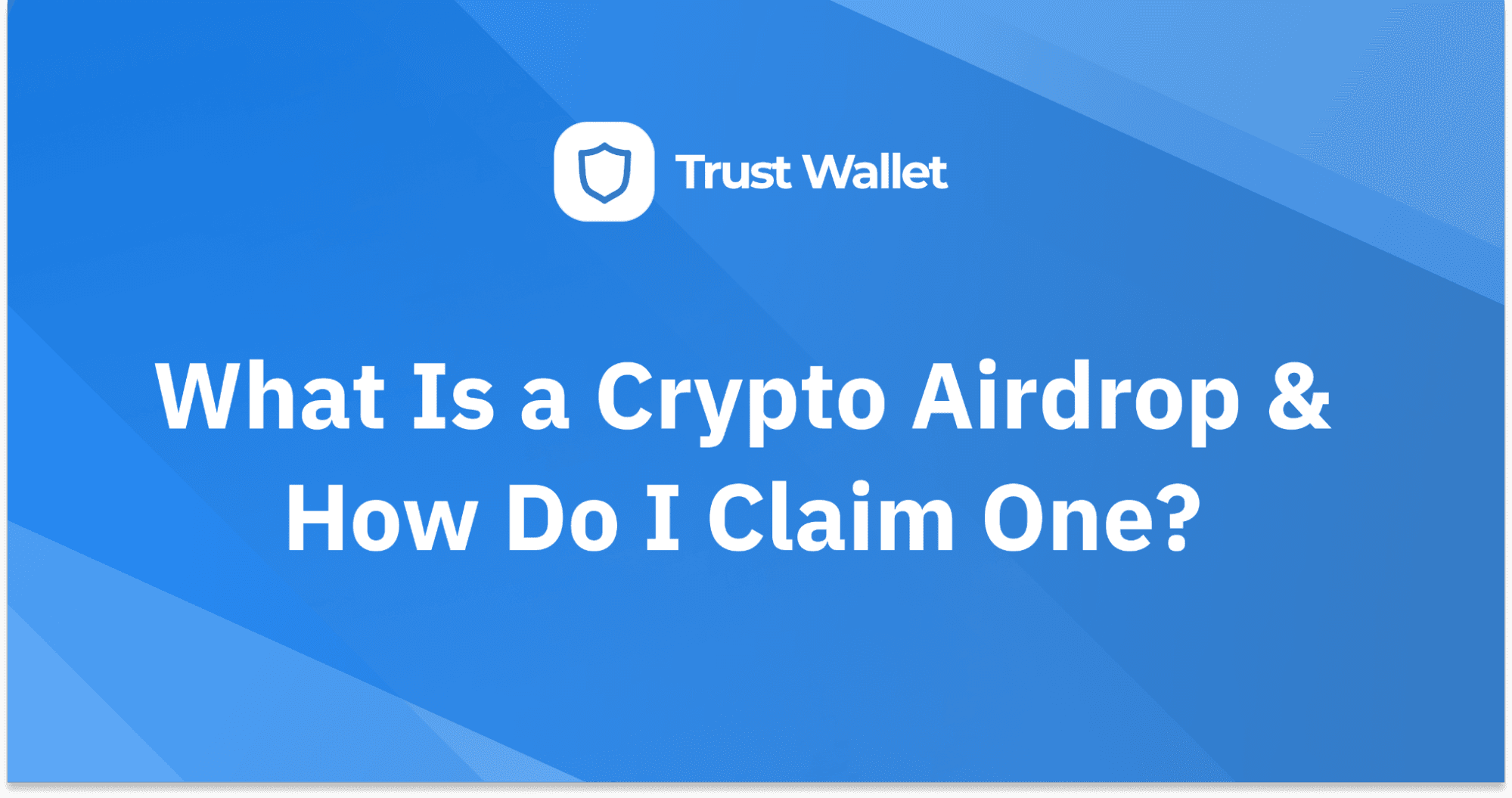 Crypto airdrops can be a great way to get free crypto. However, it can also get confusing and overwhelming, especially for beginners. In this guide, we'll explain everything you need to know about crypto airdrops, including how to find them and claim them safely.
Crypto Airdrops: A Guide for Beginners
If you're relatively new to cryptocurrency, you may have heard the term "airdrop". But what is an airdrop exactly?
Airdrops are a method used by cryptocurrency projects to distribute their tokens to a large number of people for free.
Many crypto projects use airdrops to increase their exposure and engagement and to increase the size of their token holder community.
How to Find Crypto Airdrops
Before diving into how you can find airdrops, it's important to remember that there are many bad actors in the crypto airdrop space. For example, scammers often use airdrops as a way to lure people into giving away their seed phrase or other sensitive information. Therefore, doing your own research (DYOR) is vital. Also, always ensure you go through official channels before participating in any airdrop event, and be cautious of any offer that seems too good to be true.
With that said, here are some ways to find legitimate airdrops!
Check Official Project Channels
Most crypto projects use social media to promote their airdrops. You can follow their official accounts on Telegram, Discord, Twitter, or other social media channels. This way, you can always stay updated on their future airdrops. You can also subscribe to their email newsletters to receive notifications about upcoming airdrops.
Dedicated Airdrop Tracking Websites
Several websites specialize in listing airdrops. Some popular examples include Airdrop Alert and Airdrops.io. These platforms usually provide a list of ongoing and upcoming airdrops and instructions on how to participate and claim your rewards. Nonetheless, you must be careful and check if the website is authentic and reliable before following instructions or sharing sensitive information about yourself.
Crypto Communities
Joining crypto communities on Telegram, Discord, or Reddit is a great way to learn about airdrops. Project teams often run these communities and provide the latest news and updates, including airdrops. They also offer a platform where interested parties can have all their questions answered. When inside these communities, be sure to only trust the information the administrators share since scammers are known to prowl these communities looking for their next target.
Crypto News Websites
Most crypto news websites cover the latest airdrops and other crypto-related events right after project developers announce the airdrop. You can subscribe to these websites' mailing lists to stay updated on the latest developments and discover new airdrops.
Most Common Airdrop Mechanics & Tasks
Now that you've found an airdrop to participate in, it's important to understand its mechanics. Airdrops can have different requirements and tasks you'll need to complete to claim your tokens.
Here are some of the most common tasks.
Social Media Engagement
One of the most common airdrop tasks is to engage with the project's social media platforms. For example, you may be required to complete tasks such as following the project's social media accounts, retweeting or sharing their posts, or joining and engaging in their Telegram or Discord channels. These tasks help to increase the project's visibility and create a community around the token, in return, you receive tokens.
KYC Verification
Some airdrops require you to complete a Know Your Customer (KYC) verification process to confirm your identity. KYC is a legal requirement in many jurisdictions designed to prevent illegal activities, such as money laundering.
Referral Programs
Many airdrops have referral programs that reward people for inviting their friends to participate in the airdrop.
Quiz or Survey Participation
Some airdrops require interested participants to do quizzes or surveys before they can be eligible for an airdrop. Often, the survey tests users' knowledge on the project.
Wallet Connection
Some airdrops require you to connect your wallet with the project's platform to receive the tokens. For example, when Arbitrum held it's airdrop, it was possible to use your Trust Wallet to see if you were eligible for the $ARB airdrop.
Holding Tokens
Another common airdrop task involves holding a particular number of tokens from a specific project. Projects will reward their existing token holders with additional tokens to incentivize them to hold onto the tokens for a longer period.
Common Airdrop Scams: What to Look Out for & How to Avoid Them
Now, let's take a look at the dark side of crypto airdrops: the scams.
Most Common Airdrop Scams
The two most common airdrop scams you'll find are phishing scams and scam tokens.
Phishing Scams
Phishing scams are one of the most common types of fraud in the crypto space. Phishing occurs when a bad actor creates a fake website or social media account that looks like it belongs to a legitimate project. Some are so sophisticated that even a trained eye may struggle to recognize the difference.
Once on the fake website, they will ask you to provide your private key, seed phrase, or other compromising information in exchange for free tokens. Once you do it, they use your provided information to clear out your wallet.
Scam Tokens
In some instances, scammers will send scam tokens directly to your wallet. When you realize that you have some "free" digital assets in your wallet that you paid nothing for, your curiosity may be piqued, leading you to visit a block explorer, e.g., Etherscan, to learn more about this transaction.
When you get there, you'll find a message in the transaction details, normally asking you to visit a website where you can exchange the new assets for BTC or another trusted cryptocurrency. When you get to the site, you'll be asked to connect your wallet by providing your seed phrase or confirming/signing a transaction. When you do this, the scammers transfer all your funds from your wallet.
How to Avoid Airdrop Scams
Here are some tips to help you stay safe while hunting for airdrops.
Monitor Your Wallet
Keep an eye on your wallet for any unexpected transactions since scammers may try to deposit fake tokens to gain access to your wallet, as illustrated above. If you notice any suspicious wallet activity, do not interact with it. As a rule of thumb, no legitimate project will ever ask you for your seed phrase or to pay for an airdrop. Therefore, never provide your seed phrase/private keys to anyone. Moreover, avoid clicking on links from unfamiliar sources.
Do Your Own Research
Although it may sound cliché by now, keep in mind that the safety of your assets depends on doing your own research. Before participating in an airdrop campaign, do your homework on the project and verify its authenticity personally. This includes counter-checking the project's website URL, social media accounts, community forums, and even team members to make sure they match that of the official project.
Follow Official Social Media Accounts
One way of finding the genuine social accounts of a project is by visiting at least two trusted websites that publish information about crypto projects, such as CoinMarketCap. These sites have legitimate links to a project's website and social accounts.
Create a Separate Wallet
Consider creating a separate wallet specifically for airdrops. This will separate your primary investments from the freebies offered through airdrops. After receiving the airdrops, you can transfer the tokens you have received to multiple wallets, which spreads the risk and lowers your overall exposure.
Examples of the Best and Worst Airdrops
Let's take a look at some of the best and worst crypto airdrops we've witnessed over the years.
Best Airdrops
Uniswap Uniswap is a leading automated market-maker on Ethereum that conducted one of the most lucrative airdrops in history. In September 2020, the decentralized protocol airdropped 400 UNI tokens, worth around $1,200 at the time of the airdrop to people who have interacted with the decentralized exchange before September 1, 2020. Uniswap distributed 150m UNI tokens, with around half going to team members and investors.
ApeCoin The Bored Ape Yacht Club made waves in the world of NFTs when it launched its native ApeCoin token in March 2022. 150,000,000 APE was distributed to eligible people who held Bored Ape or Mutant Ape NFTs, with a bonus for those also holding a Bored Ape Kennel Club NFT.
The governance token empowers the decentralized community building of the APE ecosystem, which includes the popular Bored Ape Yacht Club (BAYC) and Mutant Ape Yacht Club (MAYC) NFT collections. Both collections exist on the Ethereum blockchain.
CyberKongz The Genesis CyberKongz were released on March 1, 2021, as the first 1,000 CyberKongz NFTs. They quickly became a hit among NFT collectors. Owning one of these NFTs right now is still lucrative, as it grants holders ten $BANANA tokens daily. This airdrop will happen daily for the next ten years. One $BANANA is worth approximately $0.35 as of writing. That means the estimated annual earnings from owning a Genesis CyberKongz NFT is around $1,277.50.
This amount could potentially go even higher since $BANANA is currently at its all-time low in the market. The same tokens are also used to power the CyberKongz ecosystem, such as customizing CyberKongz NFTs or unlocking exclusive channels in the CyberKongz Discord server.
Worst Airdrops While some airdrops have been successful and popular, others have been criticized for their low-quality tokens, deceptive marketing tactics, or lack of real value.
BitConnect (BCC) Arguably, the worst airdrop was the Bitcoin Connect (BBC) airdrop in 2018. Bitconnect marketed itself as a high-yield bitcoin lending platform. It enticed people to invest their bitcoin with the promise of earning returns of up to 40% per month. In reality, they were running a textbook Ponzi scheme.
Investors soon learned that it was challenging to withdraw their funds from the platform due to complicated conversion processes and long wait times. Eventually, it was impossible for investors to withdraw their funds. To make matters worse, the promised returns were only tracked on Bitconnect's website and were paid out in their own worthless token instead of bitcoin. More than $2 billion was lost.
Confido (CFD) In 2017, Confido promised to revolutionize online transactions by using "smart contracts" as an escrow service between buyers and sellers. They conducted an Initial Coin Offering (ICO) through TokenLot and raised $375,000 from investors. However, the project turned out to be a scam, and the team behind it disappeared with investors' funds. The website, Twitter, and Facebook pages of Confido were all deleted. The CFD token became worthless, and some investors filed lawsuits against the project's founders.
Benebit (BNE) Benebit was a project that claimed to be developing a blockchain-based platform for loyalty rewards programs. However, the project turned out to be a scam, and the team behind it disappeared with investors' funds, estimated to be between $2.7 million to $4 million. As a result, the BNE token became worthless, and the project's website was replaced with a message saying that the project was a "social experiment."
These and other bad airdrops serve as a cautionary tale for crypto investors to thoroughly research any cryptocurrency project before investing and to be wary of projects that promise extremely high returns.
The Bottom Line
Crypto airdrops can be a great way to receive free tokens. However, it's important to exercise caution and do your research before participating in any airdrop event. Additionally, you must also be aware of the most prevalent scams in the airdrop space, such as phishing scams and fake airdrops.
While airdrops can be a great way to earn some free tokens, it's essential to approach them with caution and do your due diligence to avoid falling victim to scams or fraudulent activities.
Join the Trust Wallet community on Telegram Follow us on Twitter Instagram Facebook Reddit
Note: Any cited numbers, figures, or illustrations are reported at the time of writing, and are subject to change.