Cryptocurrency
Worldcoin (WLD): Excitement, Challenges, and Privacy Concerns
Published on: Aug 7, 2023
In Brief
Worldcoin aims to distribute cryptocurrency globally using iris recognition. Can it overcome its challenges to revolutionize the way we manage our identities?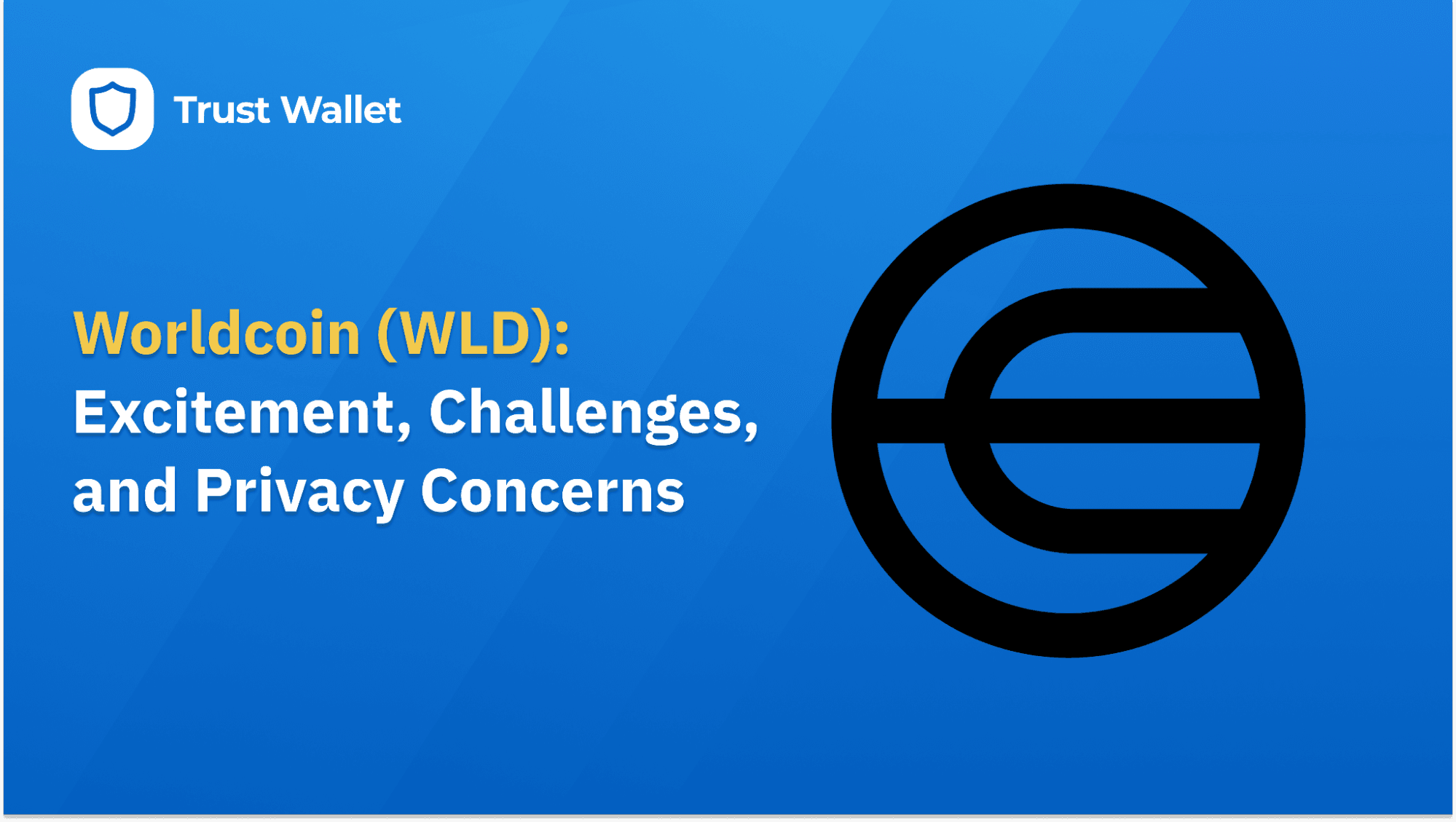 Worldcoin has made the headlines worldwide with its recent launch but not all coverage was positive as there are concerns surrounding the new digital currency.
In this guide, we'll take a look at the excitement and possibilities surrounding Worldcoin, as well as its challenges and privacy concerns.
Remember, you can now safely buy, deposit, and transfer your WLD coins using Trust Wallet.

What is Worldcoin?
Worldcoin, which has been in the making for nearly three years, is an open-source protocol built to give every human being access to the universal financial economy.
The project was co-founded by Sam Altman, owner of OpenAI, Alex Blania, Max Novendstern, and Tools for Humanity, which is an advisor to the project.
The cryptocurrency venture was also created to become a global solution for differentiating between real human beings and AI. It achieves this by getting new users to scan their irises to get a World ID and, in return, get rewarded with Worldcoin (WLD).
Anyone interested in signing up to Worldcoin must visit a Worldcoin Operator and scan their irises to record and verify their identity. The process is known as iris scanning technology and is done via the Orb.
Iris scanning technology uses visible light and near-infrared light to capture high-contrast photos of a person's irises. It's a form of biometric technology that's in a similar category to face or fingerprint recognition technology.
The Orb uses AI-powered neural networks, infrared cameras, and sensors to scan and capture an individual's irises to ascertain they are human. With the individual's iris biometrics captured, the Orb can verify if a person is who they say they are given their unique features then creates a digital World ID for them. So far, the project has over two million users and is expanding its "orbing" activities to 35 cities in 20 countries.
Currently, however, the project is under much scrutiny by crypto users and international regulators due to data and privacy issues that may end up slowing its momentum.
The Excitement and Possibilities of Worldcoin
Since its launch, Worldcoin has arguably had an equal amount of excitement and concern, with the scrutiny that's currently surrounding it causing more dislike than like. Despite the current outcome, the project has also been lauded for its benefits.
For starters, Worldcoin aims to help verify the humanity of every person in the world. However, Worldcoin isn't the first project to try to achieve proof of personhood. There have been other projects that have and continue to work on the same.
Moreover, WLD, Worldcoin's native token, has also been created to fulfill various purposes, like creating a potential path to funding the universal basic income (UBI) program via AI and boosting economic opportunity.
By scaling the UBI program, Altman believes that World IDs can be used to help billions of marginalized people living in poor communities attain financial empowerment. In addition, governments that end up utilizing World IDs will potentially achieve equality and reduce fraud across the value chain.
Another potential use of Worldcoin is that it could positively influence AI-generative tools such as ChatGPT, which was created by OpenAI, where Altman is the CEO. Considering the growth of AI, AI-generative chatbots have the potential to produce human-like language. Over time, it can be difficult to differentiate between real people and AI bots online. But utilizing blockchain-based World IDs could help to distinguish between the two and give people access to AI-generative apps such as ChatGPT while preserving their privacy.
Think of World IDs as your passport or identification number that's issued to you by your government. To access certain government or bank applications, you'll need to provide your identification or passport number to prove it's you. However, the difference is that government-issued IDs are centralized, unlike World IDs which are meant to be decentralized.
However, there are concerns that Worldcoin is only a bubble that has been overhyped and will soon burst. Some crypto analysts have even warned that the AI-crypto project is overvalued, citing that its price shot up to a high of $5.29 after its launch from a starting price of $0.15. At the time of writing, the Worldcoin price had stabilized and was trading at $2.38, according to data on CoinMarketCap.
Although the token is barely a month old, the hype it has attracted has made it difficult to distinguish fact from fiction about the project. Cryptocurrencies have always been a hard-to-understand subject for the ordinary person. Therefore, Worldcoin is bound to cause a lot more confusion for anyone that doesn't take the time to do their own research.
As a result, there's a lot of misinformation surrounding Worldcoin, including claims that the project is not only a scam but is also government-backed.
Worldcoin Challenges
Besides the misinformation about Worldcoin, the project has also been called out for some of its challenges.
For instance, Worldcoin has technical issues, including scaling its iris-scanning infrastructure to meet its potential demand. To give people World IDs, Worldcoin has invested in Orbs. An Orb is a shiny, round, spherical tool that's the size of a bowling ball. To get a World ID, you'd need to visit an Orb operator and scan your irises to verify your humanness and identity. You'll then earn one WLD for signing up and an additional 25 WLD for being a new unique user.
Currently, there are only 1,500 Orbs expected to serve a population of over seven billion. Even if the project works on increasing the production of Orbs, it would take a long time to sign up their target population.
There's also the issue of centralization and security surrounding the Orbs. On centralization, as Ethereum's Co-Founder, Vitalik Buterin, noted, there's no way to ascertain that the Orbs were designed without any security flaws or a backdoor. With no way of vouching for how the Orb has been built, the project owners could potentially create a backdoor that could generate lots of fake human identities.
In addition, people's phones could be stolen or hacked, forcing them to scan their irises. Bad actors can also utilize 3D printing to print 'fake people' that could pass iris scanning and be issued World IDs.
Other than the technical issues, Worldcoin has also found itself under much scrutiny concerning its marketing strategy. The project has been called out for not creating awareness on how it plans to use and store the World ID data. Instead of educating the general masses, the project has been criticized for its high-pressure sales tactics, given that Worldcoin operators are paid for every person they successfully register.
Regulatory challenges are another set of issues facing the project. Worldcoin has not provided a clear roadmap for its project. Its governance structure doesn't clarify how the project intends to collect, store, or use people's data. Instead, it's ambiguous and complicated for people to comprehend where the project is headed.
Thus, the project has failed to comply with AML/KYC laws that are applicable in almost all countries in the world. It's also important to mention that Worldcoin isn't available in restricted territories nor in the US.
Its lack of availability in the US, despite it being Altman's country of birth and residence, could be due to the uncertainty created by US lawmakers and regulators on which coins are categorized as securities and which ones aren't.
Such uncertainties surrounding cryptocurrencies like WLD could further hinder Worldcoin from achieving its goal of universal financial inclusion for everyone. And that's not all. Governments could also choose to ban the use of Orbs in their country, which could affect the project's growth.
Worldcoin Privacy Concerns
There are several privacy concerns that have been levied against the Worldcoin project.
One of the biggest privacy concerns that Worldcoin is currently facing is the use of eye scans to verify users. Worldcoin critics have argued that iris scans are a type of biometric data that could potentially be used to identify and track people. Authoritarian government regimes could also use such data to track down people for their selfish gains.
The registration of iris scans may reveal 'unnecessary' information about people. For instance, once you scan your irises, individuals could check it against the iris biometric database to see if you have a World ID. In addition, there are reports that several fraud cases are emerging involving Worldcoin's World ID verification system. It's reported that there is a black market for irises where fraudsters have been working around the clock to buy detailed scans of people's biometric irises. The plan is to use them to claim coins issued by Worldcoin as part of the reward for registering for a World ID. Worse off is that once a person's biometric irises get hacked, there is no way one can regain their privacy.
Privacy watchdogs have also expressed their concerns about Worldcoin's data collection practices. One particular issue that's creating controversy is consent. Registering for the World ID shows that the individuals have consented to their data being taken. However, the project fails on the special category data, which, under European law, requires Worldcoin to meet explicit consent.
Explicit consent means that the project needs to clearly detail how the iris data collected will be used and stored. This, however, is something that Worldcoin hasn't been able to give a detailed explanation for. As always, when pushing money over the cons of a project, people won't be keen to care what the T&Cs say. In addition, the Worldcoin consent form also leaves people with more questions than answers.
For instance, the form acknowledges the risk of transfer of the data of those who sign up. It also warns that certain data rights may not apply to it depending on where it hosts your data in the event legal action is taken against them. As it stands, there is no clarity on how Worldcoin intends to use the data it collects. Moreover, there isn't a comprehensive policy on the privacy concerns that have been raised thus far.
Conclusion
Worldcoin is a new project that is barely a month old. Therefore, it's too early to say whether the project will achieve the level of success it foresees or not.
While most crypto projects may face similar issues with Worldcoin, their saving grace has always been a clear roadmap and guide to various issues the crypto community has raised.
However, as it is, there's little to no clarity on how Worldcoin intends to handle the challenges it faces, including marketing, privacy concerns, regulatory and technical issues. Whether it'll consider slowing user sign-ups to address the current privacy concerns remains unknown.
Additionally, there needs to be more clarity on how it plans to handle the technical and regulatory challenges that international regulators and the crypto community are calling out. This could see the project get into further legal issues as already several international regulators are investigating Worldcoin to ascertain the usage of the data it's collecting.
While its price soared after its launch, the hype has since died down, and it's unclear whether its price will soar to such heights again. Some crypto enthusiasts, however, believe that if the project can resolve the issues it faces, it may become a valuable asset for many people.
For now, only time will tell whether Worldcoin will be able to conquer all the challenges facing it and come out on the other side as a key player in the crypto space.
As always, it's important that you do your own research (DYOR) if you are keen on investing in cryptocurrencies such as WLD. Additionally, remember that you can deposit, buy and transfer WLD coins with Trust Wallet.
Download Trust Wallet today to securely store and manage all your cryptocurrencies and to explore Web3 safely.
Join the Trust Wallet community on Telegram Follow us on Twitter Instagram Facebook Reddit
Note: Any cited numbers, figures, or illustrations are reported at the time of writing, and are subject to change.